ATP World Tour Finals: Rafael Nadal bids to win the elite year-end event for the first time
Rafael Nadal eyes a perfect end to a remarkable year after blazing his way into the final of the ATP World Tour Finals.
Last Updated: 10/11/13 7:15pm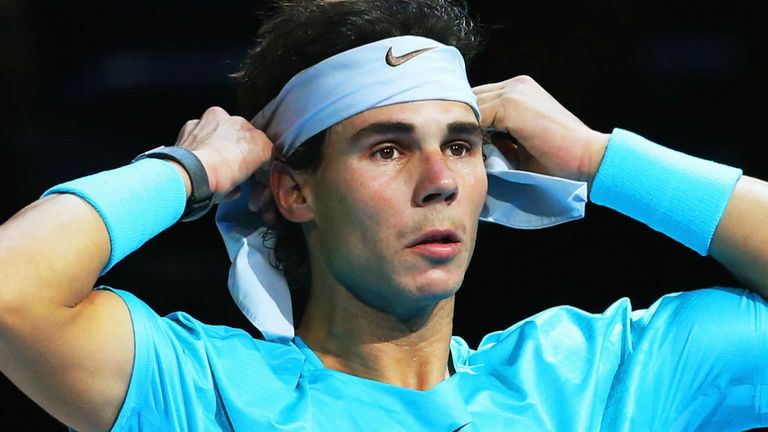 The Spaniard ended Roger Federer's hopes of finishing a disappointing season on a high note, defeating the six-time champion 7-5 6-3 at the O2 Arena on Sunday afternoon.
Nadal, who is bidding to win the elite year-end event for the first time, will face either Novak Djokovic or Swiss debutant Stanislas Wawrinka in Monday's final.
"It is the perfect way to finish the season and it is probably one of my best seasons," said Nadal, who reclaimed the No. 1 spot this year after coming back from a knee injury in February.
"In a tournament where I have lost before and have not had the most luck in, it is great.
"The most important thing is on the toughest surface for me to play I was able to win four matches against top-eight players. That's great news for me. It's a very good way to finish the year.
"Now remains the last match. I hope to be ready for that. I know it's going to be a difficult one. But I will try my best. I need to play my best match to have a chance tomorrow."
Federer, who has been hampered by a back injury this season, has won only one title over the past 14 months and he sometimes looked like a shadow of his old self, hitting 32 unforced errors on his way to defeat.
"I went for it when I had a chance for a break point in the first set. Maybe I shouldn't have, but I did. No regrets there, I guess," admitted the 32-year-old, who beat Juan Martin del Potro on Saturday to qualify for the semis.
"I just struggled to stay consistent enough throughout the match and that's why he deserved to win. He was better today.
"It's unbelievable that he gets away with playing so far back indoors these days, but that's the conditions. So credit to him for making that work for him."