Novak Djokovic favourite for French Open after Rome Masters win, says Greg Rusedski
Greg Rusedski says Novak Djokovic's improvements make him favourite for this year's French Open.
Last Updated: 20/05/14 10:38am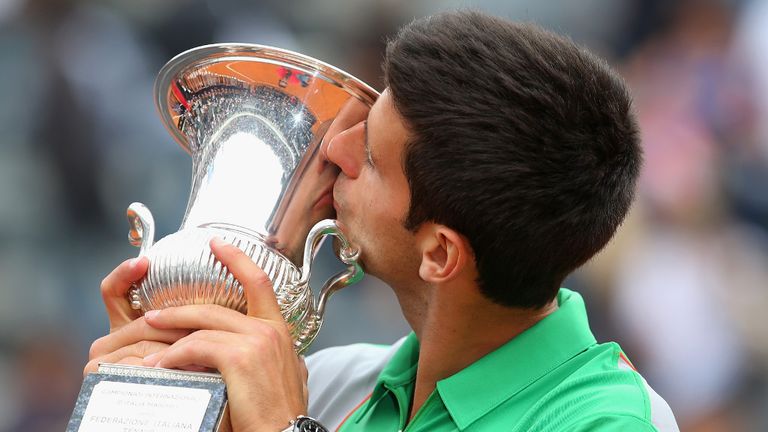 Djokovic set up a French Open challenge with his third win in Rome, edging eight-time winner Nadal 4-6 6-3 6-3 in Sunday's final.
Rusedski enthused: "He was quite sensational, especially at the start of that second set - really dominating play, taking the racket out of the hand of Rafael Nadal and really going after it.
"To be able to do that on a clay court - to be able to take the racket out of the hand of Rafa Nadal is almost impossible to do because nobody's been able to take that forehand with the heavy kick and take it on the rise and take it so early.
"I also think the key was the return of serve - he returned magnificently off the forehand and backhand side.
"It shows you the transformation of the player, willing to take it on the rise, even on the clay. Willing to come forward at times - at the right times - and that is the difference now.
"Djokovic looks like he's getting that blend together."
Evolving skill set
Rusedski credited the 26-year-old's improvement to the introduction of six-time Grand Slam legend Boris Becker as his coach.
"I think Boris came into the camp trying to add another dimension to Djokovic because he realised, 'I can't always win these matches by physically beating Nadal and these players from back court. I'm getting older, I need to come forward, I need to add variety to my game'.
"You saw that working well the past few weeks and especially today - the backhand volley, the angle volley, sneaking in at times, the drop shot. Just adding a little more variety.
"I thought it was very clever from Novak to have both Boris and Marian Vajda together for the first time - that's a winning combination."
World No 2 Djokovic is now favourite to win the French Open - the only major missing from his collection.
Rusedski continued: "There will be expectation but that's where Boris comes in because he'll say to Novak, 'let's put the pressure on Rafa, say Rafa's won it eight times and I've never won it.'
"Obviously [Djokovic] is the favourite going in and I think he'll play that psychological battle rather than last year when he announced that 'this is the most important thing for me, winning the French Open'.
"And you look at the fifth set when he lost to Nadal at the French last year, he was up a break, I think all that strain and pressure really got on top of him.
"[Nadal will be] be very, very worried about Novak Djokovic coming into the French Open.
"If he continues to play like this I think he might be the French Open champion."