French Open: Second seed and former champion Li Na ousted by Kristina Mladenovic
Last Updated: 27/05/14 2:37pm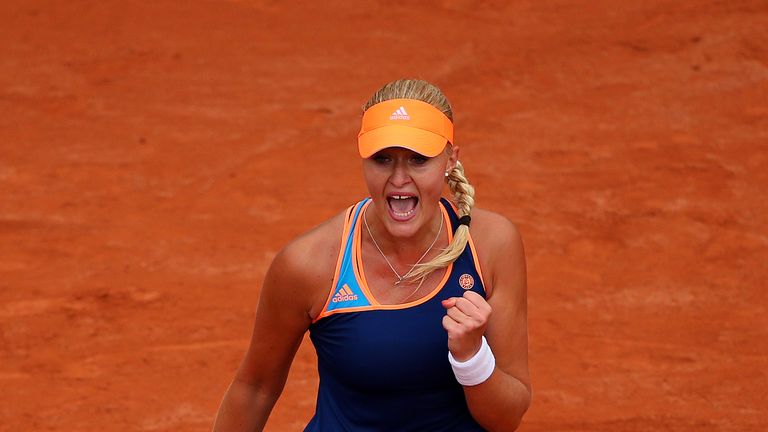 Kristina Mladenovic sensationally knocked Li Na out of the French Open after a 7-5 3-6 6-1 first round victory over the former champion.
Li, who won the Roland Garros crown in 2011 as well as the Australian Open this year, was eliminated early on in Paris for the second straight year.
French hope Mladenovic, who was ranked No 1 in the world as a junior, delighted her home crowd with a breakthrough display on Court Suzanne Lenglen.
After edging the first set it looked like she had missed her chance when Li fought back in the second, but the 21-year-old found a brilliant response and dominated the second seed in the decider.
Mladenovic won the French Open as a junior in 2009 and also took the mixed doubles crown at Wimbledon last year. Despite those successes she has so far failed to live up to her potential as a singles player and this season has dropped outside the top 100.
But she was able to take advantage when Li produced an erratic performance and burst into tears after completing the upset.
I think today I just gave it away. I think today is not about the tennis game. So many things are wrong.
Li Na
Li becomes the first woman to win the Australian Open then lose in the first round of the French since Lindsay Davenport 14 years ago.
Incredible
"It's incredible, without you I would not have done it," an emotional Mladenovic told her home fans.
"When such a player comes back in the match, you know you will have to seize every opportunity. I have been working hard."
Li admitted that her mind was not fully focused on the match and felt the loss was down to her poor performance rather than her opponent excelling.
Li said: "I think it doesn't matter who plays today against me, I would always lose the match today, because I don't think she was putting a lot of pressure on me.
"I think today I just gave it away. I think today is not about the tennis game. So many things are wrong. If I'm doing well, I  elieve I still can win the match if it's not my best day. But I don't think today I try a lot.
"Of course the easy thing I can say is it's a bad day for me, but it's not. I'm 100 per cent sure.
"The problem is myself. I didn't follow the game plan and, even when I was standing up in the court, in my mind I didn't have any idea how to play the match."