French Open: 'Mad Dog' Marinko Matosevic challenge awaits Andy Murray
Last Updated: 29/05/14 10:07am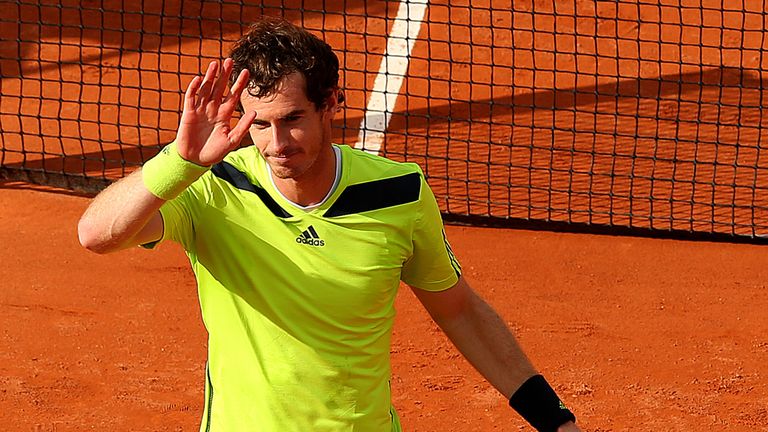 Andy Murray must hope a man nicknamed 'Mad Dog' does not add to the list of unlikely winners at the French Open this afternoon.
Australian Marinko Matosevic is Murray's opponent in the second round at a stunned Roland Garros, which has already witnessed the departure of three of the top six seeds across the men's and women's tournaments.
On Wednesday it was the biggest shock of them all as Serena Williams joined Li Na and Stan Wawrinka in exiting the year's second grand slam.
The nickname appeared on Matosevic's Wikipedia page in 2012 and he became so incensed by fans calling him 'Mad Dog' at the Australian Open this year that he asked for the umpire to tell them to stop.
Matosevic said: "It started off, I thought it was a joke in Sydney. And then the way I reacted to it obviously fed you guys and fed the crowd or whatever and then it got worse. I can't change it now."
Matosevic has a cult following in Australia, largely because of his tendency for on-court histrionics, and asked if 'Mad Dog' was a good description, Murray said: "From the time I have spent with him, I'd say that's a good name for him.
"He's an interesting character, that's for sure. He's a good guy and good fun around the locker room. He always makes everyone smile, makes everyone laugh. That's nice."
Matosevic lived up to his eccentric reputation on Tuesday when, following his win over Dustin Brown, he celebrated by rolling halfway up the court in the clay.
But it was no surprise that he was a little overexcited given it was his first win in the main draw of a grand slam at the 13th attempt.
Heather Watson will follow Murray onto Court 1 for her second-round match against fourth seed Simona Halep.
The pair have met once before, in the first round of the US Open last year, when Watson won the first set but eventually lost in three.
In an interview last year, Halep described it as her worst match, and she said: "I could not forget. She was very strong at that moment. It was a difficult match, but here it will be clay court, so it will be different."
The standout match of the day sees Rafael Nadal, back on Philippe Chatrier court after his first-round exile to Suzanne Lenglen, take on Austria's Dominic Thiem.
The 20-year-old is one of the rising stars of the game and beat Stan Wawrinka in Madrid three weeks ago.Murray had a close battle with Thiem in Rotterdam in February and practised with him in Paris at the weekend.
The Wimbledon champion said: "He's a very, very good player. He's very strong, hits the ball big from the back of the court. He's an aggressive player."In terms of his chances against Rafa, it's a tough match. I don't know exactly what his chances are, but I would probably bet on Rafa."