French Open 2014: Andy Murray happy with form after making it through to last eight
Last Updated: 03/06/14 6:25am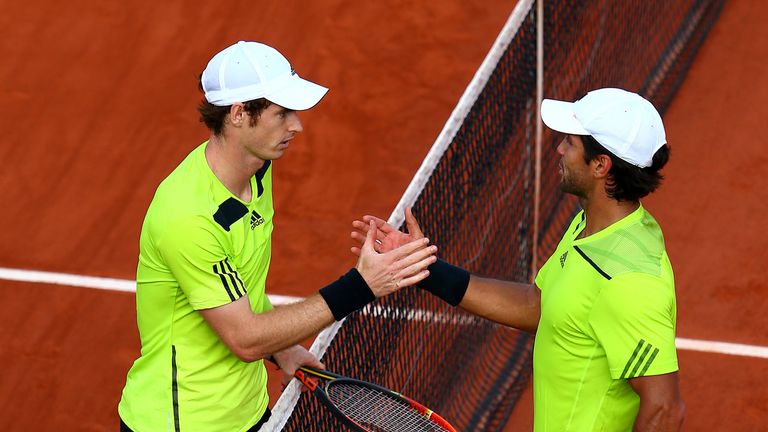 Andy Murray was satisfied with his performance after beating Fernando Verdasco to set up a French Open quarter-final against Gael Monfils.
The Wimbledon champion returned to Court Suzanne Lenglen for the third day in a row after his epic third-round clash with Philipp Kohlschreiber had dragged into Sunday.
Murray deployed aggressive tactics partly to compensate for his fatigue and they worked a treat as he ran out a 6-4 7-5 7-6 (7/3) winner over the 24th seed.
It was one of the Scot's best performances at the French Open and sent him through to a fourth quarter-final in Paris.
The victory also extended Murray's run of having made the last eight at the last 13 grand slams he has played in - he missed last year's tournament here because of back problems.
Murray said: "I was tired after the match against Kohlschreiber. It was a long match. It was mentally draining as well when you don't have that day to recover and you're coming back on court at 7-7.
"Obviously you think about the match a lot in that period between when you stop and once you get back out on the court and then the 45 minutes or so that you're on the court is very tense as well.
"I thought I dictated as many points as I could today. It's not always possible, because you're playing against top tennis players. He's got a lot of firepower as well. I did a good job of that. It was a very good match.
"He can make you do a lot of running and you need to try to combat that sometimes playing good offence and sometimes by defending properly. Defence is the most important thing in all sports."
Verdasco, who had defeated Richard Gasquet easily in round four, came out firing and Murray had to save three break points in his opening service game.
The Scot then forged ahead but Verdasco pegged him straight back and it was not until the ninth game of the set that Murray broke again.
Verdasco was the man who nearly derailed Murray's Wimbledon glory last summer when he led by two sets in their quarter-final and, although Murray had won nine of their 10 previous meetings, this was the first on clay.
Murray had most of the chances in the second set but was frustrated until finally breaking through in the 11th game and then serving it out.
The British number one looked to be in complete control of the third set, breaking serve in the first game and seeing numerous other chances go begging.
Acrimony
I thought I dictated as many points as I could today. It's not always possible, because you're playing against top tennis players. He's got a lot of firepower as well. I did a good job of that. It was a very good match.
Andy Murray
Three came at 4-2 but Verdasco held on, and the game ended in acrimony when the Spaniard's serve was called out then over-ruled and umpire Pascal Maria ordered the point to be replayed.
Verdasco was furious but Murray defused the situation by conceding the point and therefore the game.
He said: "It's a very grey area, because the call came before I made contact with the ball.
"If the call comes before you make contact with the ball, then it's a let. It was a great serve and I mis-hit the ball. It didn't go in. I gave him the point."
Rafael Nadal complained on Saturday about umpire Maria giving him time violations, and Verdasco also criticised the official.
He said: "Pascal is very peculiar. Sometimes he will take things in a certain way, and I said, in that case, I want to talk to the supervisor. Because several times I had bad experiences with Pascal Maria.
"He is an umpire that many players remember vividly and not because of his qualities."
Murray and Monfils first met when the Scot was 10 and the Frenchman 11 and have been good friends ever since.
The other quarter-final in the top half of the draw pits Nadal against David Ferrer in a repeat of last year's final, giving tournament organisers a headache as only one is likely to be on Court Philippe Chatrier.
Murray has not yet played on Roland Garros' centre court, where he would definitely play a semi-final, but he may be best served staying on Lenglen.
Verdasco described the court as much faster than Chatrier, saying: "It was not clay at all."
Murray said: "I'll play whichever court they decide. The atmosphere will be great whichever court it's on."