French Open 2014: Rafael Nadal races away from David Ferrer to set up Andy Murray clash
Last Updated: 04/06/14 9:33pm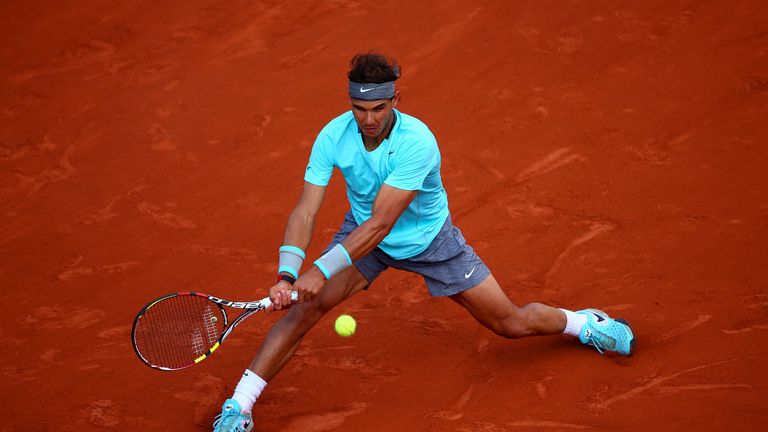 Defending champion Rafael Nadal progressed to the semi-finals of the French Open with a 4-6 6-4 6-0 6-1 victory over David Ferrer.
In a rematch of last year's final, Nadal started slowly against his fellow Spaniard but turned things around in the second set and then started to dominate completely after eliminating the regular erros from his game.
The match did not start until 7pm local time in Paris and finished in the evening gloom, Nadal barely able to beat the darkness as he raced through the last two sets.
Nadal will face Andy Murray in the last four after the British No 1 defeated Gael Monfils in a back-and-forth five-setter.
"When you play David on any surface, it's always tough and he's having a great season," Nadal said of his clash with a player who beat him at the Monte Carlo Masters in April.
"But I was more aggressive after the first set and maybe he did not have the best of matches as it went on."
Errors
The world No 1 made 12 unforced errors in the first seven games, to Ferrer's five, and that made it all too easy for his compatriot to gain the advantage.
The pair traded early breaks and Nadal continued to struggle throughout the set, Ferrer making him pay by taking the first of two break points to clinch the set in the 10th game.
However, in the second set Nadal came out with renewed purpose and never looked back, setting up a break point in the third game with a furious smash and duly converting it with a pin-point backhand down the line.
Nadal was ruthless in clinching the second set, serving the final game out to love to tie the match, and the streak continued into the this as Ferrer began to buckle.
With the world No 1 now finding top form he made fewer mistakes, with no unforced errors throughout the third set, once more holding serve to love to take the lead.
Ferrer had started to look like a broken man at that point, going 3-0 down in the fourth set before crafting two break points to give himself a glimmer of hope.
After letting one slip he made no mistake to end an 11-game losing streak, but Nadal broke back immediately and then won the next two games to win the match at a canter.