French Open 2014: Rafael Nadal stands in the way of Andy Murray's first Roland Garros final
It has been kept quiet for 19 successive Grand Slams, but Friday's semi-final will see the Murray-Nadal rivalry renewed with a place in claycourt tennis' showpiece event at stake...
By Ben Hampshire | @BH92
Last Updated: 07/06/14 1:07pm
Andy Murray will bid to reach his first Roland Garros final on Friday, yet standing in his path is the undisputed 'King of Clay' and defending champion Rafael Nadal.
A clash between Murray and Nadal is always an enthralling contest and tennis fans worldwide are poised for their rivalry to be renewed after a remarkable 19 Grand Slam draws have kept them apart. It is a collision of opposites; right-hander versus left-hander, Adidas athlete versus Nike athlete, defender versus attacker.
Seldom have the two men locked horns at full tilt, with Murray off colour or struggling with injury when Nadal is in full swing and vice-versa, but their latest draw looks set to be an intriguing duel between two in-form Grand Slam champions.
The duo's contrasting styles promise to offer a gripping French Open semi-final. A resurgent Murray, making his second appearance in a major since undergoing back surgery, will rely on his incisive instinct in a bid to turn defence into attack, while Nadal's whipping forehand will undoubtedly feature heavily.    
Murray v Nadal - Live!
You can follow all the action from Roland Garros with our live and interactive blog with Andy Murray facing defending champion Rafael Nadal for a place in the French Open final
Over the course of 19 meetings between the pair, Murray only managed to gain the upper hand on the Spaniard five times, yet never on Nadal's favoured claycourt surface, although the Briton offered a reason for hope in Rome. After avoiding each other for two-and-a-half years, Murray and Nadal came at each other full throttle in the Italian capital.
Murray produced a thrilling first-set performance to blow Nadal away before a ferocious battle ensued, with Nadal, an eight-time Rome champion, eventually prevailing. Though disappointing, it was regarded by many as one of Murray's finest performances on clay since he reached the French Open semi-finals back in 2011.
Nadal's love affair with Roland Garros stretches some way with the eight-time champion unbeaten in his last 33 matches in Paris. Murray has been one of his victims, in the 2011 semi-final when Nadal cruised to a straight-sets victory.
That was a defining year in the rivalry between the pair, with Murray losing three consecutive semi-finals to Nadal, at Roland Garros, Wimbledon and the US Open. Only twice has Murray beaten Nadal at a Slam, winning at the Australian Open in 2008 and the US Open in 2010 when the Spaniard retired hurt.
Just once in 64 matches has the Manacor-born left-hander been beaten in the French capital, when Swede Robin Soderling knocked him out in the fourth round of the 2009 edition of the event. There is no doubting Nadal reigns supreme on clay having beaten Murray in all five meetings, but is there any hope Murray can draw from previous Grand Slam meetings to inspire him to dethrone Roland Garros royalty?
Grand Slam history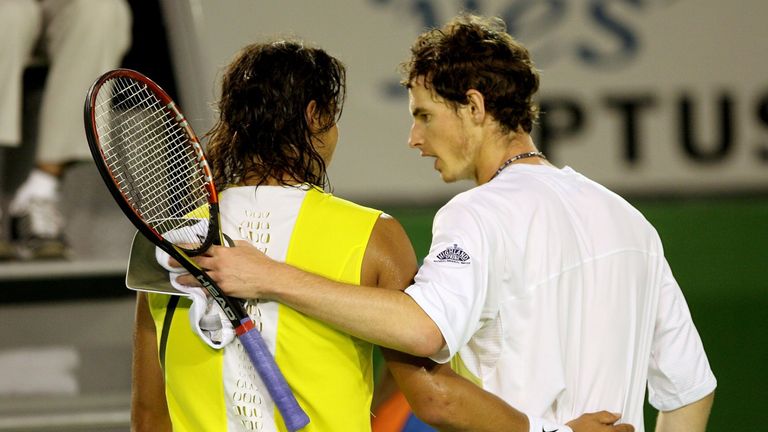 2007 - Australian Open - fourth round - Nadal won 6-7 6-4 4-6 6-3 6-1
Murray was still a teenager when he met Nadal for the first time in the professional game, the Spaniard already the world number two. It was arguably Murray's best performance to that point, although it was Nadal who came through in five sets. It was a key match for the Scot in showing him he could compete with the best on the biggest stages.
2008 - Wimbledon - quarter-final - Nadal won 6-3 6-2 6-4
Murray had mounted his famous comeback from two sets down to beat Richard Gasquet and reach his first Grand Slam quarter-final. But this time he was no match for Nadal, who went on to win his first Wimbledon title, beating Roger Federer in one of the greatest matches of all time.
2008 - US Open - semi-final - Murray won 6-2 7-6 4-6 6-4
A momentous win for Murray; his first over Nadal to put him through to a maiden Slam final. The match was played over two days because of bad weather but Murray held his nerve. He was well beaten in the final by Roger Federer, though.
2010 - Australian Open - quarter-final - Murray won 6-3 7-6 3-0 retired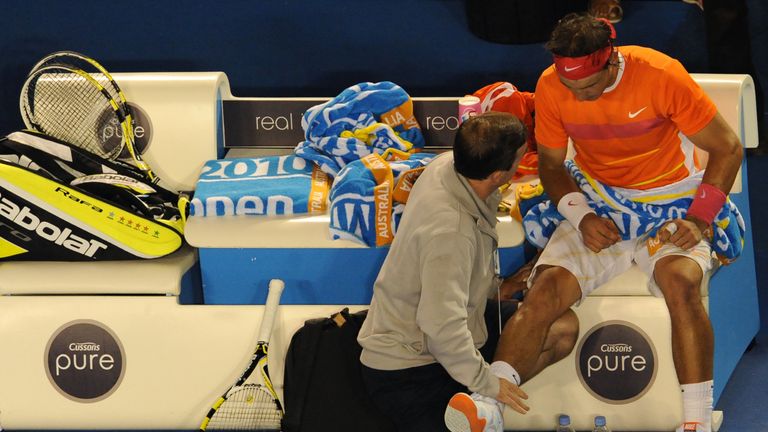 Another victory for Murray, although the edge was taken off his achievement by Nadal retiring in the third set when his troublesome knees gave out on him again. Murray went on to the final, only to once again lose to Federer in straight sets.
2010 - Wimbledon - semi-final - Nadal won 6-4 7-6 6-4
Murray missed out on a first Wimbledon final for the second year in a row by going down in the semi-finals. All three sets were tight, and Murray had chances, particularly in the second when he had a set point, but Nadal was stronger. The Spaniard then beat Tomas Berdych in the final to life the trophy at SW19
2011 - French Open - semi-final - Nadal won 6-4 7-5 6-4
Their next meeting was a similar story. Murray had reached the semi-finals at Roland Garros for the first - and until this year only - time. The Scot played very well and had chances but Nadal saved 15 of the 18 break points he faced and won in straight sets.
2011 - Wimbledon - semi-final - Nadal won 5-7 6-2 6-2 6-4
Another semi-final meeting, and a tough one for Murray to lose after playing brilliantly to win the first set. He was on top early in the second as well but missed a regulation forehand that would have given him two break points and rather unravelled from there.
2011 - US Open - semi-final - Nadal won 6-4 6-2 3-6 6-2
A third straight meeting in slam semi-finals and the same outcome. This was more comfortable for Nadal, who was two-thirds of the way to victory before Murray won the third set. Like at Wimbledon, though, Nadal lost the final to Novak Djokovic.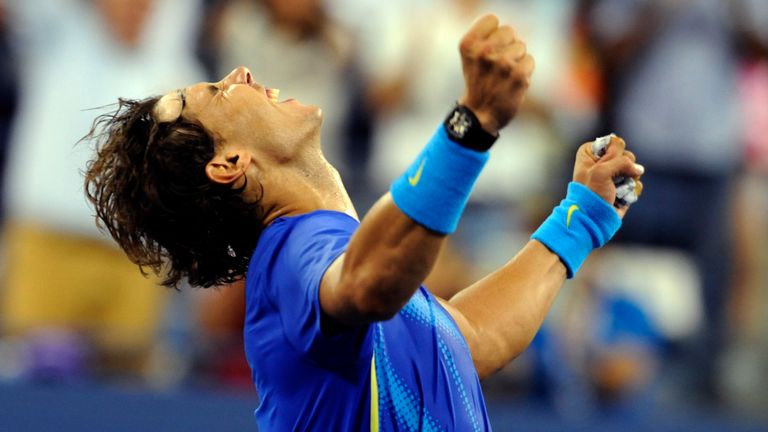 Tale of the tape
                          ANDY MURRAY                                                               RAFAEL NADAL
                                   27                                        Age                                      28
                                British                                Nationality                             Spanish
                               6ft 3in                                   Height                                   6ft 1in
                              13st 3lb                                 Weight                                13st 6lb
                               2005                          Turned professional                        2001
                                  7                                      Seeding                                    1
                                 2                                 Grand Slam titles                           13
                                 5                             Grand Slam runner-up                       6
                                28                                    Career titles                              63
                                 5                             Wins in past meetings                      14
                           31 million                  Career earnings (US dollars)           68.2 million
                          Semi-final                         French Open best                   Champion x 8