Wimbledon 2014: Grigor Dimitrov sets sights on grass court major title
By Razwan Mirza - Tweet me: @RazMirza
Last Updated: 12/06/14 8:19pm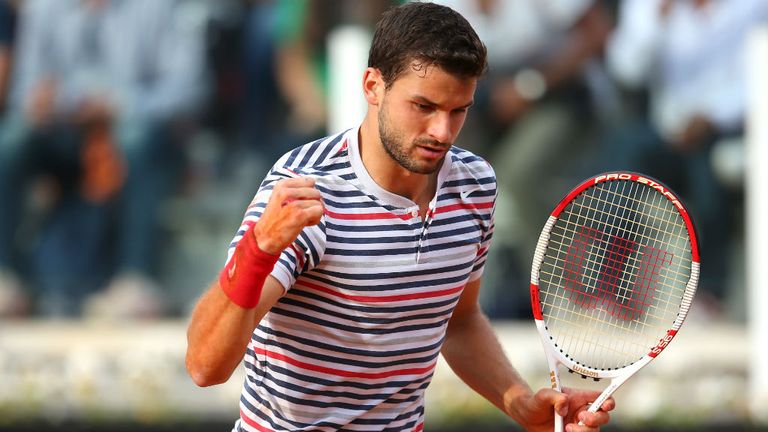 Grigor Dimitrov has revealed his ultimate goal is 'to become a member of Wimbledon the easiest way possible' after beginning his grass-court campaign in winning style on Tuesday.
The Bulgarian is in a positive frame of mind heading into the summer, despite suffering a shock exit at the French Open.
Dimitrov, ranked 13 in the world, lost to giant Coatian Ivo Karlovic in Paris, although the early loss at Roland Garros has given him more time to adjust to the switch to the grass courts.
The 23-year-old, who has already claimed two ATP Tour titles this year - in Acapulco and Bucharest - defeated British No 3 James Ward 7-5 6-3 to advance through to the second round at the Aegon Championships at Queen's Club.
And now Dimitrov is eyeing up his first grand slam title when the third major of the year gets under way at the All England Club on June 23.
"I'd say my goal is to become a member at Wimbledon the easiest way possible. That is to win seven matches," he said.
Dream
"I do believe that's possible. But I think I have to take everything step-by-step. All I have is just positive vibes every time I'm out here, and I think in England in general I feel quite comfortable. I think I have to take one day at a time.
"At the end of the day I won the Wimbledon juniors (in 2008), so of course it's a dream for me to win the real thing. Why not?
"Again, I just think that it's something very special. It's always fun when you open up a new page and it's always nice to get something fresh.
"You know, no more dust on your bag and no more clay court shoes. Everyone is pretty happy with that. I think it's just the whole atmosphere changes throughout the year. We have been travelling a lot, and next thing you know you're coming onto the grass and it's very different.
"It's like for me, it's really like a whole new place. It's a completely different ball game, completely different mindset as soon as I step on a grass court.
"I have always been excited. It's a feeling I have always had. Even if I was at my worst or not feeling good playing, there was always a smile as soon as I stepped on the court."