Wimbledon 2014: Roger Federer thinks he has a 'very good chance' of winning his eighth title
Last Updated: 21/06/14 6:43pm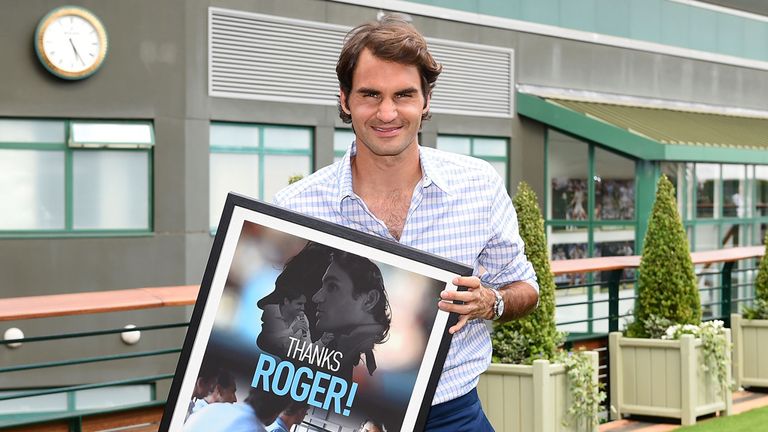 Roger Federer is in confident mood ahead of Wimbledon and thinks he has every chance of winning the title for a record-breaking eighth time.
The 32-year-old all-time great suffered an upset loss in the second-round last year but is expecting to fare better this time, having won the warm-up event in Halle.
"I feel like, if things click here, I should be able to win the tournament," said the Swiss World No 4.
I think he's good enough now to defend again, whereas a few months ago I wasn't sure about that.
Federer on Murray
"Rafa (Nadal) has been so dominant in the French that it goes through him regardless there, whereas on the grass or hard courts, you don't feel it as much.
"I feel like, if I play my game, it's more on my racquet. As soon as that's the case, you're more confident in your chances.
"I feel I have a very good chance again this year."
Vulnerable
Federer is seeded to play his old rival Nadal in the semi-finals, but the Spaniard was the victim of huge upset losses in 2012 and 2013, and Federer thinks another early exit cannot be ruled out.
"I think he might be slightly more vulnerable in the early rounds," said Federer."This new, fresh, lush grass, we're not quite used to it.
"As you go deeper in the tournament, it becomes easier to move and the ball bounces a bit higher. It becomes more what we're used to.
"The early rounds are key for most of the top guys. We're talking about the first two rounds in particular.
"I didn't check his draw but, if he gets through that, I would think we'll see more of what we've seen in the past."
World No 4 Federer also expects defending champion Andy Murray to be one of the leading contenders over the next fortnight.
Murray's run to the French Open semi-finals suggested he was back in good shape after back surgery and Federer thinks the Brit will constitute a major threat.
"Clearly, in a perfect world, you don't want to have surgery," he said. "But I think he's good enough now to defend again, whereas a few months ago I wasn't sure about that.
"Defending champion is never an easy thing. But, then again, he has played so well on grass over the last few years. So he knows how it's done, and I would feel comfortable if I was Andy at this point."