Tim Henman: Andy Murray must put coaching distraction aside and focus on Wimbledon
Last Updated: 24/06/14 4:05pm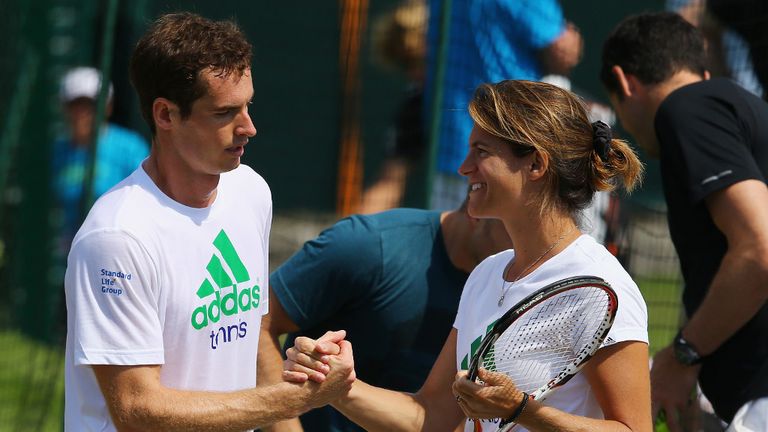 Tim Henman believes Andy Murray must not let the publicity surrounding the appointment of new coach Amelie Mauresmo distract him from defending his Wimbledon title.
The former women's No 1 was named as Murray's coach just a couple of weeks prior to his first-round victory over David Goffin on Monday.
Mauresmo's predecessor Ivan Lendl informed Murray of his decision to quit as his coach in March, ending a highly-successful two-and-a-half years that saw the Scot win two grand slam titles and an Olympic gold medal.
Henman stressed how important it was for Murray to focus on what he can control and believes a favourable draw boosts his chances of reaching a third consecutive final.
"The only things he can control are preparation and performance," said Henman. "What's been talked about in the press, on the television and radio, people's opinions on his new coach, he can't control that, so there's no point in worrying about that.
"Coming back as defending champion, it's massively exciting for everyone. I think the draw's been favourable to him, there are a few tricky ones out there, but on the whole he's got a pretty good section.
"But again that means nothing. He's got to go out and earn that favourable draw. He was able to do that last year and hopefully he can get on a roll again this year."
Henman acknowledged the difficulty of bonding with a new coach in such a short period of time and believes stability is important for Murray as he chases a third grand slam title.
"I think it's certainly an interesting choice," Henman said. "I think the timing of it is not that straightforward, coming in at this time of year, trying to build that relationship when the eyes of the world are on them both.
"But I certainly do hope it works, because the continuity for him is really important, so I think they should stick together for a good while now.
"Chopping and changing I don't think is so good for him in the long-run, so fingers crossed it works out well."
Murray, meanwhile, is happy with the early returns from his partnership with Mauresmo and said, although his present and former coaches have very different personalities, their training methods are similar.
"The stuff we've done on the court hasn't been that dissimilar in terms of the practices and the preparations," the world No 5 said of Mauresmo and Lendl.
"The way they speak to you is different, that's for sure. They're completely different people, completely different personalities. They both come from different parts of the world. They have different upbringings.
"But the key to good coaching, there could be 100 coaches that might be trying to get me to do the same thing, but it's about how you say it. That comes through communication. Not everyone has that skill.
"I'm not going to work well with every single coach or every single person. It needs to be the right personality fit. I hope I found that."