Wimbledon 2014: Andy Murray says clash against Roberto Bautista Agut will be a step up
Last Updated: 27/06/14 11:51am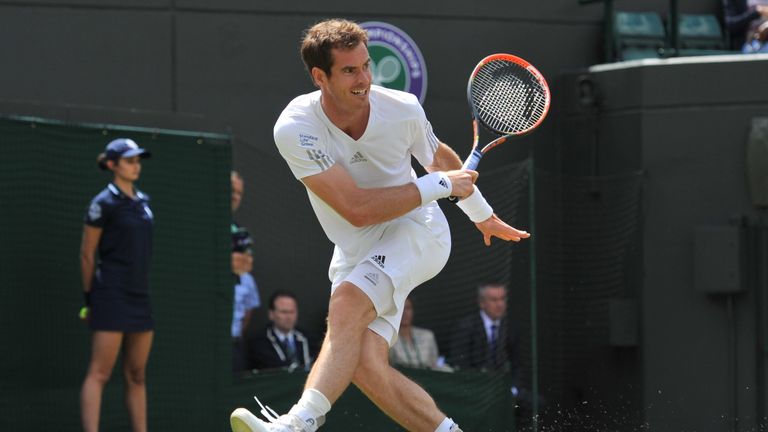 Defending champion Andy Murray admits he will have to step up against Roberto Bautista Agut in Friday's third round Wimbledon clash.
The No 3 seed lost just two games against Blaz Rola last time as he won 6-1 6-1 6-0, while he also saw-off David Goffin in straight sets in the first round.
Next up is 27th seed Bautista Agut, who won the first ATP Tour title of his career on grass in Holland last week, and Murray is not being complacent.
He's obviously started well here. It will be a step up for sure. He's improving all the time.
Murray on Bautista Agut
While the Scot and the 26-year-old Spaniard have never played a match against each other, they practised together on clay in Valencia in April and Murray is expecting a tough work-out.
"He's a very good player," said the British No 1.
"He doesn't play like a lot of the Spanish guys. He plays very flat. Not much top spin. The grass courts suit his game pretty well. He's obviously started well here. It will be a step up for sure. He's improving all the time."
Variety
Meanwhile, Murray expects to see his love of variety encouraged by new coach Amelie Mauresmo, who was one of the last serve-volleyers in the women's game and relied as much on touch as power.
The same skills were very much in evidence in Murray's second-round demolition of Rola, when he came to the net 17 times, winning 13 of the points, while the drop shot - his favourite shot but also sometimes his nemesis - was another weapon of choice.
The 27-year-old said of his variety: "That's something that I've used throughout my career. That's how I've always tried to play the game. That's how I grew up playing, what my mum tried to teach me.
"Most of my coaches since then have viewed that as being a positive, so they haven't tried to take it away from me.
"Obviously that was something that Amelie did very well. She serve and volleyed more than me and came forward a little bit more. I'm sure that's something that I'll try and work on with her.
"The variety is an important part of my game. It's something I'm sure she'll encourage."
Similarities
His mother Judy also thinks her son will use more variety in his game, saying of Mauresmo: "I think there are similarities in the way she feels the game and the way she played. I'm sure we'll see Andy using those things a lot more.
"He's always felt the game really well, had a lot of creativity, a lot of imagination, and a lot of fun playing like that as well.
"He was very successful at a very young age. When he was 12 he won the British under-14 championships and he was quite small.
"He was beating kids who were a couple of years older because he was smart and because he had variety, because he couldn't beat them with strength.
"He was always good with using his brain and he had lots of weapons."