Wimbledon 2014: Lindsay Davenport hails Dani Vallverdu's role in Andy Murray's rise to fame
Last Updated: 30/06/14 12:29pm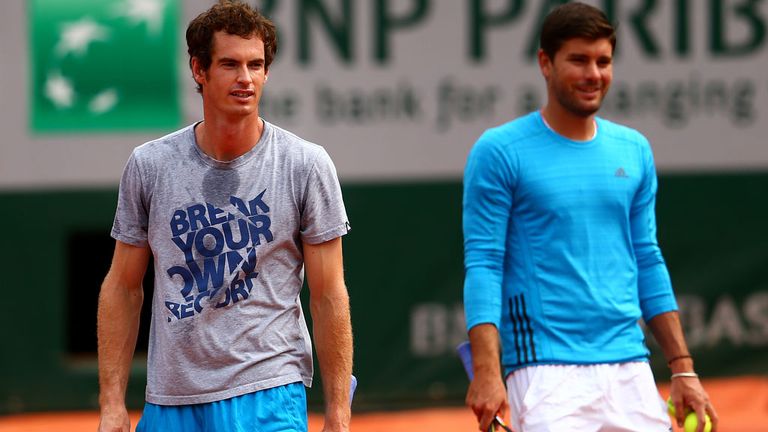 Former Wimbledon champion Lindsay Davenport believes the role played by Dani Vallverdu in Andy Murray's rise to Grand Slam winner should not be overlooked.
The Venezuelan has been part of Murray's backroom staff since 2010 and has worked in a coaching capacity with the Scot.
Davenport, a three-time Grand Slam winner herself and former world No 1, says Vallverdu has helped Murray greatly in the period between former coach Ivan Lendl leaving and Amelie Mauresmo coming in to assist him for the grass-court season.
She (Amelie Mauresmo) is not going to take a job for attention, for money, for any other reason than purely that she wants to do it
Lindsay Davenport
Mauresmo could yet become Murray's next full-time coach but Davenport says Vallverdu's existence has been important for the reigning Wimbledon champ.
Davenport points out: "First of all Dani tends to get overlooked quite a bit and he is the guy that knows how all the other players approach the game.
"He might not know all the other things, like what it's like to go out onto Centre Court and have to deal with that, and that's where a Lendl or a Mauresmo come in.
"I almost think they are advisers: they are obviously coaching but he (Vallverdu) is still doing a ton of the work.
"So to say that Andy's been without a coach is still a bit of a stretch.
"She can come in, and it's always great to hear fresh perspective on your game, if you respect who the message is coming from."
Permanent position
As for Mauresmo taking on a permanent position with Team Murray, Davenport adds:  "She's not going to take a job for attention, for money, for any other reason than purely that she wants to do it.
"There are very few people out there like that and she does what she wants, when she wants.
"I don't think it's her natural style to spend that much time out on the tour.
"She coached (Marion) Bartoli here to the Wimbledon Championship, then said she was done, that she wasn't going to do it anymore.
"Bartoli ended up retiring so it wasn't a big deal but she just wasn't going to go through that anymore."
Vallverdu, 28, is a long-time friend of Murray and they were part of the same training academy as teenagers in Barcelona.
But while Murray joined the ATP Tour, Vallverdu went on to study at the University of Miami having reached a career high singles ranking of No 727 in 2005.