Wimbledon 2014: Serena Williams pulls out of doubles after apparent dizzy spells
Last Updated: 01/07/14 8:41pm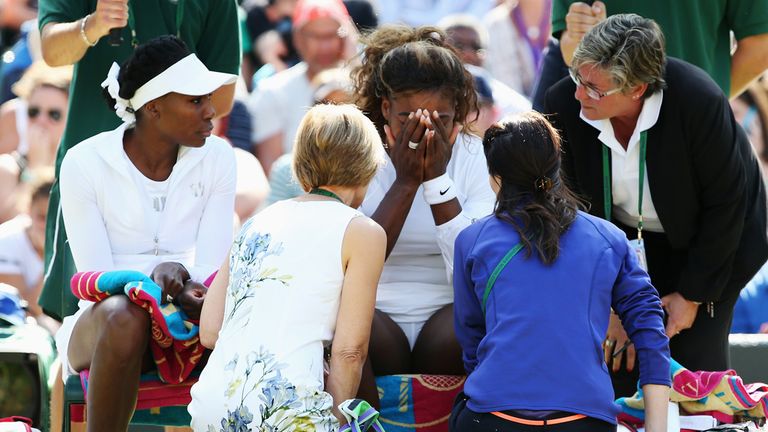 Serena Williams' Wimbledon campaign ended in extraordinary circumstances as she pulled out of the women's doubles after a worrying display on Court One.
Serena, who had already been knocked out of the singles draw, was playing alongside sister Venus in a second round match on Court One but was clearly battling serious problems.
Trouble with her vision seemed to be the cause of the issues and she served four consecutive double faults in the third game of the match.
At 3-0 behind in the first set the Williams sisters, who have won the Wimbledon doubles title five times, decided against taking the match any further.
In her service game Serena was struggling to bounce the ball and keep it under any semblance of control, at one point failing to reach the net let alone clear it.
Umpire Kader Nouni came down to the court to speak with the sisters, who carried on, but Serena's fourth double fault in a row left them little option but to abandon.
The WTA later announced that the reason for Serena's withdrawal was a "viral illness".
In a statement, Serena said: "I am heartbroken I'm not able to continue in the tournament. I thought I could rally this morning, because I really wanted to compete, but this bug just got the best of me.
"From the bottom of my heart, I thank all of the fans for their cheers and understanding. I look forward to returning to Wimbledon next year."
Venus said: "Unfortunately Serena has been feeling unwell for the past few days and she just couldn't play to her potential today.
"I'm really proud of her for trying because we just love playing doubles together. We are looking forward to coming back to Wimbledon next year."