Wimbledon: Nick Kyrgios admits he still has a lot to improve on despite his victory over world No 1 Rafa Nadal
Last Updated: 03/07/14 8:30pm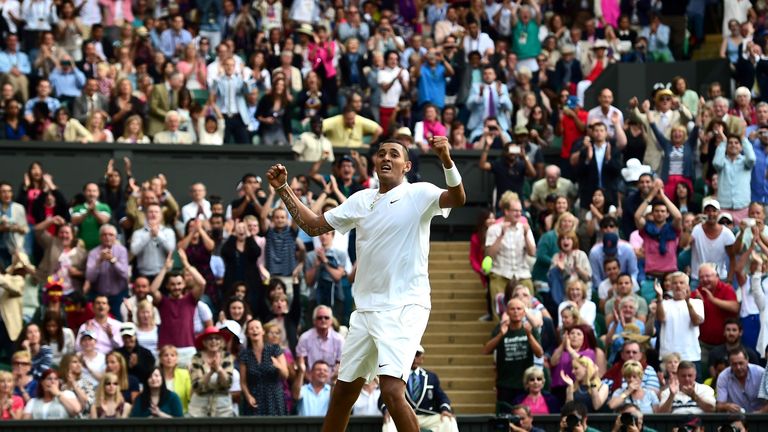 Nick Kyrgios caused the biggest upset at Wimbledon this year but the 19-year-old insists he will not get carried away following his victory over Rafa Nadal.
Ranked 144th, up from 838 this time last year, the Australian's four-set victory was the first time since 1992 a player outside of the top 100 had beaten the world's No 1.
Kyrgios, who has a Greek-Australian father and a Malaysian mother, caught the eye with his vicious serve and impressive strokes, but failed to build on the victory when crashing out to eighth-seed Milos Ranoic 24 hours later.
Despite his exit, Kyrgios insists he will take a number of positives from the week which has seen him take his place among the world's top 100 just a year after turning profressional.
He told Sky Sports News: "That was the best match of my life. It's been an amazing journey, it's been such a good ride and a lot of excitement but bviously a bit disappointing after the Ranoic match.
"There's a lot of things I can take away from this and a lot of things I need to improve on but I gave everything I have and I will be ready for next year."
Prior to Wimbledon he had only won three career matches but his impressive performance on the grass courts has marked quite a change, most notably through his Twitter account.
"Pre Wimbledon I had about 14,000 followers and now I have 70,000 so my life's changed a lot," he said. "At the start of the tournament I wasn't getting noticed on the grounds but now I'm getting noticed a lot so already I'm seeing changes."
Meanwhile back in Australia he has already been dubbed the 'Rockstar of Australian Tennis' and Kyrgios is unfazed at the prospect of carrying the weight of his nation's tennis hopes on his young shoulders.
"Yeah you know they are so happy for me, I've seen videos of them when they were watching my match and they were going crazy so it's good to know they were all behind me and really happy for me," he added.