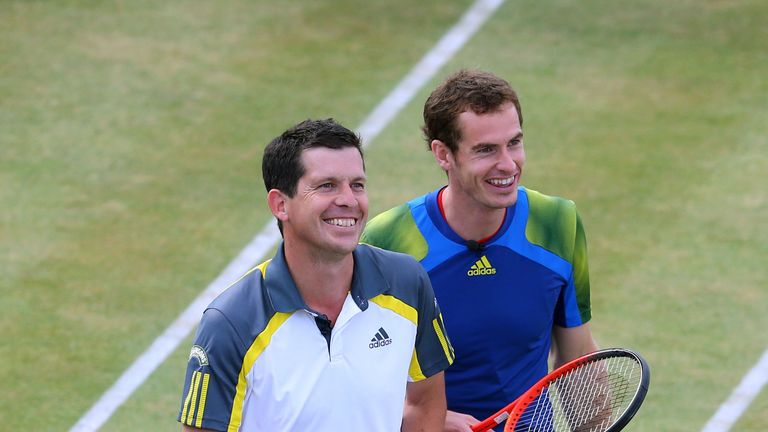 Tim Henman is optimistic British No 1 Andy Murray can emerge from a difficult year with a strong performance at the US Open.
Murray, who made his return from back surgery at the start of the season, has slipped to ninth in the world rankings and has yet to win a title or beat top-10 opposition in 2014.
The Scot also split with his coach Ivan Lendl - the man who guided him to two Grand Slam titles - in March and has since appointed former Wimbledon champion Amelie Mauresmo as Lendl's successor.
On Murray's US Open prospects, Henman told Sky Sports News Radio: "I think he's got a great chance even though he hasn't had the most straightforward of years.
"It's an important time now, hardcourt is a great surface for him. He won his first slam at the US Open (in 2012) and is always be a tough match for anyone."
Continuity
Henman thinks the Murray-Mauresmo partnership should be given a chance to develop.
"I was surprised when they made the initial announcement, I wasn't really sure who would take over after Lendl," said the former world No 4.
"I think it's important now that they've got time for that relationship to grow. It's difficult starting with a new player-coach relationship in tournament play, let alone when you're playing at home two weeks before defending the biggest title in the world.
"The remainder of this year is an important time to see how the relationship evolves. Hopefully it works out because I think the continuity is important for Andy. He doesn't want to be chopping and changing coaches. He wants a clear plan in place about the way he wants to play the game."
Tim Henman is an HSBC Ambassador. The HSBC Road to Wimbledon National 14 & Under Challenge is the UK's largest national junior grass court tournament and forms part of HSBC's investment in the stars of the future. www.hsbcroadtowimbledon.com