US Open 2014: Matthias Bachinger looking forward to playing Andy Murray in New York
Last Updated: 26/08/14 11:18pm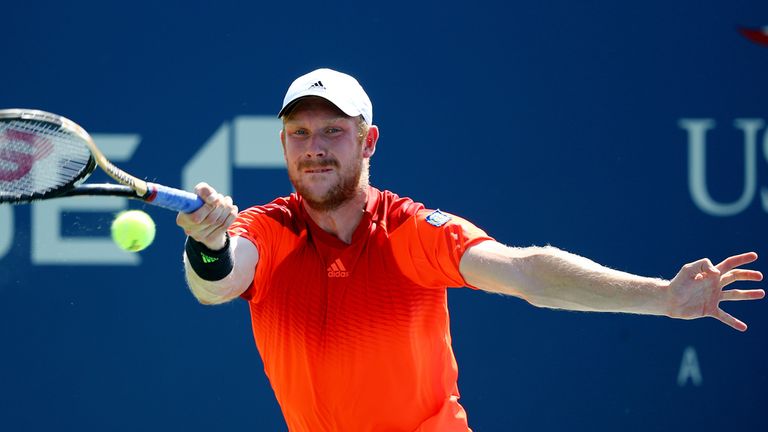 German qualifier Matthias Bachinger is relishing taking on former champion Andy Murray in the second round at the US Open on Thursday.
The 27-year-old set up the clash with the 2012 champion after beating Radek Stepanek on Monday for his first ever grand slam victory.
Murray survived an unexpected and perplexing bout of cramp against Robin Haase that came close to ending his campaign before it had really begun and Bachinger is looking forward to taking on the British No 1.
Bachinger and Murray have never played each other in a professional match but they were briefly junior rivals - the German is a month older.
"I'm really looking forward to playing him," said Bachinger. "When we were 14 we played each other a few times. Now it's a different match, for sure, but I'm really looking forward to it. We'll be on a big court.
"I won one time, 7-6 in the third. It was in Italy. I've never forgotten that because in juniors he was really, really good. Then I think I lost to him three times.
"He was fighting for every ball, just like he does now. You could already see that he would be a top star."
Regarding Murray's first round scare, Bachinger added: "I saw the end of the match. I saw that he was cramping a little bit. He had some problems, but at the end he won, like he usually does.
Of course I know it will be really tough, but I just want to go out there and enjoy every minute, every ball. That's my goal for this match.
Matthias Bachinger
"I was very surprised because he is normally really fit. I've never seen him cramping before, but he's human, not a machine.
"The good thing for me is that I'm in good form. In tennis you always have chances. Of course I know it will be really tough, but I just want to go out there and enjoy every minute, every ball. That's my goal for this match."
Crazy
Bachinger was not supposed to be in New York. His ranking, which now sits at 235, was too low to make the cut for qualifying, and he was so far adrift that he did not even travel to the States in the hope that people would pull out.
"I didn't think I would get in," said the 27-year-old. "They called me last Monday. I flew here from Europe on Tuesday, I arrived in the afternoon and I played on the Wednesday.
"So my preparation was not very good, but from the beginning I had a very good feeling. Sometimes life is crazy."
Bachinger had been playing on clay back home in Munich but somehow the unusual preparation worked as he breezed through qualifying.
More surprisingly still, he then eased past Stepanek, one of the trickiest customers on tour, and has not lost more than three games in any set.
He said of the Stepanek win: "I played unbelievable. I think it was my best match ever. Stepanek is not a bad guy. He has much experience. But everything went for me and I played really well. It was the best tennis day of my life maybe.
"I've played at grand slams five times before. I played here twice and lost in five sets. But I knew that I could play really well here and I showed my best tennis and am really happy."