US Open: Ross Hutchins and Chan Yung-jan reach last four of the mixed doubles
Last Updated: 02/09/14 8:09am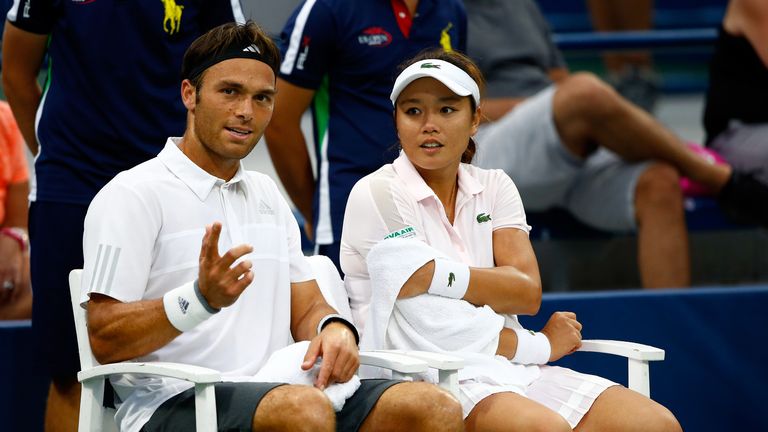 Ross Hutchins reached his first grand slam semi-final in the mixed doubles at the US Open with Chinese Taipei partner Chan Yung-Jan.
The pair had scraped through their first two matches but were in control at 6-3 1-2 up on Pole Marcin Matkowski and Kveta Peschke in Monday's quarter-final when the Czech player retired.
Hutchins has not had the success he would have wanted with Scottish partner Colin Fleming in men's doubles after returning to the tour at the beginning of the season following a battle with cancer.
The two-time slam quarter-finalists lost in the first round in New York but Hutchins' mixed run has been a significant bonus.
Hutchins said: "It's exciting. It's the first semi-final for me. I'm really pleased to be able to win a few matches.
"It's a shame for Kveta today. I didn't know she got injured. I hope she's okay but we were playing some good stuff.
"Latisha (Chan's nickname) was playing great and I've enjoyed playing with her. We're very relaxed on court. We've won a couple of close matches and it felt good out there. It was fun."
Hutchins has now run out of tournaments he can play under his protected ranking of 28 - the mark he was at before being forced to take a year off to undergo cancer treatment.
The 29-year-old revealed he and Fleming are putting their partnership on hold because his current ranking of 148 is not high enough to get them into ATP Tour events.
Imagination
Having hoped to pick up where they left off, they have instead only won nine matches all season, and Fleming may again link up with former Wimbledon champion Jonny Marray, who he partnered last year in Hutchins' absence.
Hutchins said: "Colin and I wanted to do well. We haven't done well enough this year by any stretch of the imagination. Our slams have been poor.
"I'm not serving as well. I used to have a great serve and I haven't found my rhythm back. And generally we haven't picked up the confidence that we had."
Hutchins will play on the second-tier Challenger tour for now but is hoping to resume playing with Fleming in the not too distant future.
"Ideally we'd like to play forever together," he said. "I need to get some wins in Challengers, and it won't take long to get back up.
"It's just wins. I'm in decent shape, the body's feeling good and I'm not sick of travelling or anything like that. I want to improve, I want to do well but I just need to play better.
"Doing well in the mixed helps. I've been around the game quite a long time so I know not to get fazed by things. I just want to get better."