US Open 2014: Roger Federer fights back from two sets down to beat Gael Monfils
Last Updated: 05/09/14 4:20pm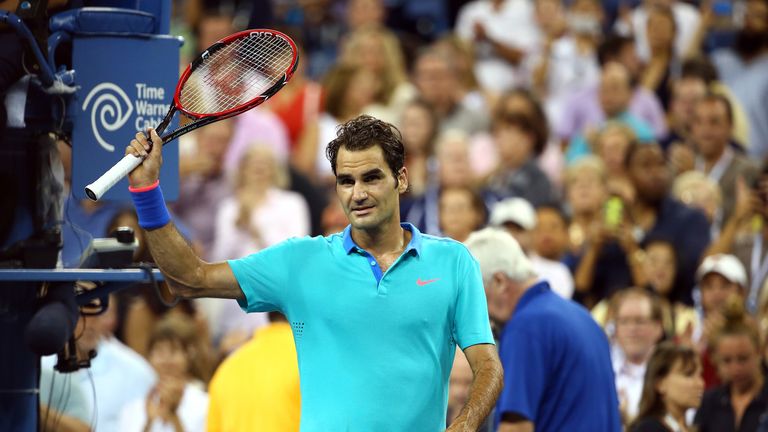 Roger Federer battled back from two sets down and double match point to defeat Gael Monfils 4-6 3-6 6-4 7-5 6-2 and reach the semi-finals of the US Open.
Federer - who will face Marin Cilic in the semi-final - survived a pair of match points when down 15-40 on serve in the tenth game of the fourth set before sealing one of the greatest comebacks the tournament has seen.
Frenchman Monfils struck a backhand long to squander his first chance to claim victory and then Federer denied the 20th seed with a stunning forehand winner to stay in the match.
From that point on, Federer took charge by holding serve for 5-5, closing out the fourth set and then breaking Monfils in the first game of the fifth.
He had been awful in the first two sets, spraying unforced errors around the Arthur Ashe Stadium, but having clawed his way back and fended off the two match points, he moved up several gears in the fifth, tearing Monfils apart.
He won nine of the last 11 games before clinching victory after three hours and 20 minutes.
Great feeling
Federer insists he never felt the match was lost.
"I still thought the finish line was far for Gael," Federer said. "I knew I could play better tennis.
"When I was down two match points, I wasn't feeling so great ... I thought 'this is it, this is the last point, man. Just go down fighting, don't miss an easy shot and let him have it'.
"It was one of those moments where you got your back against the wall and hope to get a bit lucky and you hope to play exactly the right shots that you need or that he completely just messes it up. I'm very, very happy to have found a way tonight
"I served well and stayed in the match and somehow turned it around. I felt great in the fifth, though. I started playing better and better as the match went on. It's a great feeling."
"I have played some amazing matches here, but maybe not enough over the years," said Federer, winner of a men's record 17 grand slam singles titles. "I'm happy I got through one tonight. Regardless if I won or lost it, it was really special.              
"There is nobody like New Yorkers, and this stadium here is phenomenal"
It was the ninth time in his career that Federer has escaped from a two-set deficit, the last time in the third round of Wimbledon in 2012 against another Frenchman in Julien Benneteau.
Federer will play 14th seed Cilic, who blasted his way past sixth seed Tomas Berdych 6-2 6-4 7-6 (7-4), on Saturday for a place in the final.
Monfils, who had lost seven of nine career matches against Federer but split their last four, paid tribute to the Swiss for hanging on for dear life when the odds were stacked against him.  
"That's why he's Roger Federer ...," he said. "I think I handled it good. It was 50-50, and then he tried to come to the net very often. It was a bit better for him. Then suddenly he start to mix everything. You know, that's why he's the greatest player, because he can do everything."