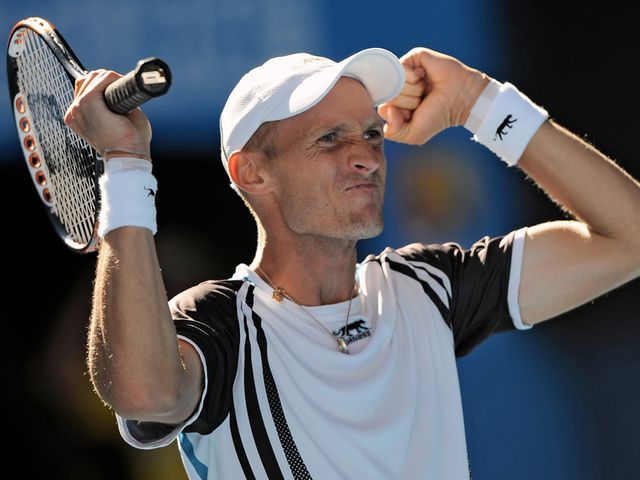 The baseline bludgeoner heads into his least favourite major after being forced off the tour for three months.

Davydenko has been missing since March after breaking his left wrist but returned to the court recently at Wimbledon's warm-up event in Halle, the German equivalent to Queen's.

The diminutive Russian entered 2010 in the form of his life after winning the season-ending World Tour Finals, beating US Open champion Juan Martin Del Potro, who is currently crocked with his own wrist injury.

Davydenko started the season by winning the Qatar title before falling to Roger Federer at the last-eight stage of the Australian Open, a tournament where he was one of the favourites to win.

The 29-year-old right-hander, who is one of the finest baseline players on the tour, has been openly critical of the third major on the calendar, calling it a "boring place" and his record at SW19 does not read kindly - this year he will bid to make it past the first week for only the second time in nine outings.

As grass so often brings out the worst in Davydenko, history suggests his poor run at the All-England Club is set to continue.
| | 2011 | 2010 | 2009 | 2008 | 2007 | 2006 | 2005 | 2004 | 2003 | 2002 |
| --- | --- | --- | --- | --- | --- | --- | --- | --- | --- | --- |
| Australian Open | R1 | QF | - | R4 | QF | QF | QF | R2 | R1 | R1 |
| French Open | - | - | QF | R3 | SF | QF | SF | R1 | R2 | R2 |
| Wimbledon | - | - | R3 | R1 | R4 | R1 | R2 | R1 | R1 | R1 |
| US Open | - | R2 | R4 | R4 | SF | SF | R2 | R3 | R2 | R2 |