The Claycourt Queens
Safina returns to Roland Garros looking to affirm her status as No. 1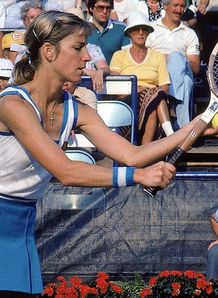 Also see
World number one Dinara Safina returns to Roland Garros hoping to follow in some illustrious footsteps.
The Russian was runner-up in last year's tournament when Ana Ivanovic claimed her maiden Grand Slam title, but the Serb has failed to build on that success.
Indeed, no one has dominated the event, or the sport for that matter, since the retirement of world number one Justine Henin in May 2008.
So as the latest batch of hopefuls battle it out for the coveted Suzanne Lenglen trophy, we take a look back at some of the claycourt queens of yesteryear.
Chris Evert
Raised on the clay courts of her native Fort Lauderdale, Florida, Evert's consistent and precise style from the back of the court made her perhaps the greatest ever to grace the red stuff. Her trademark double-handed backhand was unfailing and there was no fiercer competitor, just ask Martina Navratilova. The pair enjoyed one of the greatest rivalries in tennis history between 1973 and 1988. Of her 18 career Grand Slams, the American won a record seven French Open titles, beginning with back-to-back titles in 1974 and 1975, with Navratilova her victim on three of those occasions. Evert also won an astounding 125 consecutive matches on the surface from Augurst 1973 to May 1979 before hitting another amazing winning streak - only 72 this time - before losing in a semi-final at the 1981 French Open.
Suzanne Lenglen
Delving into the history books, it is impossible to ignore the legend of Suzanne Lenglen - born May 24, 1899. Bursting on to the scene by making the French Championship final, as it was known then, aged just 14, the development of the Parisien's promising career was delayed by of the First World War. Her all-court game typified by rhythmic groundstrokes showed no sign of having suffered after peace was finally declared, though, and she went on to change the nature of women's tennis with her domination of the sport between 1919 and 1926. Known as much for her celebrity as the quality of her classical style of play, Lenglen won the French Open title six times as well as earning the honour of having the women's singles title named after her. She is one of just eight French women to win in Paris, the last of which was Mary Pierce in 2000.
Margaret Court
The appropriately named Court boasts a stunning 62 Grand Slam titles to her name, including 24 singles, 19 women's doubles and 19 mixed doubles. Eleven of those singles crowns might have come in her native Australia, where they have now named an arena at Melbourne Park after her, but her supreme skills were not confined to the Southern Hemispehere. Lesley Turner Bowrey, Maria Bueno, Ann Haydon Jones, Helga Niessen Masthoff and even the great Chris Evert all fell to her in finals at the French Open and she held a 47-5 win-loss record at the tournament. She was the first Australian woman to win the competition in 1962 and in 1970 became the first woman during the open era to win all four Grand Slam titles in the same year.
Steffi Graf
Second only to Margaret Court in the all-time Grand Slam winners' list is Graf, with 22 crowns to her name. Equally adept on all four surfaces, the German's stunning all-round play blended power and touch and she also boasted one of the fastest serves in the female game. She remains the only player to have won all four Grand Slam singles titles at least four times each and enjoyed a career bookended by victories at the French Open. A three-set triumph over Martina Navratilova set the youngster on her way in 1987 before she then rounded off a scintillating career with success against Martina Hingis 12 years later.
Monica Seles
Precocious American youngster Seles twice got the better of Graf in French Open finals, though, in winning three consecutive titles from 1990 to 1992. She became the youngest ever champion at the 1990 French Open aged just 16 before her career was sadly cut short when a German spectator knifed her in the back at a 1993 tournament. She enjoyed some success after bravely making a comeback but was never the same player, bowing out at Roland Garros in 2003. Although it is impossible to know the course of her career had the attack not occurred, her trajectory in the early 90s suggested she would go on to continuing future greatness. During the height of her career she won eight of the 11 Grand Slam singles tournaments she contested and will therefore go down as one of the greats.
Justine Henin
Belgian star Henin went on to replicate Seles' achievements of three consecutive French Open singles titles between 2005 and 2007. Her speed, array of strokes and seemingly never-ending arsenal of winners saw her conquer all before her. Described as 'pound-for-pound the best tennis player of her generation', by Billie Jean King, the diminutive Belgian had it all. Her retirement aged just 25 when still world number one has left a void at the top of the women's game that has still yet to be filled.
Sky Bet Odds:
Click Here for Your Free Bet
[an error occurred while processing this directive]
Experts & Blogs

Ewen Murray gives his views on the state of the game and what he would like to see happen in 2011.

Bob Willis has selected his team and players of 2010 but do you agree with his choices? Let us know.