Serena strolls through
Second seed moves a step nearer to another family affair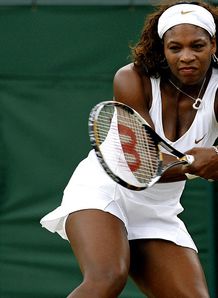 Also see
Serena Williams cruised into the quarter-finals of Wimbledon for the eighth time in her career as she thrashed Daniela Hantuchova on Monday.
Ths second seed, twice a champion at the All England Club, was once again in dominant form as he sauntered to a 6-3 6-1 win in just 56 minutes.
The pair traded early breaks of serve but Williams used her clubbing forehand to edge ahead with a another break in game six.
That proved enough to take the first set and Williams broke again in the first game of set two to take full control.
From there, Hantuchova won just one more game as Serena moved closer to another all-Williams final with sister Venus.
Afterwards, Williams declared herself happy with her form but, as always, suggested improvements could be made.
Solid
"I've definitely been solid and playing consistently,'' she said. "But obviously there's always room for improvement in my game.
"I definitely felt like I could have served a little better today.
"I feel like I definitely need to step it up, play better, really start playing some great tennis, or go home. And I don't want to go home, so I'm just getting more serious.
"I feel like I can play better. I know I can. The fact that I actually know I can get to a higher level is good for me.''
Hantuchova was gracious in defeat, admitting there was little she could do to keep Williams at bay.
Tough
"It was tough,'' said the Slovakian.
"The ball was coming very, very fast back to my side, and I thought she played an unbelievable match.
"Out of all the matches I've played against her, I think this was one of her best performances."
Next up for the Amercian will be a meeting with eighth seed Victoria Azarenka, who edged out Nadia Petrova in a much tighter encounter.
Azarenka, who beat Williams in the final in Miami earlier this season and also led her at the Australian Open before quitting with heat exhaustion, won 7-6 (7/5) 2-6 6-3 in two hours and 25 minutes.
Petrova appeared to be struggling in the heat early in the match and called for the trainer at one point.
However, she recovered to lead 2-1 with a break in the final set before Azarenka hit back immediately and pushed on for a narrow victory.
The Belarus player, unhappy with a line call, had accused the umpire of "ruining the game'' during the second set before going over to sarcastically shake the hand of the line judge.
Sky Bet Odds:
Click Here for Your Free Bet
[an error occurred while processing this directive]
Experts & Blogs

Barry Cowan says Wimbledon champion Rafael Nadal is playing some of the best tennis of his career.

Gerry Williams reflects on a fortnight of warmth and wealth for Rafael Nadal and Serena Williams.