A new star is born
Argentine's mental toughness will take him to greater heights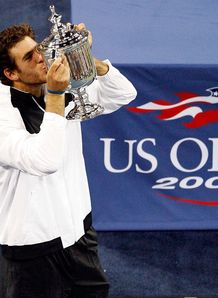 For him to get it this young at 20 years of age means the future will be bright and there will probably be multiple slams to follow.
Greg Rusedski
Quotes of the week
LIVE ON SKY SPORTS
Spain v Israel
Davis Cup Semi-Final

Also see
Greg Rusedski believes Juan Martin del Potro will go on to become a multiple Grand Slam winner after his US Open triumph.
The 20-year-old Argentinean powered his way to a 3-6 7-6 (7/5) 4-6 7-6 (7/4) 6-2 victory over World No 1 Roger Federer at the Arthur Ashe Stadium and Rusedski was impressed by Del Potro's desire.
"He deserved to beat Roger," Rusedski told Sky Sports. "He's earned it. He has played the best tennis this summer, throughout this tournament and a new star is born.
"I can only see him getting better and better with time. His confidence will be sky high. He will believe he can beat anyone, win any major and he's got the game to do it."
Frustration
The match was finely poised at one-set all with Federer 5-4 up in the third when del Potro was allowed to challenge a line call following a prolonged delay.
The challenge proved unsuccessful, but the incident incensed the Swiss who at the end of that game made his feelings known to the umpire - with good reason, in Rusedski's view.
"It was a very important time during the match," he said. "Roger was nearly in his seat at the change over. He was upset and wanted to vent his frustration.
"The language was appalling and he shouldn't have used it but he wanted to make the point - how long do you have before you have to call Hawkeye?
"The unwritten rule is between about two and five seconds and Del Potro took about 10 so that really flustered Federer. So his point is right. I think the conversation was a justified one to have.
"With the naked eye the ball looked out but Del Potro was clever enough to call for Hawkeye.
"It showed the ball in and Federer didn't actually believe the Hawkeye was right, got broken in that game and that's when the momentum went with Del Potro.
Bright
"But Del Potro was so good today because he was up a break at one-set all, lost that set stuck with it and found a way to win the tie-breaker and then just powered through the fifth set.
"That right there shows a lot of mental toughness and to win your first grand slam is the hardest thing to do for any player. For him to get it this young at 20 years of age means the future will be bright and there will probably be multiple slams to follow."
After the defeat Rusedski believes that the biggest challenge for Federer - who has 15 major titles to his name already - will be self-motivation.
"It (the future) depends on Roger himself. He's married now, he's got kids. The question will be 'can he find the motivation' to do it?
"It's a difficult thing when you have accomplished everything in the sport and now there are all of these youngsters there, like Del Potro, Murray Djokovic.
"Will he be able to rediscover that motivation? I don't know. But he always surprises us and finds a way, but things are getting more and more difficult."
Sky Bet Odds:
Click Here for Your Free Bet
[an error occurred while processing this directive]
Experts & Blogs

Nikolay Davydenko has every chance of becoming a Grand Slam champion, says Barry Cowan.

Semi-final confusion should not tarnish what's been a fantastic World Tour Finals so far, says Barry Cowan.