The Final - the form
Scot holds winning record against Swiss ace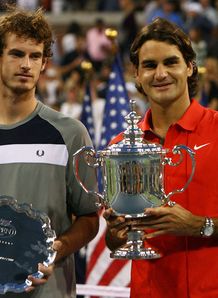 Andy Murray heads into Sunday's Australian Open final with Roger Federer as the underdog with the bookmakers.
However, one advantage he does have is that he's one of an exclusive club of players to hold a winning record against the world number one.
Murray leads their head-to-head record 6-4, although he has lost the last two meetings - the most recent coming back in November at London's O2 Arena.
Federer has also been quick to point out in the past that he's won the one that really mattered - the US Open final of 2008 which is the only time the pair have previously met at a Grand Slam tournament. It's also the only time they've played a best-of-five-set match.
Here's a detailed look back at their previous encounters:
Bangkok, 2005, F (outdoor hard) - Federer 6-3 7-5
Murray was just 18 when he took on Federer for the first time. The Briton had burst onto the scene during the grasscourt season a few weeks earlier and he continued his fine form to reach his first ATP final. Federer proved too good but the teenager won plenty of plaudits for his display.
Cincinnati, 2006, L32 (outdoor hard) - Murray 7-5 6-4
Murray's first win over Federer came in the summer of 2006 on his favourite North American hardcourts and at the peak of the world number one's powers. Federer won 92 of his 97 matches in 2006 but this was one of his defeats. He simply had no answer to Murray from the back of the court and went down in straight sets.
Dubai, 2008, L32 (outdoor hard) - Murray 6-7 6-3 6-4
Murray did not face a single break point as he served brilliantly to win, but this match is better remembered for what was said after it. Federer was critical of Murray's game, saying it had not evolved since 2005 and was too defensive. "You want to look to win a point more often, rather than wait for the other guy to miss," he said. It all came across as sour grapes.
US Open, 2008, F (outdoor hard) - Federer 6-2 7-5 6-2
This is the match that Federer has spoken about "really mattering". It is the pair's only Grand Slam meeting to date and Murray was well beaten. Federer started superbly and, bar a brief spell in the second set, dominated the match. The tournament schedulers had not helped Murray, who had had to complete his semi-final the day before, but Federer was a worthy winner.
Madrid Masters, 2008, SF (indoor hard) - Murray 3-6 6-3 7-5
Murray gained some revenge for his New York loss in this one. It was a real battle which could have gone either way. In the end it was Murray who emerged victorious in a tense final set, which saw Federer save six break points before finally conceding his serve. Federer's famous forehand went a bit awry in the closing stages and Murray made him pay.
Masters Cup, 2008, RR (indoor hard) - Murray 4-6 7-6 7-5
A gripping contest at the ATP Tour's season-ending event in Shanghai, this was a true classic. After more than three hours of tennis, Murray edged it after some highly-entertaining points in the decider - but only after missing no less than seven match points on the Federer serve at 5-5. It took its toll though - Murray was well beaten by Nikolay Davydenko in the semi-finals the following day.
Doha, 2009, SF (outdoor hard) - Murray 6-7 6-2 6-2
Murray had started 2009 like a train and he continued his fine form by hitting back from a set down, dominating the last two sets. Having beaten Federer the previous week in an exhibition event, the Briton was becoming a real problem for the Swiss. It was his fourth come-from-behind win over Federer.
Indian Wells Masters, 2009, SF (outdoor hard) - Murray 6-3 4-6 6-1
Murray's last win over Federer came in the Californian desert towards the start of last season when he made it four in a row against him. A final-set fall was a brief concern but he got up and pulled away in the decider.
Cincinnati Masters, 2009, SF (outdoor hard) - Federer 6-2 7-6
Murray came into the contest in fine form having won the Canadian Masters title the week before. However, the amount of tennis in his legs seemed to catch up with him. Federer took the first set easily and sealed victory by claiming a lengthy tie-break.
ATP World Tour Finals, 2009, RR (indoor hard) - Federer 3-6 6-3 6-1
Murray, cheered on by his home fans at the O2 Arena in London, made a flying start but faded as the match wore on. Federer dominated the second half of the match. His margin of victory in the final set would prove enough for him to progress from the group at the expense of Murray.
[an error occurred while processing this directive]
Experts & Blogs

The hard work starts now for Andy Murray, says Barry Cowan, as the top four clash in Melbourne.

Day one at the Australian Open and we have already lost the supporting cast, now it's over to Andy Murray.