Stosur stunned by success
Finalist says she may have benefited from time out after illness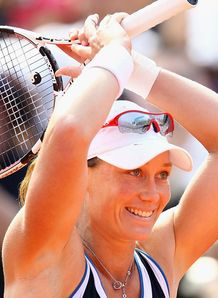 When I was out, I never let myself doubt the fact that I would return.
Samantha Stosur
Quotes of the week
Also see
French Open finalist Samantha Stosur has admitted that the illness that could have ended her career might in fact have been a blessing in disguise.
The 26-year-old Australian has enjoyed a remarkable run in Paris this year - Stosur beating former world number ones Justine Henin and Jelena Jankovic as well as top seed Serena Williams.
However, the seventh seed was battling to save her career three years ago, when she was struck down for 10 months by Lyme disease.
Stosur, who thrashed Jankovic 6-1 6-2 in their semi-final on Thursday, said: "When I was out, I never let myself doubt the fact that I would return.
Love
"Obviously, I had no idea what was going to happen."
She added: "I'd never wish to go through any of that ever again. But, in hindsight, who knows what it actually did for me?
"Since then, I've had the best time of my career, best results, and I'm playing the best.
"So maybe, looking back, taking all that time out was a good thing. But, obviously, when I was in it, I didn't see it like that at all.
"I think it definitely gave me a new perspective on what I was able to do and how much I love playing and how much I missed it.
"So without walking away, maybe I wouldn't have seen that and then really thought, 'Okay, when I come back I'm going to make the most of every chance every day and see how good I can get and just try and become the best player I could be'."
Italy's Francesca Schiavone now stands in the way of what would be a first Grand Slam title for Stosur.
She added: "Beating the calibre of players I've played the last three rounds definitely helps me.
"I've beaten all those, so why can't I win one more?
"It is a final, so it's different, but it definitely gives me huge confidence going into the next match, and hopefully for the rest of my career."
Happy
The final will be the first since 1979 to be missing a previous major winner, while Schiavone will be the first ever Italian woman to feature in such a match.
"I start to feel that it is really big history," said Schiavone, who reached the final after last-four opponent Elena Dementieva retired from their match.
"We are happy I think in Italy, also. They are very happy, and it's a time to enjoy for us, for everybody."
Asked why success had arrived so late for her, the 29-year-old added: "I think everybody is different. Could be late for you, could be good for you. I think it's my time now. Maybe before I wasn't ready."
Dementieva, meanwhile, revealed the torn calf that forced her to quit may also keep her out of Wimbledon.
[an error occurred while processing this directive]
Experts & Blogs

Ewen Murray gives his views on the state of the game and what he would like to see happen in 2011.

Bob Willis has selected his team and players of 2010 but do you agree with his choices? Let us know.