Schiavone expects nervy final
Italian hopes to win battle of wills on Phillipe Chatrier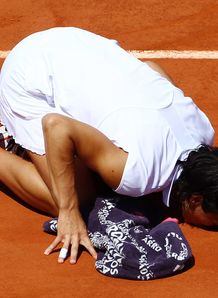 Also see
Francesca Schiavone admits nerves will come into play during Saturday's French Open final but insists she will do everything in her power to become the first Italian woman to win a major.
The 29-year-old has already made history in her country by becoming the first female to reach a final of a grand slam after profiting from Elena Dementieva's dramatic retirement in their last four clash.
Schiavone celebrated her quarter and semi-final successes by dropping to her knees and kissing the Paris clay and she plans to go even further if she beats fellow first-time finalist Sam Stosur in Saturday's final.
Scooping her hands together, the 17th seed said: "I'll take all the clay like this, and I'll bring it home."
But the Milan-born right-hander has confessed the pressure will still be on her shoulders, despite opponent Sam Stosur being backed as the favourite to win the Coupe Suzanne Lenglen.
"When you want something, you have always something to lose," said Schiavone. "She has a better ranking, so it's her turn to go to take this trophy.
"But tennis is a sport and in sport, you never know what's going on. Many things together can happen for you to win a trophy. I will enter the court to enjoy and to give really the best that I have."
Nerves
Both women agreed that, as first-time finalists, they would likely be experiencing exactly the same emotions.
Seventh seeded Stosur said: "Who knows how we're both going to feel? "I'm sure there are going to be some nerves out there, and I'm ready for that.
"I'll try and prepare myself as best I can to handle anything that happens. But she hasn't gone through it before either, so that's probably a little bit comforting."
Schiavone added: "For sure, I will be nervous with tension. I think is one of the best feelings that I can personally feel.
"It's good my mental trainer in coming, so maybe he can help me a little bit."
This year's French Open is Stosur's 28th grand slam and Schiavone's 39th.
Asked how long she had been waiting for her moment, the latter said: "A lifetime; a lifetime because I think I was born to play tennis, so this is a dream, and this is reality now."
[an error occurred while processing this directive]
Experts & Blogs

Ewen Murray gives his views on the state of the game and what he would like to see happen in 2011.

Bob Willis has selected his team and players of 2010 but do you agree with his choices? Let us know.