Robin braced for final fight
Big-hitting Swede insists he will not feel the pressure in showpiece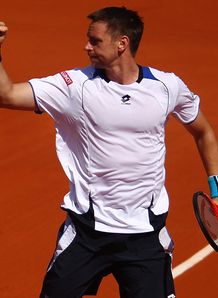 Also see
Robin Soderling admits his recent record against Rafael Nadal will count for little when the two lock horns for the French Open title on Sunday.
Both men won their respective semi-finals yesterday to set up a repeat of 2009's historic fourth-round clash, which saw Soderling become the first player ever to beat Nadal at Roland Garros.
The Swede went on to reach his first grand slam final but proved unable to rise to the occasion as Roger Federer beat him in straight sets.
He now faces arguably an even tougher test against Nadal, who is looking unbeatable on clay once more.
The 24-year-old has won his last 21 straight matches on the surface, including an unprecedented clean sweep of titles at Monte Carlo, Rome and Madrid, and is an overwhelming favourite to lift his fifth Coupe des Mousquetaires title.
But he has lost his last two meetings with Soderling, who looks even better player than the one that secured last year's famous triumph on Philippe Chatrier Court.
Nerves
"We've played many times. He beat me a lot of times, and I beat him a few times," said the 25-year-old right-hander.
"Of course it's always good to have beaten a player before. I know that I can beat him. I showed it. But every match is a new match, and every match is different."
The fifth seed is confident his nerves will not get the better of him in Sunday's showpiece after admitting they did this time last year.
"Hopefully I won't be as nervous as I was last year playing that match," he said.
"I think I played many big matches the last year against good players on big courts. I've learned from every one of those matches, and hopefully I will feel fine. We'll see on Sunday, but of course it feels better.
"It's always the most difficult one playing your first. In any tournament, the first match is the most difficult one.
"It was tough for me last year playing my first grand slam final. Hopefully it will be a little bit easier this time."
Complete game
Soderling was forced to come from two sets to one down yesterday to beat Tomas Berdych 6-3 3-6 5-7 6-3 6-3 in a match that lasted almost three and a half hours.
Nadal, by contrast, maintained his ominous run of not having dropped a set all tournament, dismissing Jurgen Melzer 6-2 6-3 7-6.
Yet the second seed - who will dethrone Federer as world number one if he wins tomorrow - admits to fearing Soderling's game.
"He has a very complete game," Nadal said of the man who stunned defending champion Federer this year.
"It's very difficult to get a move, because his serve is very powerful, both on the first and the second ball. He's very aggressive from the baseline.
"Sometimes he will play long, flat shots. So it's very difficult to make him run and move.
"Wherever he is, he strikes with a very powerful shot. He won easily against me last year. Obviously, I was not at my top level. I'll be up to 100% on Sunday, and I'll do my job. But if he wins, I'll congratulate him."
[an error occurred while processing this directive]
Experts & Blogs

Ewen Murray gives his views on the state of the game and what he would like to see happen in 2011.

Bob Willis has selected his team and players of 2010 but do you agree with his choices? Let us know.