Nadal - Forecast not ideal
Four-time champion hopes for hot conditions against Swede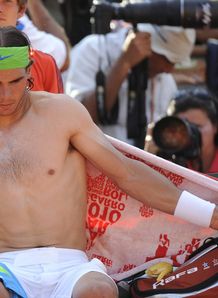 Also see
Rafael Nadal admits the weather is likely to give Robin Soderling the upper-hand in Sunday's French Open final, but the Spanish ace insists he will not let conditions stop him landing a fifth Paris title.
Day 15 at Roland Garros will see the four-time champion square off against the fifth seeded Soderling - the only man to beat him on the Parisian clay.
The Monte-Carlo-based Swede has followed up 2009's stunning success over Nadal by reaching the final once again, dumping out defending champion Roger Federer en route during a wet and windy quarter-final.
Thunderstorms are forecast for the 2010 showpiece and the world number two reckons his opponent will enjoy damp conditions, should they arrive in the French capital.
Asked if weather could play into the Swede's hands, Nadal said: "Well, ask Roger about it.
"When the court is humid and wet, the ball doesn't bounce back as high. It's much heavier, so it's more difficult to play. But we're talking about a final here at Roland Garros.
"I'm not going to start wondering, 'My goodness, what's the weather going to be like? Are we going to have wind or sun?'
"Whether it's a sunny day or a rainy day, I will play my best tennis."
Sun hope
Asked what conditions he would prefer to play in, Nadal simply said: "Always sun."
Elaborating, the second seed added: "First thing, because sun is energy.
"Second thing, because everything is nicer with the sun than with the rain, wind, these kind of things.
"Third point, because with the sun, my ball is getting more topspin than with rain and with the other conditions."
And while Soderling will not necessarily be doing a rain dance before taking to Philippe Chatrier Court, he left no doubt what kind of climate he wants.
"Of course it's tougher when it's warmer, especially physically," said the 25-year-old, who expended plenty of sweat during his five-set semi-final victory over Tomas Berdych.
"I think I can do well in any conditions, but against Tomas, it was tough."
[an error occurred while processing this directive]
Experts & Blogs

Ewen Murray gives his views on the state of the game and what he would like to see happen in 2011.

Bob Willis has selected his team and players of 2010 but do you agree with his choices? Let us know.