Five-star Rafa reigns again
Soderling powerless to deny clay king his fifth Roland Garros crown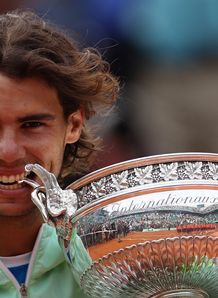 Also see
Rafael Nadal has won his fifth French Open title after beating Robin Soderling in Sunday's final.
The Spanish second seed reigns supreme in Paris once again after crushing the fifth-seeded Swede 6-4 6-2 6-4 in front of a capacity crowd on Court Philippe Chatrier.
On a murky June afternoon in the French capital, Nadal exacted revenge on Soderling for ending his unblemished French Open record in the fourth round last year, to capture his seventh grand slam title in the two-hour-18-minute contest which he dominated from the outset.
The 24-year-old Mallorcan, who has returned to the summit of men's tennis after wrestling back the number one spot from Roger Federer, now trails Bjorn Borg by a solitary Roland Garros title in the all-time standings after downing the tennis legend's compatriot on his 54th birthday.
Nadal, who now has taken his title-tally on the clay to 29 after extending his winning streak on the surface to 22 matches, completed the 'Red-Slam' by adding the Coupe des Mousquetaires to the titles he won in Monte Carlo, Rome and Madrid in the spring.
Sensational
Time and again, Soderling thought he had the Spaniard where he wanted him on Chatrier but the second seed would almost inevitably make him play one more shot or produce a sensational winner, as he emulated his 2008 feat of winning the title without dropping a set.
Much had been made in the build-up of the impact of the weather, and storms were forecast, but the match began in bright sunshine, which would have pleased odds-on favourite Nadal.
Soderling, who avenged his own defeat in last year's final by beating Federer on Tuesday, made the more impressive start, holding his opening two service games - more than he managed at the same stage in 2009.
He failed to make the most of Nadal errors that gave him 30-40 in game four but had his opponent rattled when the Spaniard challenged a serve at 15-30 in the next, only for umpire Cedric Mourier to disagree.
High-risk
Nadal nevertheless went on to fashion two break points, taking the second when Soderling fatally left a cross-court backhand which he thought was dropping long.
The Swede was playing a high-risk game but began hitting more errors than winners, summed up in game seven when he slumped from 40-0 and had to save two more break points.
A Nadal double-fault gave Soderling the first of two break-back points in the next but more mistakes from the fifth seed followed.
The theme continued when he was serving to stay in the set, handing Nadal 0-40. The Scandinavian right-hander served his way out of trouble but was not able to stop his opponent serving out the set.
Dark clouds had begun gathering towards the end of the first set but the rain held off.
Partisan
There was a hint of a momentum change though when Soderling had four break points in game two of the second, the 25-year-old roared on by chants of "Robin, Robin, Robin" from a surprisingly partisan Parisian crowd.
But Nadal chased down the most forlorn of causes and was rewarded when he held.
For his second straight match, the Spaniard was made to wait when a spectator required attention in game four, but he kept his composure.
And he produced some incredible shot-making to break to love in the next, Soderling shaking his head in disbelief.
Nadal appeared to be everywhere at times, but only had to stand still as a double-fault gave him the first of two double-break points in game seven.
Soderling netted on the second and Nadal duly held to win the second set.
Support for Soderling was now becoming more muted and he tossed away his serve in the opening game of the third set with the air of a beaten man.
He rallied to break-back point in the next but, once again, Nadal refused to yield.
The set then went with serve, Soderling avoiding what could have been a double-break when 30-40 down in game seven.
But Nadal was serving imperiously and held his nerve to seal the straight-sets triumph before sliding to the ground in delight.
Comments (12)
Dan Curulla says...
Fully agree with you Philip. Nadal is an extraordinary sportsman and his speech is always hardwork and respect for opponents. Fantastic match, tournament and clay season. Congratulations.
Posted 23:20 6th June 2010
Eduardo Rodriguez says...
So many people hyped the Nadal Soderling match, the truth's a fit Nadal is unbeatable on clay. I will also add, that Soderling may become less arrogant after being shown how tennis should be played
Posted 22:07 6th June 2010
Seb Rowe says...
shame he came along in federers generation. he would have been the best player ever. but, he is set to dominate, as federer is 30, and will decide on his future in a couple of years, and without federer, who is going to stop nadal? go andy murray!
Posted 21:49 6th June 2010
Siddiqa Mohammed says...
I'm glad Rafa won the title today. No one deserved it more than him. Once again, the king of clay is sitting quite comfortably on that well-deserved throne of his. I cannot wait for Wimbledon. Unfortunately though, I think that title still belongs to Federer. Only time will tell though. But for now, VAMOS RAFA!!!!!!
Posted 20:46 6th June 2010
Sezgin Aytac says...
I'm so happy for rafa, that he produced he's best tennis of the tournamemt on the final day, in my opinion he's best tennis in 2010, you would'nt want to bet against him making the 3rd week of roland garros next year. As for reaching the summit of being number 1 again, I don't think rafa is that bothered at being number 1 or 2 , all he cares about is winning grand slams, I hope he will have a good run in Queens so he's preparation for wimbledon is solid as there is only 1 warm up tournament for the grass court season which I find strange, when you consider there is 4 warm up tournaments on clay before roland garros. I think this needs looking into, anyway the rafa we missed for so long is finally back and I hope he can emulate his success on the red stuff into winning he's second wimbledon crown, congratulations and good luck to rafa at sw19.
Posted 20:18 6th June 2010
Gabi Tamas says...
Goose and Gander eh? Wish Robin had won but Rafa was fearless. For me this is not tennis - this is just hard hitting of a ball over a net. Shame.
Posted 19:39 6th June 2010
Rajesh Adhikary says...
Rafa is really a king of Clay...
Posted 19:16 6th June 2010
Adam Whiteley says...
he's just the best in the world, simple, and at just 24, has the world at his feet again, and long may it continue. congratulations to soderling on reaching the final again, but yet again come up against someone who just simply wasnt going to be beaten, no matter what.
Posted 18:24 6th June 2010
Yemo Baba says...
Ride on Rafa. Next stop Wimbledon
Posted 18:14 6th June 2010
Bubbles Khoza says...
To all those who thought Nadal was finished last year, I hope you eating humble pie. He is back and even better than ever, watch out all you Rafa slaters. Federer won it coz it was handed to him and he knows it. Rafa wins it coz he fights for it, you all know it. Brilliant play though by Rafa and hats off to Robin, two consecutive Roland Garos finals is a huge.
Posted 18:05 6th June 2010
Hollie Weaver says...
Well done to Rafa, after being written off countless times in the last year he's proved his critics wrong and fought back against an opponent who caused one of his worst defeats. A worthy champion and back at NO 1, long may the king of clay reign!! Vamos Rafael!!
Posted 18:02 6th June 2010
Philip Daka says...
It%u2019s great to see Rafa back to his old self. He is an amazing champion who combines athleticism with skill & hardwork. His ability, especially on clay, is unmatched - so is his grace in defeat. It was sad to see injuries take toll on the young champ last year. Great come back well done.
Posted 17:26 6th June 2010
[an error occurred while processing this directive]
Experts & Blogs

Ewen Murray gives his views on the state of the game and what he would like to see happen in 2011.

Bob Willis has selected his team and players of 2010 but do you agree with his choices? Let us know.