Australian Open history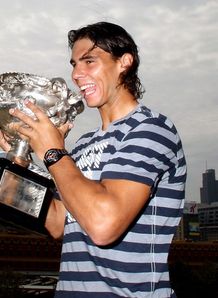 Also see
The Australian Open is the first Grand Slam of the year and has kicked off successful campaigns for countless players.
In 1969, the Australian Championships became 'open' to amateurs and professionals, and have since been the setting of numerous thrilling encounters, many of which have spawned legendary world champions.
The Tennis Australia-managed event was first contested on Milton's grass courts in Brisbane but is now staged at the Melbourne Park venue.
Andre Agassi holds the record for the most men's singles titles after winning the event four times, including two consecutive victories in 2000 and 2001.
On the women's side, Margaret Court, Evonne Goolagong Cawley, Steffi Graf, Monica Seles and Serena Williams have all landed the title on four occasions.
The first men's winner of the Open era was Australia's very own Rod Laver, while Court secured victory in the women's draw and was reigning champion until 1972, when Briton Virginia Wade ended her dominance.
The event moved to Sydney's White City in 1970 and Arthur Ashe claimed his lone Australian Open men's title before Ken Rosewall took over in 1971 and went on to win again the following year when the tournament found a permanent home in Melbourne.
Court triumph
Court reclaimed the women's title for the final time in 1973 before falling in '74 to Australian Goolagong Cawley, who triumphed for three successive years, while John Newcombe landed the 1973 title in the men's draw then went on to recover it from Jimmy Connors in '75.
Mark Edmondson, the last native to win the men's title to date, claimed his only triumph in 1976, while two tournaments were staged in 1977 in an attempt to resolve scheduling problems.
Roscoe Tanner and Vitas Gerulaitis won on the men's side, while Kerry Melville Reid briefly ended Goolagong Cawley's women's reign before the local secured her fourth title in the second Australian Open of the year.
Argentinean Guillermo Vilas landed back-to-back men's titles from 1978-79, while Christine O'Neil and Barbara Jordan triumphed on the women's side.
Hana Mandlíková claimed her first women's title in 1980 but waited until 1987 to follow up her success, with the crown changing hands between Martina Navratilova and Chris Evert in the meantime, except in 1986 when there was no competition as the event moved to its new January timeslot.
Brian Teacher claimed his sole men's title in 1980, while Johan Kriek and Mats Wilander were victorious in 1981-82 and 1983-84 respectively.
Stefan Edberg triumphed in 1985 but had to wait to defend his crown until 1987 due to the change in scheduling, and was eventually relieved of the title when Mats Wilander won for the third time in 1988 at the new Flinders Park venue in Melbourne.
Graf scored three titles in the women's draw between 1988 and 1990, with American Seles scooping a hat-trick of her own from 1991-93 before the German reasserted her dominance in 1994.
On the men's side, Ivan Lender secured two consecutive titles in 1989 and 1990 before German legend Boris Becker landed the first of his Australian Open wins a year later, although he would not see success in the event again until 1996, when the Flinders Park venue was expanded and renamed Melbourne Park.
Agassi dominance
Jim Courier prevailed from 1992-93 until Pete Sampras ended his reign in 1994, while Agassi began his Australian Open assault in '95 with the first of his four title wins.
Mary Pierce claimed women's title in 1995 before Seles was crowned for the fourth time in 1996, then former world number one Martina Hingis reigned for the next three years before losing in finals from 2000-02, once to Lindsay Davenport and twice to Jennifer Capriati.
Pete Sampras claimed his second men's title in 1997 and was succeeded as champion by Petr Korda a year later, and while Yevgeny Kafelnikov triumphed in 1999, the Russian was unable to defend his title the following year against Agassi, who also prevailed in 2001 and '03, with Sweden's Thomas Johansson breaking his run in '02.
Serena Williams conquered the women's draw in 2003, completing her full Grand slam set, and went on to reclaim the title in 2005, '07 and '09, while Justine Henin, Amelie Mauresmo and Maria Sharapova were victorious in the years between.
Roger Federer claimed Australian Open success in the men's singles for the first time in 2004, the Swiss ace going on to clinch further titles in 2006 and 2007.
Marat Safin was the 2005 champion, while Novak Djokovic scooped the surprise win of 2008 when he defeated Federer in the semi-finals and saw off Jo-Wilfried Tsonga in the final to secure his first Grand Slam title.
Federer was on the edge of matching Agassi's four Australian Open titles in Melbourne last year, but was beaten 7-5 3-6 7-6 (7-3) 3-6 6-2 in over four hours and 23 minutes by Rafael Nadal in an intense and emotional final, paving the way for more drama this year as both players return for another shot at the crown.
Sky Bet Odds:
Click Here for Your Free Bet
[an error occurred while processing this directive]
Experts & Blogs

The hard work starts now for Andy Murray, says Barry Cowan, as the top four clash in Melbourne.

Day one at the Australian Open and we have already lost the supporting cast, now it's over to Andy Murray.