Dolgopolov who?
Unorthodox Ukraine stands between Murray-Nadal showdown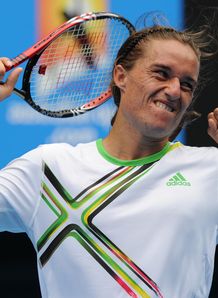 Also see
Skysports.com's Elliot Ball sheds some light on Andy Murray's quarter-final opponent as the British hope bids to end his grand slam duck at the Australian Open.
With a surname that rolls off the tongue slower than John Isner's court coverage, Alexandr Dolgopolov is an unfashionable character in the tennis world, at least for the time being anyway.
Indeed, the Alice-band-wearing 22-year-old is likely a complete unknown to many who follow the grand slams alone.
His quarter-final appearance Down Under represents his best performance in a major by a country-mile and Murray is widely expected to come through their last eight fixture unscathed.
But Dolgopolov, appearing for the first time at Melbourne Park, takes on the British number one on Wednesday boasting a pair of impressive scalps under his belt ahead of the midweek encounter.
Giant Killing
Ukraine's finest saw off unseeded duo Mikhail Kukushkin and Benjamin Becker in the first two rounds before his giant-killing campaign in Australia began.
Jo Wilfried-Tsonga, the world number 13, was first to fall to Dolgopolov's unorthodox artistry as the man from Kiev exacted revenge for his second round exit at Wimbledon last year with a five-set success.
The match at the All England Club in 2010 also went the distance and it appears the six foot right-hander has the appetite for lengthy encounters after taking out fourth seed Robin Soderling.
This scribe will admit he winced when the Swede sailed out of the first slam of the season, not least because this scribe had backed him handsomely - and in hindsight foolishly - to take the title.
But credit must go to Soderling's conqueror, who stood tallest during their fourth-round tussle against an opponent who had not dropped a set before Monday's contest.
Dangerous
Dolgopolov, who at 46 in the world is now the lowest ranked player left in the draw, wrong-footed his superiorly seeded adversary with a dangerous array of spins and ultimately got into the head of the twice French Open finalist.
It would be farfetched for me to suggest that Murray is going to need to acquire mental training akin to Cillian Murphy's character in the 2010 film Inception to keep the Ukrainian at bay.
But the tenacious Scot is never far away from a paddy on court and the number five seed will need to keep his cool on what will be a swelteringly-hot Rod Laver Arena on Wednesday.
With the winner of the all-Spanish clash between Rafael Nadal and David Ferrer in store in the semi-finals, Murray must continue in his rampage through the tournament which saw 11th seed Jurgen Meltzer become the latest straight-sets victim.
The British number one, like Soderling, has been serene so far in Australia but he will need to be on top of his game to stop the surprise story of this year's event adding another big-name casualty to his ever-growing resume.
Comments (5)
Jamie Matthews says...
lets be serious here, dolgopolov is not going to win this match. murray has too much experience for him, the british media don't hype murray up, but if they do it may be because he's one of the best players in the world and is expected to be at the business end of the tournaments he enters. He will win in straight sets again, no doubt.
Posted 19:00 25th January 2011
John May says...
Casper: Seems strange that you based your prediction on watching Dolgopolov, have you been watching Andy at all? He hasn't lost a set and only lost 3 games in one set all championships. Yes Dolgopolov should not be underrated, but he has been winning in 5 sets and yes, playing above his reputation. But, you need to put your feet on the ground here. Too many 5 setters and now up against one of the top four players in the world (in my opinion) is too far for him - Murray in 3 sets possibly 4.
Posted 17:49 25th January 2011
Sweat Y chicken says...
no vhance of a dolgopolov win, murray's form is too good, murray to win in 3 very quickly!!!
Posted 17:49 25th January 2011
Grant Pretorius says...
Another Murray (over rated) meltdown !
Posted 11:05 25th January 2011
Caspar Capel says...
I agree with your coments on the tennis wonderkid Dolgopolov. I find it amazing that so many of the British experts have already put Murray into the semi finals, suggesting that it will be a walk in the park for him to beat Dolgopolov. I have been watching this player with interest over the last few years, and he is an amazing player with many solid and sometimes Federer like shot making talents. Andy Murray will have to be on his very best game to beat this player. Keep the Murray hype going british tennis experts It wont win him the match. Dolgopolov to win in 4 sets.
Posted 21:37 24th January 2011
[an error occurred while processing this directive]
Experts & Blogs

The hard work starts now for Andy Murray, says Barry Cowan, as the top four clash in Melbourne.

Day one at the Australian Open and we have already lost the supporting cast, now it's over to Andy Murray.