Andy's grand designs
Murray needs to step it up again to beat Djokovic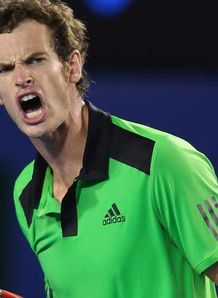 Murray's got the chance to step up to the plate, but unfortunately he also has another great champion ahead of him.
Barry Cowan
Quotes of the week
Barry Cowan believes Andy Murray is better equipped than ever before to win his first grand slam title.
The Scotsman will face Novak Djokovic in the final of the Australian Open on Sunday, as he bids to become the first British male to win one of the sport's four major titles since Fred Perry in 1936.
Murray tasted defeat in last year's final, losing 6-3, 6-4, 7-6 to Roger Federer, the man who also beat him in the 2008 US Open Final, but Sky Sports expert Cowan believes he will have learned from those experiences.
He says it will be tough against Djokovic, who put Federer out in his last match, but he says Murray can draw confidence from his run to the last four of Decmeber's World Tour Finals.
"Without a shadow of a doubt he's a much better player now," Cowan told Sky Sports News.
"I think it was the experiences that he had at the O2, which was of course his last event of last year. There was a disappointment against Federer when he didn't perform and mentally didn't turn up, but then a couple of days later he performed against Nadal. That confidence has taken him to a new level.
"The way he has played throughout this tournament has looked like a champion, but he's playing against someone in the final who also looks like a champion.
"Djokovic was sublime against Federer, he didn't allow him to play his type of tennis, so he will go to the final as favourite, but you never know.
"Murray's got the chance to step up to the plate, but unfortunately he also has another great champion ahead of him."
Nerve
Djokovic was victorious in Melbourne in 2008, but crashed out in the quarter-finals last year and Cowan feels Sunday's clash will provide a test of nerve for both players.
And he insists that Murray, who won his semi-final against David Ferrer in four sets, will need to produce his best performance of the tournament if he is to beat the world number three on Sunday.
"What will decide the final is quality," he added.
"Can Murray raise his level even further than he did against Ferrer? He's going to have to. The performance against Ferrer, as good as it was, I don't think is going to get it done against Djokovic.
"He needs to raise it a couple of levels, but as with the nature of sport we can talk about who is better-tennis wise, but what we don't know is who will handle the pressure.
"A year ago Djokovic was all out of sorts, the pressure was too much for him and the expectation was from himself. Will he fold?
"I firmly believe when you look at Murray's corner he will have learned a lot from his experience here 12 months ago and I'll think he'll put in a much better performance than he did against Federer in the final last year."
Phenomenal
Cowan praised Murray's aggressive attitude as he came back from a set down to beat Spaniard Ferrer 4-6 7-6 6-1 7-6 on Friday.
And he said the Scotsman had to dig extremely deep after losing a high-quality opening set.
"It was a phenomenal effort," he said.
"I really thought he was staring defeat down the barrel at a set down and he had to save set points, but he didn't choke at all.
"In the first set I think they had three rallies of 40 shots and Murray played at a high level, but Ferrer was at an unbelievably high level. He was moving around the back of the court and wasn't allowing Murray to hurt him, also attacking Murray.
"When Ferrer's level dropped a little bit, we saw the combination of the unbelievable will that Murray has and the quality of his tennis
"He was being more aggressive. How many times have we said in last three or four years that in the really big matches he needs to step it up and take it into his own hands?
"He certainly did that and thoroughly deserved to win in four sets."
Sky Bet Odds:
Click Here for Your Free Bet
[an error occurred while processing this directive]
Experts & Blogs

The hard work starts now for Andy Murray, says Barry Cowan, as the top four clash in Melbourne.

Day one at the Australian Open and we have already lost the supporting cast, now it's over to Andy Murray.