Key factors
Andy Schooler takes an in-depth look at the Australian Open final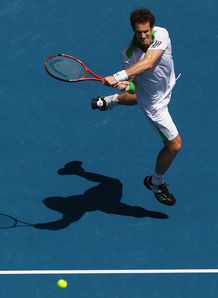 Also see
Andy Murray's latest chance to break his grand slam duck will come in Sunday's Australian Open final against Novak Djokovic.
The British hope has twice previously fallen at the final hurdle of a major tournament, although on both occasions his opponent was Roger Federer.
Ahead of the Melbourne showdown, Andy Schooler examines the strengths and weaknesses of each man.
Backhand
The backhand will be a huge shot in this match, particularly for Murray. The Briton loves nothing better than drilling a double-hander down the line, but Djokovic knows that - these two played on the junior circuit together and have practised with each other several times in the past month.
Djokovic enjoyed plenty of success playing into Federer's backhand in his semi-final but expect him to hit less to that side in this contest.
A big reason he'll want to stay away from the Murray backhand is the slice shot. Murray cutting under the ball played a big part in each of his last two wins over Djokovic, the Serb admitting after one encounter just how much it had troubled him and disrupted his "rhythm".
That's exactly what Murray will look to do in this match - break things up.
Federer managed it only briefly in the last four, too often driving his backhand through rather than slicing and taking pace off the ball. Murray will surely use the tactic more often for, as Djokovic showed against Federer, the rhythmic baseline exchanges probably suit him better.
Serve
This may sound like stating the obvious, but Murray will have to serve well to succeed. A first-serve percentage above 60 will likely be needed - something the Scot has struggled to do consistently in the past.
He ended the semi-final with that stat at 61, but he was well below that figure in the first two sets and it was no co-incidence the early section was his worst part of the match.
With the first serve not firing, David Ferrer was all over his second delivery. Murray won just 37 per cent of points behind his second serve and Djokovic can be expected to punish him similarly.
The Serb featured prominently in all the return stats for 2010 and was top for percentage of return games won. Murray is among the best returners too, however, so Djokovic will need to be on his toes on his own serve.
He certainly was against Federer, getting 69 per cent of his first serves in play. That followed 68 per cent in his quarter-final and 75 and 77 percent in the matches before that.
Essentially Djokovic is serving very well right now and if he continues in that vein he'll certainly make things difficult for Murray.
Experience
The mental side of tennis should never be underestimated and one big factor that could work in Djokovic's favour on Sunday is that he already knows what it takes to win a grand slam title.
He did so in Melbourne three years ago when he came from a set down to beat Jo-Wilfried Tsonga in four sets - the last time a major final did not feature either Federer or Rafael Nadal.
Of course, Murray has yet to triumph at this level and will doubtless be reminded of Great Britain's 75-year grand slam men's singles drought several times before Sunday's match arrives.
His previous two grand slam finals do not hold the greatest memories either - on both occasions he was swept aside by Federer and he has yet to win a set in a grand slam final.
While Murray may feel the hope and expectation weighing on his shoulders, he's also likely to be happy that it's not Federer standing on the opposite side of the net on this occasion and the fact that Murray has won his last three meetings with Djokovic - all without dropping a set - could neutralise this advantage.
However, only if Murray approaches the winning line will we really see how much such experience, or lack thereof, comes into play.
Physical well being
While it's fair to say these two are among the fittest players on the ATP World Tour - long gone are the days of a teenage Murray cramping after a couple of tough sets - they have not been without their physical problems over the years.
Most significantly, Djokovic has had regular issues with his breathing and this was evident for a brief spell in his quarter-final win over Tomas Berdych.
It seems at its worst in hot conditions and, unfortunately for 'Nole', the mercury is set to rise in Melbourne this weekend.
He was forced to retire in steamy conditions here two years ago and earlier this season retired from a match in his homeland. It's something to watch out for, although the fact this final is being played at night should help.
As for Murray, he appeared to tweak a muscle in his leg during his semi-final win over David Ferrer.
As he said afterwards, niggles are part of two-week grand slam tournaments, but in the past Murray has often let such things affect his game.
On numerous occasions he's been seen clutching his side or leg, seemingly wondering if he problem would get worse.
One example people may remember came in Melbourne four years ago when a young Murray suffered a big dip while in control against Rafael Nadal, apparently suffering some kind of side strain.
If Murray is carrying an injury into the final, he needs to mentally be prepared to play through the pain.
[an error occurred while processing this directive]
Experts & Blogs

The hard work starts now for Andy Murray, says Barry Cowan, as the top four clash in Melbourne.

Day one at the Australian Open and we have already lost the supporting cast, now it's over to Andy Murray.