Nadal ousted in Australia
'Rafa Slam' dream dies after injured star shocked by Ferrer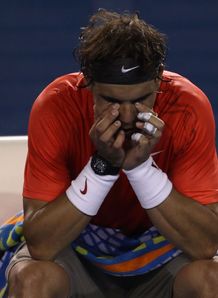 SKY BET ODDS
Andy Murray's odds on ending his quest for a first Grand Slam title at the Australian Open have been halved to 2/1 after favourite Rafael Nadal crashed out.
Bet now.
Also see
Rafael Nadal's hopes of winning a fourth consecutive grand slam title have evaporated after a shock defeat to David Ferrer at the Australian Open.
The top seed, who was struggling with a leg injury throughout, never looked close to his best in the quarter-final clash as his fellow Spaniard cruised to a surprisingly comfortable 6-4 6-2 6-3 victory on Rod Laver Arena.
Nadal was in trouble early on in all three sets as Ferrer took a firm grip with quick breaks and then held his nerve to build his winning advantage.
Ferrer will face Andy Murray in the last four, with the British hope looking for a second consecutive final appearance in Melbourne after avoiding the expected showdown with Nadal.
"It's not easy. Rafa is a gentleman and played on after being injured in the first set," Ferrer said after the match.
"I fought a lot and it was still not easy. I played aggressively and tried to go to the net but if Rafael was not injured I would not have won in three sets. It is a win but not how I wanted to win.
"I just tried to focus on my own game and I am happy. I will do my best now in the semi-finals."
Struggle
The first signs that all was not well with Nadal appeared in the second game of the match as he dropped serve after a marathon struggle ended in him netting a backhand.
Nadal, who won the 2009 tournament, broke back immediately but then Ferrer returned the favour to re-establish his two-game advantage after the world number one had called a medical timeout.
The seventh seed would then build on his advantage and surged into a commanding lead, with his opponent's sluggish movement showing that he was considerably below full fitness.
Nadal did claim the break back with Ferrer on the brink of the first set, but surrendered the advantage again in the very next game to hand the set to his compatriot.
There were signs of a comeback when Ferrer dropped serve at the start of the second set but Nadal would then lose eight straight games as his fate was effectively sealed.
The pair temporarily stopped play so as not to be distracted by nearby Australia Day fireworks and when the match resumed, Ferrer seized the initiative.
After winning the second set, the Spanish veteran continued his hot streak into the third as he broke serve again to move 3-0 up.
Nadal did finally manage to stop the rot and grabbed three service holds to make the scoreline look a little more respectable, but Ferrer remained solid on his own serve to close out the victory, ending the match with a simple forehand winner.
Comments (18)
Pa Raz says...
i really liked the fact that nadal was gracious in that game. i normally want him to lose simply because he beats federer all the time (whose my favourite player) but today i saw a different side to him. hope he does well in the future, but i still want federer to beat him
Posted 20:37 26th January 2011
Hatini 10 Gordon says...
Why do so many big stars fall prone to i njury when there are beating fair & square... Surely in this day & age a professinal in any sport knows when he or she is injured. If injured dont play, give victory gracefully, you will be respected far more for this....
Posted 20:04 26th January 2011
Steven Smith says...
Why are people on Nadal's back? He's probably the most gracious star in both victories and defeats. Unlike Murray and Djokovic who run off crying the second they 'injure' themselves, Nadal actually had the decency to play it through for both Ferrer and the crowd. As for Ferrer, well done.
Posted 16:19 26th January 2011
Nosa Peters says...
So so sorry Rafa. You are a breath of fresh air in tennis. Hope you'll bounce back again as you've always done. All the best, and you'll never walk alone.
Posted 16:00 26th January 2011
Mister Marc says...
There is no doubt that Rafa goes down in the books as one of the greats, but what separates him & Federer, the greatest of all time is that after 17 slams in the bag, & hopefully still more to come, Federer a few years his senior is still going strong and looks to have found a second wind after a brief slump. Never retires injured, or anything like that. Simply because his beautiful style of playing allows that. Rafa as great as he is looks like he unfortunately has limited time left as champion....my prediction is once Rafa has been forced to stop ( by his body ), Federer will still be going strong..... !!! Pity either way as this is perhaps the greatest rivalry in the history of the game.....even greater than that of McEnroe & Conners, Or Conners & Borg.......
Posted 15:51 26th January 2011
Adewale Solomon says...
Too bad for a man that wants to make history by completin four consecutive slam in a roll.hope the injury is not too serious? Anyway,ride on Roger!can't wait to see you lift the trophy. You are the MAN...
Posted 15:37 26th January 2011
June Hodgson says...
Sorry Rafa. Hope you get well soon. I was looking forward to seeing you and Federer in the final. But it took guts to finish the game. Sean Maiden get lost. Those two are the best in the world. And it will be sad day when they have gone.
Posted 15:26 26th January 2011
Connor Thorogood says...
Dont make excuses for Rafa just because he lost, he was beaten with ease by Ferrer so Ferrer should be applauded
Posted 14:22 26th January 2011
Yanda Hamilemba says...
if rafa was injured he should have gracefully retired. it is bad and sickenning to always hear that he has lost because of an injury. Ferrer should be applauded for good game of tennis. get well soon rafa.
Posted 13:38 26th January 2011
Ife Ogunduyile says...
i'm so disappointed, was looking forward to another federer/nadal final. i'l never stop admiring rafa's persistence & tenacity.
Posted 13:19 26th January 2011
Tony Brine says...
Come on Murray, it's set up for your first Grand Slam title now. You're better than Ferrer and have a great record against Federer. 2 matches from making history! Sorry for Rafa, get well soon.
Posted 13:12 26th January 2011
Maria Mclachlan says...
So sorry to see Nadel go out , hope his injury is not seriours. i was loking forward to seeing him in the final again ...Get well soon Nadel...
Posted 13:11 26th January 2011
Ali Khalifeh says...
Long Live Roger Federer!
Posted 13:10 26th January 2011
Gillian Wells says...
Hope Rafa recovers so that we can all enjoy his wonderful tennis - he is my all time favourite tennis player.
Posted 12:54 26th January 2011
Sean Maiden says...
Ferrer must be the greatest!!! Rafa is falling apart hahhahahaa!!!!
Posted 12:45 26th January 2011
Asif Khan says...
Loser always get some kind of injury. He will be fine for next slam.
Posted 12:32 26th January 2011
Nick Times says...
Is this what it will be like for Nadal, injuries getting in the way of greatness. The way he plays is to brutal for his body to sustain, its been said many many times before, and it takes him a whole season to get back to his best. Murray to finally win..... No I don't think so either.
Posted 12:29 26th January 2011
Sharon Sanders says...
Hope its not a serious injury Rafa!
Posted 12:06 26th January 2011
[an error occurred while processing this directive]
Experts & Blogs

The hard work starts now for Andy Murray, says Barry Cowan, as the top four clash in Melbourne.

Day one at the Australian Open and we have already lost the supporting cast, now it's over to Andy Murray.