Final fling for Murray
Now only Djokovic stands in the way of Brit winning first major title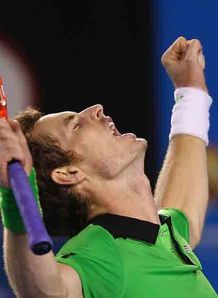 SKY BET ODDS
Andy Murray is 11/10 to break his Grand Slam duck against Novak Djokovic on Sunday. Can he do it?
Bet now.
Also see
Andy Murray survived a Spanish inquisition at the tennis racket of David Ferrer before booking his place in the final of the Australian Open.
The British number one battled back from losing the opening set to see off the seventh seed 4-6 7-6 (7-2) 6-1 7-6 (7-2) and earn a Sunday showdown with Novak Djokovic in Melbourne.
However he was made to work hard for a third grand slam final appearance - and his second in a row Down Under - by the world number seven.
Murray levelled matters thanks to an impressive tie break and after breezing through the third, he came out on top in another breaker at the end of the fourth set to finally see off his rival after three hours and 46 minutes.
Concerns
It was far from a vintage performance from the fifth seed, who at times was his own worst enemy with some sloppy shots, yet he found the physical and mental strength needed to outlast Ferrer under the floodlights.
The Spaniard had been the dominant player in the rallies in the first set, while his serve was working impressively up until the seventh game.
Despite his usually reliable backhand letting him down on several occasions, Murray secured the opening break to seize control - only to hand it straight back when he lost his own serve straight away.
A third successive break looked on the cards when Murray raced 40-15 ahead but he couldn't convert either opportunity, leaving him serving to stay in the set.
It was a requirement he was unable to fulfill; a careless forehand drifted long to put him in trouble at 0-30 down and then a wide backhand left him 1-0 down.
Understandably both men began to feel the pace in a second set that started off with two straight breaks. Murray grabbed the first of them but, once again, was unable to cement his advantage as he lost his serve again.
Ferrer had three more break points in the sixth game and also let slip a chance to take the set in the 10th. On each occasion Murray found a way to survive thanks mainly to his serve, meaning a tie-break was required.
The Scot went on to dominate it by a 7-2 scoreline and despite appearing to be nursing his left knee, he was now the one in the ascendency.
Even still, the third set proved to be surprisingly one-sided; Murray saved a break point on his own serve to go 2-1 ahead and then reeled off the next four games on the spin.
A stunning lob with Ferrer stranded at the net made it 5-1 and although he had to save five break points in the next, he clinched the set at the second time of asking to get his nose in front for the first time.
Comeback
When an early break followed right at the start of the fourth set it appeared a now on-song Murray would simply motor away.
Ferrer, though, had other ideas as he turned what looked to be a procession back into a dog fight.
He broke back in the fourth game and then twice made Murray come out and serve to stay in the set. On both occasions he succeeded in doing so, meaning another tie-break had to be called for.
Just as with the earlier breaker he then turned on the style, eventually clinching victory on the second of five match points thanks to a routine volley.
Now just one final hurdle - a sizeable Serbian one at that - needs to be cleared if he is to be the first British men's grand slam singles champion in 75 years.
Comments (52)
Joe Bennett says...
Come on Novak! I may be British, but I cant support someone as miserable and as boring as Murray. He's got a bad attitude towards the support, and needs to liven up if you ask me. Any REAL tennis fan will surely be supporting Novak
Posted 14:00 29th January 2011
Jock Wilson says...
Aaron Scully your comment is pure bolderdash old chap...England a sporting capital please 1 ashes win and you lot are on another planet lets see ...football average,golf don't get me started ,athletics...I think not ,rugby ...need I say more....cricket ...who is ranked No 1 again .....and tennis ..excuse me 1930's since a win and you lot still wear the t shirt ...has beens .Cmon Murray ALBA GU BRATH !!!!!!
Posted 13:16 29th January 2011
Emma Vanenburg says...
Andy Murray is a typical 23 year old guy, this is the 21st century, so what he gets annoyed , loses his temper ,swears. tries to make jokes that arn't entirely succesful,WHAT 23 YEAR OLD DOESN'T?? he's not so good in interviews but he is very good on court and thats what matters. I am English and love Andy , but then he belongs to my generation, I dont think he is the problem , I think the stuck up, upper middle class henman fans are! ANDY RULES and is a good role model for our generation, he is commited to his sport, works hard, doesnt drink/take drugs, and by far is the best hope we have. support him!!!
Posted 12:26 29th January 2011
Dave White says...
stephen: because many english people hate a winner as they are bitter about their own miserable lives. However, i'm not one of these. COME ON MURRAY!!! from an englishman
Posted 10:45 29th January 2011
David peter Lynch says...
Comment from Stephen Wilson "why do so many english people not want andy to win"? Nobody doubts Murray's ability, but he is not a tennis great. To answer your question is very simple: Murray is an arrogant, sour faced (check out his mother at matches and she is the same) ill mannered, ignorant, unpleasant, anti English prat! Read the comments in varous media, and the common thread from his adoring followers is that he is doing it for Scotland, not Britain! May Novak Djokovic slaughter him - ANYONE BUT MURRAY!
Posted 10:21 29th January 2011
Stephen Wilson says...
to nm you say murray has no charisma like all the great champions and what charisma did samparas have or nadal
Posted 05:23 29th January 2011
Dave Cross says...
i dont care if he represents scotland or brittain, i would like to see the guy win a slam because he is worthy of it and its only a matter of time realy, this is his best chance, but the hard hitting serb is playing amazingly, no federer, no nadal. This will be a good final and we should congratulate the winner as its not often we see anyone else winning other than fed or nadal who i ador both alot, they are still the current kins bt i hope this weekend we see murray win as he deserves it, he didnt get to 2 finals by accident so he does deserve this if he wins that is, his best chance he wil ever get to get that first slam is this one, no disrespect to djock but he aint an on form federer and no one is nadal when hes firing
Posted 02:01 29th January 2011
Aaron Scully says...
He might be representing Britain but is he really?? He uses Britain to build a fan base but end of the day Britain is England its the Scottish and Welsh that feed off us as a Sports capital of the world and contribute so little. Calzaghe for one is English born London and thats the greatest sports star from britain outside of england come on no one cares for Murray because he only cares for scotland he made that clear 2 year ago
Posted 00:59 29th January 2011
Ricky Finch says...
il be wearing my croatia shirt just the way murray wore his paraguay shirt
Posted 00:31 29th January 2011
Rachel Holland says...
Nearly called in sick to watch the end of the match . But one of the members of staff kept telling the score. Well done Murray. Looking forward to Sunday. x
Posted 23:45 28th January 2011
Lewis Mitchell says...
I don't get why so many people have a problem with charisma. He just seems like a quite guy that enjoys his tennis. So what if he can't give a great interview, I didn't realise so many tennis players went into politics. In any case you can only play who's in front of you and Andy deserves to be there. No wonder we don't have more players coming through. One gets to a grand slam final and we slander everything about him.
Posted 23:31 28th January 2011
Tom Jone says...
I've never been able to get behind Andy Murray because out of all the players i've watched he has the worst manner and attitude and i can only hope as he gets older that will change, he is such a bad role model. Saying that, I do actually want him to win on Sunday but i just can't see it happening if Djokovic plays the way he has done so far.
Posted 22:58 28th January 2011
Simon Walker says...
William Cruikshank do you know your geography scotland is in the british isles so even if he is scotish which he is he still is a brit so why say he s a scot not a brit go back to school
Posted 22:33 28th January 2011
Snezana Novkovic says...
Definitely it's going to be a very tight match, but we all hope that Novak is gonna win for the second time! Serbia will be rooting for you man..we are proud of you! Andy is also very good guy, He and Nole are good friends a have a lot of respect to each other! Cheers from Belgrade!:)
Posted 22:18 28th January 2011
Rob L says...
@ William Cruikshank - completely agree with you mate - he will always be a Scot to me, and as an Englishman who can not relate to being British in any way, I am looking forward to Murray losing his third final! And agree that he is a better player than Henman, but let's not use words like 'wimpy' when it comes to tennis. 6N is coming up - 13th March is England v Scotland - that's when we will see who the wimps are!
Posted 21:44 28th January 2011
Scot 123 says...
Andy murray is the best tennis player britain has ever had...ever! He would wipe the floor with tim henman and even fred perry! I don't understand why some english people don't get behind him because he is scottish and has no 'personality'. He is a much more genuine guy than smug-faced-i-can-do-no-wrong-federer. He is a bit boring, but so what? does that make him a bad guy?? When andy is on the tv on sunday it will be a brittish flag which appears alongside his profile so get behind him. Or will you get behind him when he wins so you can support a genuine contender for wimbledon? Something that henman never was.
Posted 21:25 28th January 2011
Darren Ward says...
I was there and lots of English supported Andy including me. So we do. It was a great match and so pleased Andy won. It will be great for Scotland if he won and GB.
Posted 20:28 28th January 2011
Rub Tennismania says...
I think it will be close match since these two finalists know each other strenghs and weaknesses. Djokovic has an edge having beaten an injured Nadal. Murray has a chance too provided he keeps his concentration all throughout the game and reduces his unforced errors. I will be supporting Andy on Sunday, come on Andy!
Posted 20:27 28th January 2011
Pete Hogan says...
It would be nice if we English and Scottish would stop our petty squabblings and accept that there's nothing wrong with a bit of National rivalry, and remember that whatever country our sportsmen are from they are representing this island against the rest of the world. I'm an Englishman and would love to see Mr Murray win his first Grand Slam and go on to win Wimbledon
Posted 20:26 28th January 2011
Shaun Sangster says...
Ooooo how use English are jealous o our Andy murray a young scots lad n his 3rd slam final !!! An absolute cracking young lad that's got it all ;-) ooo I hope he wins it come Sunday coz all you so called Murray haters will b saying Aww it's the 1st brit t win it in 70 odd yrs no it will b the 1st scot t win it !!!! Cmon Andy
Posted 20:10 28th January 2011
[an error occurred while processing this directive]
Experts & Blogs

The hard work starts now for Andy Murray, says Barry Cowan, as the top four clash in Melbourne.

Day one at the Australian Open and we have already lost the supporting cast, now it's over to Andy Murray.