Bryans derail Indian express
American brothers reach new milestone at Melbourne Park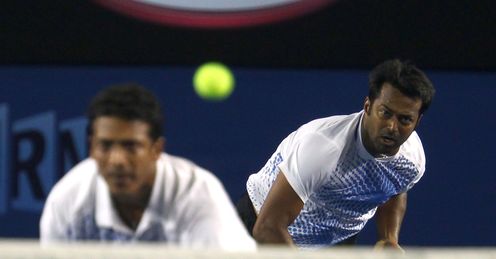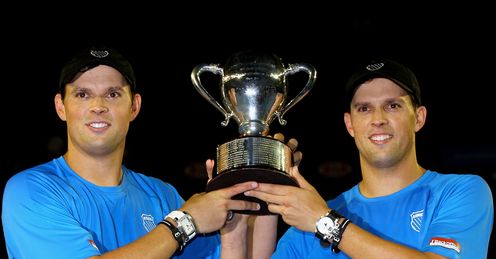 There is a reason these guys are the best team in the world
Mahesh Bhupathi
Quotes of the week
Also see
Bob and Mike Bryan secured their 10th grand slam title as they overcame Mahesh Bhupathi and Leander Paes to win the Australian Open men's doubles final.
The American twins derailed the comeback of the Indian stars with a straight sets success on Saturday, following Kim Clijsters' singles triumph on Rod Laver Arena.
Bhupathi and Paes reached the showpiece after making their first appearance at a grand slam as a duo since 2002, but the "Indian Express" ran out of steam against the Bryans, who clinched victory 6-3 6-4 in just an hour and eight minutes of action.
"It took the best team on the planet to stop this train," said Bhupathi after collecting the runner-up trophy.
Too good
The Indian third seeds had an opening to level the second set in what turned out to be the final game, but an ace to the top ranked Bryans, their ninth of the match, killed off their break point opportunity.
It was their second defeat in a final at Melbourne Park, having lost to Swede Jonas Bjorkman and Australian Pat Rafter back in 1999.
But Bhupathi said it was great to be back on the court with Paes, with whom he won the French Open in 2001, and that the pair were looking forward to playing together for the rest of the year.
"There is a reason these guys are the best team in the world," said Bhupathi, adding that the Americans were simply too good. "When they are serving at 83 percent, it is almost impossible to beat them."
Bob Bryan said it was the toughest match for the brothers in some time and that it was great to see two legends of doubles back together.
"We expect to have a lot more big matches against you guys in the future," he said."
Grand Slam Specials. Click here to bet.
[an error occurred while processing this directive]
Experts & Blogs

The hard work starts now for Andy Murray, says Barry Cowan, as the top four clash in Melbourne.

Day one at the Australian Open and we have already lost the supporting cast, now it's over to Andy Murray.