Murray routed in Melbourne
More anguish for Briton as Djokovic lands second Australian Open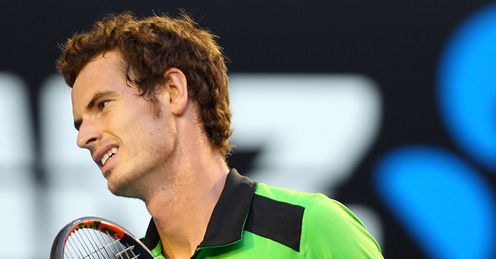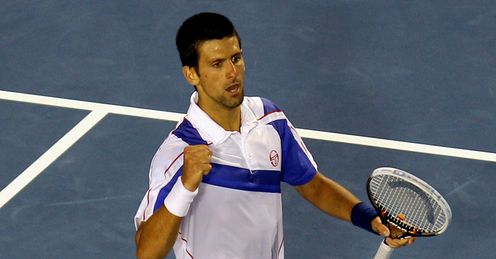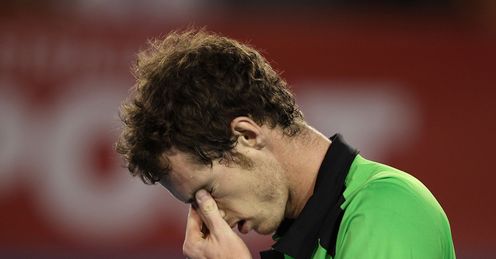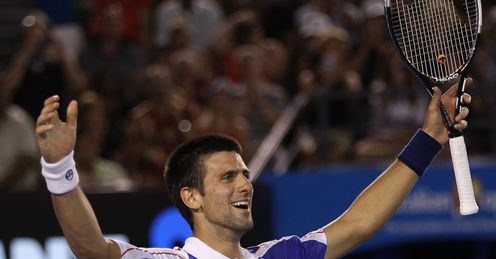 Andy Murray is still searching for his maiden Grand Slam title after he was beaten 6-4 6-2 6-3 by Novak Djokovic in the final of the Australian Open.
The Scot has now lost three Grand Slam finals without winning a set, after he was comprehensively outplayed by the Serbian world number three.
Djokovic won in two hours and 39 minutes in the most one-sided Australian Open men's final since 2003.
It was a second Australian Open triumph for Djokovic, who also won the Melbourne title in 2008.
Firing on all cylinders
Djokovic had seen off Tomas Berdych and Roger Federer without dropping a set in his last two rounds and was firing on all cylinders from the outset of his fourth major final.
The Serbian star held serve to love and earned a break point on Murray's first service game. But the fifth seed battled through the second game to hold and a high-quality opening set went with serve and looked destined for a tie-break.
That was until the decisive 10th game, when Djokovic prevailed in a 38-shot rally to open up two set points on Murray's serve. He took the first one when Murray hit a backhand long.
Things began to look desperate for Murray as Djokovic claimed a double break in the second set to race to a 5-0 lead. Murray managed to save face by clawing back two games on the spin, but Djokovic took the all-important eighth game to open up a two-set advantage.
Inevitable
Murray's hopes of the elusive slam were fading, but the British number one raised hopes of an improbable comeback by snatching an early lead off Djokovic's delivery.
But the momentum-change was brief as the Serb wrestled back a break, before a stunning backhand down the line allowed the soon-to-be world number two to help himself to another break for a 3-1 lead.
Murray was staring down the barrel and perhaps lesser players would have folded at this point. But the Dunblane right-hander used all his resolve to get the scores back on level terms at 3-3.
However, Djokovic soon edged ahead and when he secured a break in the eighth game, the inevitable dawned upon the Rod Laver crowd.
And the 23-year-old Serb needed just one Championship point to clinch his second Norman Brookes Challenge Cup, as Murray dumped a forehand into the net.
Comments (74)
Debbie Grantham says...
easy answer to all this if you dont like murray dont watch, then leave the rest of us to enjoy with out your sickening comments!!!
Posted 09:50 2nd February 2011
Debbie Grantham says...
At last thank god james marley and jim rollie jim darrah, people who can see what a fantastic player we have in murray, its not his fault we havnt won for 75 years, and he will be the best player we are going to have for many years to come, get behind him and encourage, it must be great for him to hear his country slag him of, just let him do it in his own time, but when he does win one it will be when will he win again , the poor guy , got nothing good to say keep it to yourselves!!!!
Posted 18:35 1st February 2011
Debbie Grantham says...
At last thank god james marley and jim rollie jim darrah, people who can see what a fantastic player we have in murray, its not his fault we havnt won for 75 years, and he will be the best player we are going to have for many years to come, get behind him and encourage, it must be great for him to hear his country slag him of, just let him do it in his own time, but when he does win one it will be when will he win again , the poor guy , got nothing good to say keep it to yourselves!!!!
Posted 18:33 1st February 2011
Alan H says...
Watched the whole match and thought the better player won because he took his chances when they came, played better tennis all round and made far less unforced errors. Andy Murray played exceptionally throughout the tournament but sometimes it's going to be the other guy who turns it on. He's good enough to get into another 'slam' final...and to win! He's still young, he's still hungry and he's still a very good player!! Well done Djokovic, he was the one to take advantage this time - maybe it will be Andy Murray next time. Whatever, he is by far the best we've had in Britain for a long time.
Posted 00:04 1st February 2011
Nick B says...
No bottle, no brains, and no ability to dig in when it counts. He is the Colin Montgomery of Tennis, and he was a Scottish loser as well.
Posted 19:14 31st January 2011
Michael Storey says...
murray should be rechristened TIM murray after our last bottler tim henman
Posted 17:41 31st January 2011
jeannie Mc whirter says...
hi... a bet of 100/ 1 would have got me a fortune if it had been on the anti scottish brigade" hes not british " looneys rushing to be read on the comments page .. what a sad bunch ... We are all allowed have our likes and dislikes but surely the paranoia that rears its head when he loses makes us all out to be pretty sad people and none more so that the german supporters oh dear !!! i wonder how Andy feels .SO much expectationn by so ,many .. not a "well done you are in the top 4 players of the world consistently" no "you didnt win Sunday so you are a flop " Get a life all of you ./ i seem to remember Novak loosing quite a few finals to Raffa and did SERBIA declare a national day of mourning and name callng i think not .. i wanted him to win for himself and to get the monkey of his back that is the british public and press ... he is not dour he has a sense of humour and would need one to sustain him thru all the knockers who have no idea how hard he works to be as good as he is ... The best bit is this ...whilst we are having a go at him from the t v pundits to the experts on our comments page his baNk book is about 1/2 million better off ..ha ! nae bad for a loser . of what ever nationality /
Posted 17:15 31st January 2011
Del English says...
J British - thanks for your response, although it's truly astounding that you think it's an anti-scot feeling that keeps us divided - pull your head out of the sand son - the anti-English feeling that flows over the border is truly palpable and has been for years.
Posted 16:48 31st January 2011
Chez Simon says...
Andy murray will win a grand slam when federer, Nadal and djokovic retire. it has nothing to do with the organisation of the event, nor the time of day the match was played. if he was tired then he really should not be playing at the top level of tennis. djokovic and murray are pretty much the same age, the former has 2 grand slams, del potro and nadal also close in age. andy murray does not attack, hes happy to just let the opponent dictate. He isnt good enough, and always falls at the final hurdle, this has been his best chance to win a slam, and yet we wait. i dont like him anyway, he has brought nothing to the sport and as they say you get out what you put it.
Posted 14:17 31st January 2011
John Black says...
Someone on this thread said that Murray is not British. If that's the case then perhaps they could ask David Cameron to recall all the Scottish soldiers from Afghanistan and take their British passports from them.
Posted 13:25 31st January 2011
J British says...
Del English... you sir are a bigot and a fool. This is exactly the sort of ignorant anti Scots comment that keeps the blind inter-regional animosity that has blighted the UK for generations going. Well done you moron.
Posted 12:59 31st January 2011
Ian Blair says...
Murray had the talent but not the mental toughness or capacity that true champions have. I seriously doubt whether he will win a Grand Slam.
Posted 11:20 31st January 2011
Malcolm Nicholas says...
It was not the same Murray on Sunday morning, but why do the Aussies play these matches so late at night? Murray looked exhausted. If you've ever had to wait until 8 or 9pm at night for such a huge event, your nerves would be shredded. I wish the organisers of these tournaments would stop mucking up players's routines just so the TV schedules are satisfied. I heard the weather was at its hottest during the day in Melbourne, so they played at night. But they are playing indoors, in an air-conditioned arena. And what's all this playing big Grand Slam games almost into the next day? Someone should get a grip on the organisation at such tournaments, and tell the TV companies to stop playing games. This match should have started earlier in the day over there for something like 5 in the morning over here, that way both players have a chance of being at their best, because Murray was nowhere near it.
Posted 11:02 31st January 2011
Del English says...
I absolutely love the fact that this dour, boring man has lost AGAIN. I genuinely hope he never wins a GS and as an Englishman I will never consider him to be 'one of us' and no I won't ever change my mind if he wins Wimbledon. I laughed through every set of that match and so did my family and I would sooner a succession of Germans win Wimbledon rather than this souless, moping, boring man. And anyone who says he's not anti-english is a misguided fool. "I support 2 teams, Scotland and anyone who's playing England" - that was no joke and I for one will never change my attitude towards him regardless of what he wins. Just so very funny to watch him lose, love it.
Posted 10:53 31st January 2011
David peter Lynch says...
Comment from P J " Murray is not only good enough to win one grand slam he is good enough to win 4 or 5". Really!!!!!! Why hasn't he then? Answer: not good enough, and never will be!
Posted 07:20 31st January 2011
David Macdonald says...
I never comment on these kind of things but i just have to after reading some of the truly ridiculous things which have been said. How can any of you possibly say Andy doesn't have what it takes to win a Grand Slam? If that were the case he would never have made to not just this final but 3. Maybe he does struggle under the pressure of a match like this but mental attitude can be worked on, he already has the talent and has proved it time and again. So for once stop slagging off Andy, the best Brit player for 70 years.
Posted 06:13 31st January 2011
Peetsy Bhoy says...
He's anti Engish; I here you say! You are incorrect! What we scots do not appreciate, is hearing how 'Engurlund' won in '66 (45 years ago, for God's sake!), the Rugby World Cup, Olympics (do you hear us ramming Alan Wells down your throat!), etc........give us a break! Your commentators are so full of self glorification (even before any competition starts) it makes us sick! I think the England football team is the most talent laden squad in the world but, the pressure from the press/media will always cause them to fail - miserably!!! That's what makes me chuckle every time they fail - and don't even mention the excuses...!!!..ha ha ha ha ha ha......I look forward to the next glorious failure in a major sporting event (sorry, I forgot, you won the Ashes(zzzzz)...how many times in the last 50 years??!!).
Posted 02:30 31st January 2011
Peetsy Bhoy says...
Oh so sweeet that a proud scotsman is the only Tennis player for the last 75 years, to even have a sniff at a grand slam! I can still here all the hype about Rusedski (Canadian!) and Henman. Get behind the boy; you pompous reprebates! You honestly have no idea why we dislike the English when it comes to sport - you think you have the god, given right to win everything! - and you will forever profess that the Germans/French are arrogant!!!!!!!!!!!
Posted 02:04 31st January 2011
James Marley says...
In defence of Andy Murray. I think everyone needs to look at this result with a little bit of perspective. Andy Murray is the best tennis player Great Britain has had for a very long time. With all due respect to Tim Henman who was a great ambassador for the sport and brilliant tennis player is his own right, Murray is the best thing to happen to British tennis in a very long time. He is up their with the big boys in a time in when men´s tennis boats possibly two of the greatest tennis players of all time Granted he has not yet won a grand slam but he has come very close and he is still so young. Tennis players tend to hit their peak around the age of 27-28 that is why the average age of a top 100 player is 28. Murray is already reaching great heights despite his age. The problem is we EXPECT him to to be the best, We expect him to win every match and if he does not fulfull our expectations we label him a loser; we leach on his back and feed off his misery. This is surely a comptelely inefficient way to act. We must support him and give him the space he needs to find his place and reach the goals that he sets. This is not the english football team, this is one incredibly talented individual who has had the misfortune of coming extremely close to a extremely difficult task and lost it at the last hurdle. We must support him rather than ridicule him because in all fairness, who are we to criticise a man who is the only reason great britain has any intersest whatsoever in Men´s tennis.
Posted 00:01 31st January 2011
Noel O'keeffe says...
Djokovic was a deserving winner of the aussie open. He was simply awesome in the semi final against federer and continued his good playing in the final. Murray was beaten by the form player. no big deal. He was beaten by Roger Federer in his previous finals in flushing meadow and melbourne so thats to be expected. In fact he has been the outsider in his 3 final appearances. He will win a grand slam, thats a certainty. He is just a bit unlucky that he is playing in an era where the competition is unbelievable. Good luck andy
Posted 23:11 30th January 2011
[an error occurred while processing this directive]
Experts & Blogs

The hard work starts now for Andy Murray, says Barry Cowan, as the top four clash in Melbourne.

Day one at the Australian Open and we have already lost the supporting cast, now it's over to Andy Murray.