Murray considers break
Briton could take 'months' off tour following final failure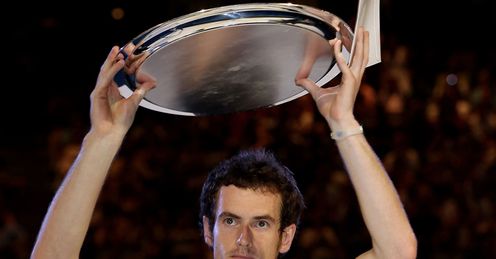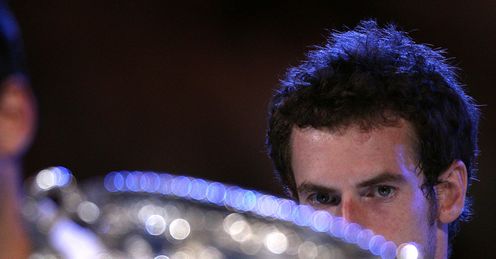 I might not play for a few months, I might feel like playing in a week's time
Andy Murray
Quotes of the week
SKY BET ODDS
Murray is 9/4 to win exactly one Grand Slam title in 2011.
Click here
to bet now.
Also see
Andy Murray has hinted he could take a break from tennis following his latest Grand Slam near-miss in the Australian Open final.
The out-of-sorts British number one saw his best chance yet to win a major slip through his grasp on Sunday, as Novak Djokovic posted an emphatic straight-sets triumph to land his second Melbourne crown.
The 23-year-old Serb, who came up through the ranks with his same-aged opponent, had too much for the fifth seed as he romped to a 6-4 6-2 6-3 success on Rod Laver Arena.
And Murray put a brave face on his most recent set-back after admitting the defeat was easier to swallow than last year's heartache against Roger Federer, when he broke down in tears at the presentation ceremony.
"It's better than it was last year," said the conquered Scot, who has now lost three major finals as he bids to become the first British male champion since Fred Perry in 1936.
"You know, it was obviously tough, disappointing. I thought Novak played unbelievably well and yeah, it's tough, but I've got to deal with it.
"I was in a much worse state last year than I was this year. I don't know why.
"I'll see what I do from here, you know. I don't know, I might not play for a few months, I might feel like playing in a week's time. It depends - see how I feel."
Improvements
The languid 23-year-old has now failed to muster a set in three Grand Slam final appearances. But the Dunblane right-hander insisted he will not lose any sleep over his failure to land a big title.
"I want to keep working hard, try and improve, but I said before the final, it's not something that I lose sleep over at night," he said.
"It's going to be tough for sure for a few days but I want to try and win one, of course.
"But if it doesn't happen, it doesn't happen. I'm just working as hard as I can. I train very hard, I take tennis very seriously.
"But I love my life away from tennis, as well. That's why maybe this year, compared with last, I'm very, very happy off the court.
"I'm enjoying myself. There's other things to look forward to, too."
Unbelievable
Murray claimed he had no fitness problems heading into the match, despite looking ponderous at times around the court. Instead the Briton, who had a punishing semi-final against David Ferrer on Friday, praised Djokovic for being at the top of his game.
"He played great. I would have liked to have played better but I think he would have beaten every other player on the tour if he played like that tonight," added the world number five.
"He served well, he didn't make many mistakes from the back of the court, he moved really, really well, he hit the ball very clean. That was it.
"He defended unbelievably well tonight so when I got ahead in some games, and even just in points, he was sticking up lobs that were landing on the baseline, passing shots that were very close to the lines.
"So it was quite difficult to find parts of the court where I was getting free points from.
"I think I broke his serve maybe twice in the third set and still lost it 6-3. I was trying to find a way - I just wasn't able to put enough good points together."
Comments (43)
Doreen Hopkins says...
Andy, Boris Becker says you have the skills to win a major, just ask him to coach you full time. Mac says the same!!!!! Just go for it. We are all behind you never mind the media. Remember Smile in the face of Adversity
Posted 21:04 4th February 2011
Craig Ing says...
Craig Dobson : You are right and I agree that Andy is without doubt the most talented British player in years and yes he has managed to scrap his way to a best of Number 3 in the world. However, who knows of the players gone by who would have done as well or better had they received half the financial support Andy has and still does. Jane O¿Donoghue and Lee Childs to name but 2¿.¿¿.. Its a shame that Sky didn¿t post my first comment because I said that "Top Talent" in terms of Professional level sport is 3 dimensional and Andy is missing a dimension, if not 2. Age has little to do with this. How old was Becker when he first won Wimby? Exactly. Nadal and Federer are still young but have never abused their privileged position but talking so dismissively. The fact that Andy can even suggest in the manner in which he did, he will take time off is a demonstration that he lacks the mental side of the game. As Becker said in the post-match interview, the step between winning a Masters Tournament and a Grand Slam is as big a step as the players consolidated entire career. My first post went on to say that the real reason for our lack of performance in British tennis is the LTA. Roger Draper has succeeded in making more money for the organisation but failed in apportioning it correctly. Its no surprise that we have Divas as our tennis players when the LTA throws all their cash at a few and scraps to the rest.
Posted 08:11 4th February 2011
Steven Rintoul says...
I wish people would stop going on about anger management. theres been plenty of grand slam champioms over the years who were angry on court. I don't hear anyone talking about John McCenroe being to angry on court and its only because hes a winner. Players handle the stress on court in different ways. Andy and John like to let out emotion where as others can shift it in different ways. In almost every match Andy's played whether its beating Nadal/Federer/Djokovic or losing to the same players hes no different. He just hates to play bad shots and gets frustrated which many people in the world do and that includes many champions also. He has the talent to beat anybody in world tennis but needs to handle the big occasion's better but this does not mean he needs to lose the anger that drives him on to improve his tennis.
Posted 22:06 3rd February 2011
Kenzo Lim says...
Its about mental strength, it comes down to mental strength. Andy Murray does not have the mental strength to deal with top level opposition in where it counts - in the Grand Slams. There is a 'fear factor' of a lack of belief he can cross the line. It doesn't matter how many mentors, coaches and Judy support him, out there in front of the world, on court facing the best players in the world, that's why he is No. 4/5 and Djokovic, Nadal and Federer are all in front of him. The three best have the mental strength and iron belief to win - A. Murray does not, and he cannot turn to anyone but himself to do it. It proves the crowd, the support - they are very much a minority of the result, Federer and Nadal (and now Djokovic) have that much mental strength they can win the big ones. I liken Murray at the moment to Frank Bruno - because Bruno was good at knocking out the lesser fighters and came into face Mike Tyson with 31 KOs from 32 wins; at the highest level, he didn't have the mental strength to do it. Will Murray ever have? Its sat on the fence really.....only he can improve mental strength, and that might be his biggest weakness. Oh, and someone said Federer was 23 when he won his first - No.....Federer was just 21, Djokovic was 21 and Nadal even younger getting their first - Murray should not think about keeping up with them at winning at so young an age, because he doesn't have the same mental belief at this moment.
Posted 14:20 3rd February 2011
Craig Dobson says...
Craig Ing: Quite a number of rash remarks there. I'm sure many other British tennis players would love to receive the financial backing and support of the LTA, just as Murray has; I bet they'd also love to have even a slither of the talent that Andy obviously has too. He wouldn't get this far in Grand Slams without it. On his personality, yes, he has temperament issues, but to suggest he should be more humble has little to do with his performances. Bear in mind, guys, this man is only 23 years old, and has more potential than the past two generations of Britons in men's tennis. Lay off a little.
Posted 02:17 3rd February 2011
Marc S. says...
One dimensional tennis. thats his biggest problem. He has in certain moments no answer to the tennis of nadal, federer and djokovic. sadly he doesnt manage to work on that. a lot of experts like sampras and becker critizise just that about murray. he needs to change his tennis. he is very good at what he does but certain elements in his tennis are missing.
Posted 11:45 2nd February 2011
Craig Ing says...
How dare Andy say with such a carefree attitude that ¿I might not play for a few months, I might feel like playing in a week's time.¿ There are thousands of British tennis players who would do anything to be given the opportunity, the support and financial backing that Andy has received and continues to receive. This is a total abuse of his position. Someone give this arrogant guy a lesson in what not to say and how to act. He has no charisma and needs to find a new personality quickly. Federer, Nadal and Djokovic are so eloquent and humble about their career and the trappings that it brings. Djokovic took a moment in his winners speech to remind us all about the Australian Flood victims ¿ Humbling! It wont take long for Andy¿s sponsors to realise that he is not a good association. Even the magic of Simon Fuller will not be enough to save him.
Posted 20:42 1st February 2011
James Cullen says...
Personnally i wanted Andy Murray to win purely for himself. He has clearly put in a lot of effort over the years and continues to do so, and if he doesn't get down on himself he should win a major soon. The British press put him under lots of pressure then slate him when he loses. He is Scottish and the Scottish people should be very proud of him. The English should lay of labelling him as a Brit. Good luck in the future Andy
Posted 12:57 1st February 2011
David peter Lynch says...
These discussion boards get better. The slaughtering of that pratt Murray has got his misguided supporters totally wound up! Remember, it was the Murray supporters leading up to the Australian Open final who were setting their hero up for an almighty torrent of criticism if he lost (as was expected). Now you are paying the price for your blind support.
Posted 12:10 1st February 2011
Ann Mcd says...
Well well well, he has created another stir, will you all please grow up, Murray will never win a grand slam, his behaviour is appalling, until he learns some manners and leaves team murray at home including his mother this in my opinion might help. Sack the lot of them a get anger managment learn manners, clean up his act. I would like some of you murray fans to tell me which of the top 5 players behave like him. NONE - I rest my case.
Posted 00:38 1st February 2011
Allan Gibson says...
Andy just got beat by the better player on the day, he has beaten novak before and will do it again. Yeah the way he comes across on the court sometimes frustrates people but u put yourself in his shoes everything he tried novak justhad the answers sometimes it just happens and his other 2 finals the best player that has ever played the game beat him so what can u say. He is a born winner and will win a major one day just let it be sw19 and produce the blue and white flag.
Posted 21:27 31st January 2011
Dennis Smith says...
I cannot believe so many people thought Murray would win. Thank God he lost otherwise he would be more conceited than he already is. He is Scottish, NOT British, as he pointed out some time ago. He is just an average player and always will be.
Posted 20:32 31st January 2011
Kris Sutcliffe says...
Have a break, he's only 23! What do you think Roger Federer, Pete Sampras and other Legends did when they got beat. They learnt from their mistakes, improved, played more tournaments and went on to win many titles. They didn't 'have a break', just like other english sportsman I could mention who's attitude has been the same and they have never fulfilled their enormous potential. A british/english player will always have the pressure and media on their back because that's what we do to our sporting lot, we and the media pressure them at every turn, but get used to it cos that's never going to change. Rusedski never got it that bad because he was from Canada and at least he got to a Grand Slam final and won a set! Murray should be back on the court looking at and analysing why he didn't even win one set! Beaten by a better player is one thing, but hitting the net that much in the match is something altogether different!
Posted 18:03 31st January 2011
Snezana Novkovic says...
You Englishmen should be very proud of Andy..he is a good guy, has a lot of talent and it is just about time when he will win in the Slam. No matter he is Scott or not, he represents Great Britain and that's it. In Serbia we are aware that we are small country but we appreciate our athletes very much. Novak is our son, like Ana Ivanovic and Jelena Jankovic, Janko,Viktor, our basketball players, volleyball teams.. So, ok, just support Andy! Come on Andy! Greetings from Belgrade!.
Posted 14:04 31st January 2011
Alex Scott says...
Murray is the most talented British player we have had for decades but this is does not mean he is owed a slam title. It is easy to knock our nations sportsmen and women and I agree that Andy's on court conduct does him no favours, but why cant we enjoy the fact that at last we have a Brit getting to final of the slams and take our hats of to Djokovi who played outstanding tennis? Less knocking, more supporting!
Posted 13:41 31st January 2011
Paul Meikleham says...
It as absurd the abuse that Murray is receiving from the press and ignorant people who think that because they watch sports that they automatically become experts. All I saw on Sunday was a young man who didn't quite play his best tennis and an unbelievable display of tennis from the baseline by deserved winner in Djokovic. Andy has a lot to improve on to win a slam but he is capable. Its also worth noting that Roger Federer didn't win his first Grand Slam until he was 23 and we all know how good he became. Murray might never hit the dizzying heights of RF success but he is Britains best chance of slam so get behind him, stop slaughtering him, everyone knows he won't win a personality of the year contest but does that make him a bad person. It makes me sick that we live in a country where its more important to ridicule our sports men and woman when they fall short of success rather than try help them with positive support. England, Scotland, Ireland and Wales - GB will never be serious contenders for anything if we continue of with these witch hunts. Some people really need to get a grip.
Posted 13:23 31st January 2011
Paul Merrick says...
personally i think andy had not fully recovered from the match with david ferrer,its not right that novak should finish his match on a thursday and andy play his semi final match on a friday in that respect novak has got more time to recover and practice on his errors,that showed in the final with andy that he was not fully fit
Posted 13:19 31st January 2011
Andy Murray says...
Dissapointed,again!!!.Murray was beaten by the better player on the night,Djokovic played a fantastic tournament.My only gripe with Andy is his game,would love to see him serve & volley more.He has sublime touch/feel around the net when he decides to go in, would give him so many free points when his serve is working(which is was up until the final).Las t word has to go to Djokovic,a player who i feel could go on and win many more grand slam titles.
Posted 12:46 31st January 2011
Julian Wilcox says...
Wow! where does one start with Andy Murray. Firstly he needs to offload the 'hangers on' who do him no favours at all - shaking fists during a match is distracting. Andy needs to keep his eyes on the court. His mother - not sure but maybe leave her be. He needs to keep his anger to himself and stop swearing - opponents love that. He needs to be more aggressive especially on his backhand and come off the baseline more i.e. Federer. He needs a coach and listen to what he says Brad Gilbert was perfect but he didnt hang around when he wasnt listened to. At present he needs to iron out these weaknesses have a game plan and he will win.
Posted 12:23 31st January 2011
Mart Stabrey says...
This guy is pathetic. His entire demeanour is one of perpetual "weight-of-the-world-on-my-shoulders". Possibly his mother has something to do with it. He really should adopt a slightly more postitive posture, get a voice coach for his interviews, and generally a better all-round attitude. Geez, it's not like he's doing it for nothing!
Posted 07:50 31st January 2011
[an error occurred while processing this directive]
Experts & Blogs

The hard work starts now for Andy Murray, says Barry Cowan, as the top four clash in Melbourne.

Day one at the Australian Open and we have already lost the supporting cast, now it's over to Andy Murray.