Romelu Lukaku will make his Premier League debut for Manchester United on Sunday and he will fancy his chances of marking it with a goal given his record against opponents West Ham…
Sky Bet
Loading Market ...
Much is expected of Romelu Lukaku at Manchester United following his £90m switch from Everton and he will be hoping for a fast start to life at Old Trafford. The good news for the 24-year-old striker is that he could not have picked a better opening fixture than West Ham at home. The Belgian already boasts a formidable record against Sunday's opponents.
Although Lukaku failed to find the net against the Irons in his two matches against them when on loan at West Brom, he enjoyed an astonishing scoring sequence against them during his time at Everon. In fact, Lukaku scored in his first nine appearances for Everton against West Ham, his goals directly earning nine Premier League points for his side.
The run began with a late winner on his Everton debut in 2013, and he was knocked unconscious in the process of scoring in a 3-2 win. "I remember nothing about it," Lukaku admitted at the time. "I did not even know I had scored. That was the first thing I asked the doc. I said, 'Who scored?' He said, 'You.'" But West Ham fans will not forget his knack for crucial late goals.
In the reverse fixture at Goodison Park in 2014, Lukaku grabbed the only goal of the game in the 81st minute. The following year there was a last-gasp equaliser in an FA Cup tie. He also scored in extra-time of the replay and then finished that season by scoring a stoppage-time winner in a 2-1 victory over the Hammers in May.
Not that Lukaku has always had it his own way. Despite extending his scoring sequence against West Ham to eight matches with the opener at Goodison Park in March 2016, a missed penalty when two goals up proved costly. Everton went on to surrender the lead and lose 3-2. Even so, he was back on the scoresheet in a 2-0 home win last October.
Lukaku's streak only came to an end in a goalless draw at the London Stadium in April. West Ham were particularly vigilant. "He has got a good record against us, and we probably haven't defended as well against him as we could have done in games gone by," said James Collins beforehand. "Physically, he has got everything, he is big, strong and he can finish."
That shut out owed much to the efforts of Winston Reid and he is likely to be the man asked to mark Lukaku again at Old Trafford. Given the team's earlier struggles against the striker, Reid was pretty blunt about what is required to keep Lukaku at bay when explaining the long-awaited clean sheet afterwards. "Don't let him turn," said the centre-back.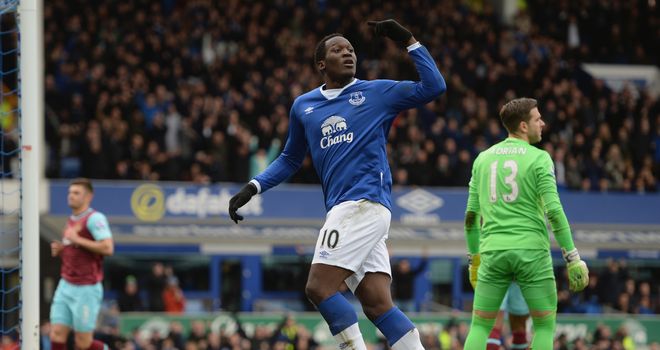 "If he's not going to turn then he is not going to score, is he? It'd be pretty difficult. We wanted to try and keep him away from the goal. I know it's pretty boring but it's pretty simple I guess. We just had to be on him in the box and make sure he couldn't turn."
Nothing too complex then but is it easier said than done? It certainly has been on the last five occasions that West Ham have faced Lukaku on their travels. Bookmakers Sky Bet rate the forward as an 8/13 on chance to score on his Manchester United debut. Lukaku's history against the Hammers would suggest that he is odds-on for a very good reason.