Ghana probably became most people's second-favourite team during the 2010 World Cup after their journey to the quarter-finals captured the imagination of football fans around the globe.
Sky Bet
Loading Market ...
Their passage to the last eight, ensuring they went the furthest of any African team in the South Africa-hosted finals, was a true underdog story but it was also achieved by a side of immense talent.
Indeed, it was only a Luis Suarez handball and a lack of composure from the resulting penalty and following spot-kicks which saw Ghana eliminated by Uruguay in one of the most memorable games of 2010.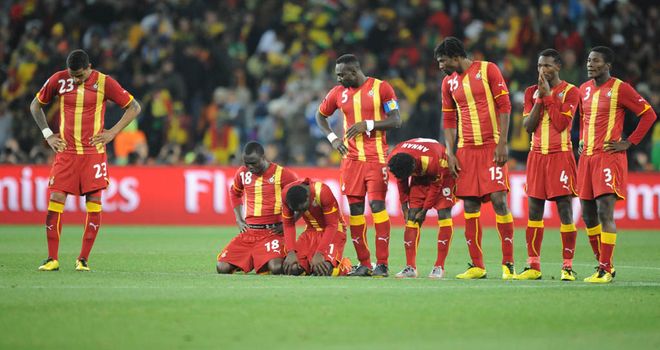 But that tournament was also not the first time Ghana had upset the odds.
In 2006, in their World Cup debut, they finished as runners-up behind eventual champions Italy in the group stages, eliminating highly-ranked USA and Czech Republic in the process, before losing to Brazil in the last 16.
A 2-0 win over the Czechs in their second group game had been vital in that progress and Asamoah Gyan's goal inside two minutes, one of the quickest in World Cup history, was a platform for the win.
Gyan would then go on to be a star at the 2010 finals, scoring three goals - including the extra-time winner to again knockout the USA - this time in the last 16, and that form earned him a move to the Premier League with Sunderland.
The striker's time at the Stadium of Light may not have worked out as many had hoped but the now-Al Ain player remains integral at international level as the captain of Ghana.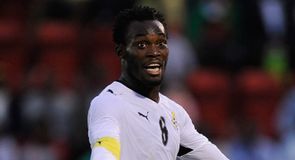 That means Gyan will lead his country in Brazil on Monday night as they again take on familiar rivals USA, along with Germany and Portugal, in the very competitive-looking Group G.
Ghana's squad will maintain a familiar appearance with members of the old guard, such as Michael Essien and Sulley Muntari, but with a mixture of youth.
And, here, in a Q&A with PUMA - Ghana's national team kit sponsors, Gyan speaks about a wave of optimism before the World Cup, what it means to be captain, and his memories of his previous experiences of the finals.
What is different about the Ghana team today compared to the squad who played in the World Cup in 2010?
"I think the difference is that we have got a lot of young, good players on the team at the moment. Before, we had a lot of experienced players who were also doing well in their own clubs and everything. I think the biggest difference we see today is we have a lot of young chaps coming up. I think it is a good thing."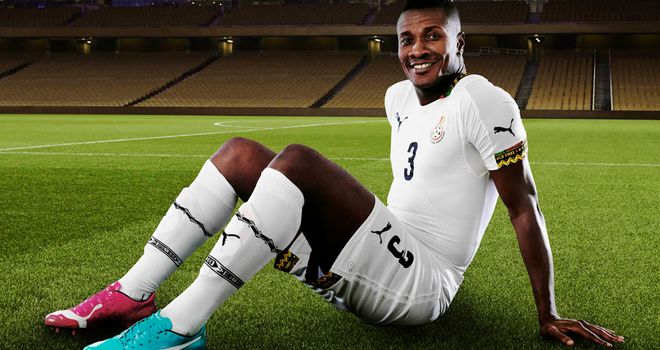 As you just said, obviously there are quite a few young, talented Ghanaian players who have joined since the 2010 World Cup in South Africa. Who do you think will really make an impression in this tournament?
"It is very difficult to predict in tournaments like this, you know? It could be somebody's breakthrough. I had my breakthrough in 2006 and even in 2010, so talking about tournaments, you might not know. There might be more expectation for a particular player and that player might end up disappointing. So, tournaments like that, we just have to go in as an all-around team and make sure we deliver for the nation. Definitely, there might be a revelation for the team but I am not God (laughs), so I do not know at the moment. Let us just go there and we will see what happens."
How important is it to have the right balance on a team between these older, more experienced players and the younger, energetic players?
"Yeah, it is a good thing. Young players are more energetic players and our experiences combine together. Talking about experienced players, they can share that experience with the young players to combine everything - to deliver. So, I think experience also counts. Talking about young players, they have got more energy to do, maybe 200 per cent of what experienced players can do. So the experienced players do well and they sit back and they control everything. With young players, there might be something that they might not know, so it is like the experienced players show them the right path to do their job."
As the captain of the team, do you sometimes feel a burden of responsibility? Or is the role for you an enjoyable one?

"I would say yes and no. You know, sometimes people look up to the captain. There are ups and downs in the game. The captain and the coach must take responsibility for the team. I have been there for about 11 years and I have been through ups and downs; I have been through hard times. That is why, being a captain today, I do not feel any pressure. I am ready to face anything, because the whole country has turned against me when I was a kid, so it is like paying homage to all the difficult times before being a captain. I am ready to take any responsibilities. Yeah, there is pressure. Sometimes I feel like when we are going onto the field, a captain has to win his game. Sometimes I feel like, 'Hey, I am leading the team. I have to come out victorious'. So any time things go wrong, I feel more pressure. I feel like I did not lead the team well and sometimes people say horrible things about the captain, but I have passed through a lot of difficult moments in football, so I know what it takes."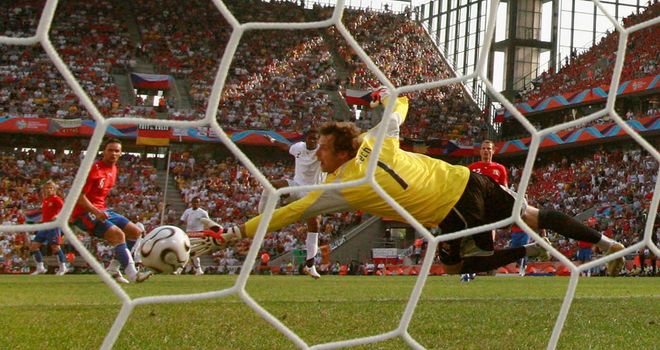 You mentioned you had your breakthrough in 2006, which is obviously when you scored the very first goal in Ghana's World Cup history. What does this mean to you and is it something you look back on with a special feeling?
"Yes, it is a goal I will never forget. I remember the first game against Italy, we lost 2-0 and that was our first World Cup. And I think the second game was really, really important and we were hoping to win. I was not expecting to score the fastest goal, but I remember before the game, I told my brother, 'I'm going to score' and he said, 'Yeah, we hope so'. But I did not think the goal was going to come that early. It was like people back home in Ghana were expecting Ghana to win the second game to keep us in the competition, because we lost our first game. And I scored that goal. So, it is like I brought back the hope to Ghana and at the same time, the goal became one of the records for the fastest goal in a World Cup with one minute and eight seconds, if I remember correctly."
The Ghanaian squad is known for its special team spirit. How important is this in order to prepare well and to succeed on the pitch?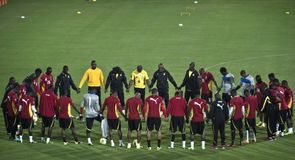 "Yeah, team spirit is very, very important in a team. Talking about the Ghanaian team, we know how to psych ourselves up. Being the captain, I know how to psych the boys up. Even when I was not the captain, I am the one who makes sure I psych the players up by composing songs. You know, we crack jokes in the camp just to forget a little bit about the game, just to take off some pressure. When we go onto the field or for training, I am the one that leads the song to encourage team spirit. So, that is how we psych ourselves up and by doing that, we bring unity to the team. We love each other and we help each other, so for me, I do not think any other country has more spirit than Ghana."
Ghana will have to face Germany and the USA in the tournament's group stage in Brazil; two very familiar opponents when it comes to your past World Cup experiences. Do you think it is going to be an advantage that you know both the teams well?
"It is going to be a tough game. Speaking of the history, we beat the US in 2006 and then we beat them again in 2010, so we have beaten them twice in the World Cup. And this time, I think they are going to come with the mentality to take revenge and it is going to be the first game in the tournament. Every first game in the World Cup is a top game, because everybody wants to win to stay in the competition and everyone is nervous. It is going to be an action-packed game. We will try to sit back and play our normal game. What makes this different is that they are coming for revenge; they want to do whatever it takes to win against Ghana."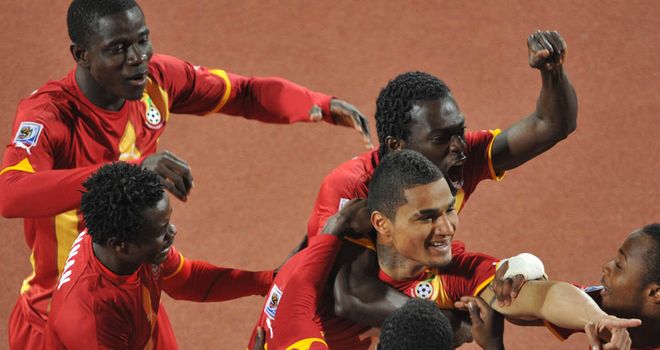 Obviously, that is the case with the USA. Is it similar for Germany?
"Yeah, we also want to win, because, in every tournament, every single game is very important for any country. So, that is what we are looking at."
In addition to Germany and the USA, Portugal is the fourth country in your group and your group has actually been described as this summer's Group of Death. Do you see it like that?
"Yes but football does not talk about names anymore. We have done it before; Ghana has done it before. In 2006, we were in the same group with Italy. Italy went through to win the World Cup and we made it instead of the US, who were rated fourth in the world around that time and Czech Republic were rated fifth in the world at that time and Ghana were the underdog. And we were able to deliver. The same thing happened in 2010. We were the same underdog and we were able to deliver. So, it has happened before and I do not feel any pressure at all. We have got a lot of experience in the World Cup. We are going to make sure we make every Ghanaian proud by playing our normal game and we will see what happens."
Will it be a challenge to qualify for the knockout phase this time?
"Definitely. Portugal have got a great team. Germany, of course, are the favourites; that is what people are saying. Statistically, they are the favourite in the group but you might not know what is going to happen. Any country who qualifies for the World Cup is a good one. That is where it is a bit tricky, so we have to just watch out."
Asamoah Gyan wears the new Ghana World Cup kit by PUMA, available from Kitbag.com NOW, and the PUMA evoSPEED 1.2 Tricks available from ProDirectSoccer.com. For more information on PUMA's national kit sponsorships and evoPOWER and evoSPEED boot ranges head to http://puma.com/football