The Scottish Premiership and Scottish Championship kick back in to action this weekend and the Sky Sports experts have given their views on how teams may fair this season.
Sky Bet
Loading Market ...
In a special one-hour programme Scottish football legends Andy Walker, Davie Provan and Neil McCann debated all the talking points, including: who will challenge Celtic for SPFL title and whether new manager Ronny Deila can survive his first season in charge; which teams could struggle to keep their place in the top tier; and with Rangers, Hearts and Hibs in the Championship, the panel discussed which of these big clubs are likely to earn promotion.
Sign in to Sky Go to watch the programme in full
SCOTTISH PREMIERSHIP
CELTIC
Neil McCann: I think the title will be closer than it was last year. I expect Dundee United to be a lot better and Aberdeen – we're looking for them to kick on again, but I do believe that Deila is in a position where he's not under the same pressure as, say Wim Jansen [coach from July '97-May '98], whether his contract is a rolling one or not. He's got a bit of leeway because of the strength of the squad and he should see it out, like Neil Lennon did. Lennon was expected to win the title and he did it at a canter – I still believe he should have had a treble in his bag with Rangers not being in the league, but Deila is in a position where that squad is strong enough, and should be strong enough to retain the title.
ABERDEEN
Davie Provan: Over the last decade or so Aberdeen have been fragile mentally. I think, as much as winning a League Cup or winning at Celtic Park was a huge psychological hurdle for them to overcome and that will have done the dressing room no harm at all. I think Derek McInnes has built a very good squad, with loads of experience in it and David Goodwillie could be a key signing – I'm not saying it's his last chance, but his reputation is in decline – this is a good stage for him to go and prove himself again. You would expect Aberdeen to start really brightly.
MOTHERWELL
Davie Provan: The job that [Stuart] McCall has done is absolutely miraculous. He had the chance to go to Sheffield United and I'm surprised he didn't take it. I think other offers will come his way, and at a time when Motherwell can't grow their attendances – which is a bit of a mystery considering how well they're going – you just wonder whether Stuart McCall has taken Motherwell as far as he can
ST JOHNSTONE
Andy Walker: I think they'll lose their top player Stevie May, who's attracting a bit of interest. Rotherham are the latest club to think about taking him, I know that Preston have looked at taking him as well. St Johnstone supporters have to accept that when you get a player like Stevie May, who comes on to the scene and scores 20-25 goals, then you will get a bit of interest and money will talk. Eventually he will go and test himself in England and then they'll need to try and look and bring in someone else. I'm surprised that they haven't made provisions for the fact that May will probably go.
DUNDEE UNITED
Neil McCann: Dundee United have always had a pedigree and a reputation for bringing kids through. I've been up there recently taking in a match and I can tell you, there's another four or five guys there who are almost at the threshold of breaking in to the first team; it's a case of when does Jackie want to put them in there? He'll be disappointed at losing Ryan Gauld and Andy Robertson in particular. Robertson is the big one, I know Gauld had the star status but Robertson was a real key player for them last year and I think that one is a disappointing fact because McNamara has got to go and replace him; he was so dynamic going forward. But, he's got other boys there that will thrive and push through and I think what Jackie's got to do this year is strengthen at the back because I felt the centre of defence was his weakest part. If he gets that right I think maybe they can put in a challenge.
INVERNESS
Andy Walker: I think John Hughes will welcome the bit of pressure that he's under. He's been out of the game for some time; I thought he did well at Falkirk and the style of football they played. He then went on to Hibs and seemed to replicate that there, and then it fell away and he was out of the game for a while. He's come back to Inverness who, have more than punched above their weight for the last couple of years. I hope that John will make a big impact because he's under a bit of pressure just to get his track record back.
DUNDEE
Neil McCann: I'm delighted that the Dundee derby is back because we've lost the Glasgow derby and the Edinburgh derby, of course we've got he Lanarkshire derby as well, but the Dundee derby was needed. Paul Hartley has gone in there and he's been ruthless to win the Championship and clear the decks; he's removed lots of players and staff. He's clearly of the opinion that it needed that to sustain a challenge, because when they were last in the SPFL (2012) they weren't ready; they got thrown in at the last minute under Barry Smith and it was really unfortunate for them to be in position to try and survive. This year Paul Hartley has had plenty of time to get things right; he's spent a lot of money and with that comes a lot of expectancy to stay in the league and I think they'll have enough in the tank to acheive that. Whether they can approach the top six remains to be seen because there are so many sides down the bottom that are so evenly matched now.
HAMILTON
Andy Walker:  I wouldn't rule out them surviving. I went to Easter Road [for the play-off v Hibs] and I was really impressed with the way they played. I know they had to chase the game but to go to Easter Road – a big ground like that – and show the type of energy that they have; Ziggy Gordan at right-back was absolutely terrific, constantly getting up and down the pitch and getting good quality balls in the box; a good footballer. And as Alex Neil will tell you, they will give a number of young players a chance and I think there's a bit of momentum with Hamilton. They will compete with the likes of Thistle, Ross County and Kilmarnock to avoid that relegation spot.
ST MIRREN
Davie Provan: I don't get it at all [Tommy Craig's appointment as manager]. It was a real strange one for me. I think throughout the years Stewart Gilmour seems to have his hand on the tiller down there at Paisley, he's been the voice of reason and the voice of sanity for many, many years. I don't get the change in management at all. Danny Lennon kept St Mirren in top flight for four years, which in itself is an acheivement, he won a League Cup which borders on the miraculous for St Mirren to win a national trophy and for them to not to renew his contract was a major surprise for me. Unless there's something we don't know going on behind the scenes, but certainly in terms of results I don't see how they can justify that.
KILMARNOCK
Neil McCann: It's very a smart move from Alan Johnston to bring in Gary Locke [to his backroom]. I felt Locke was another who should have been given time at Hearts, he lost his job, but what he did at Hearts was turn a group of kids in to a hardened team. Yes, it didn't happen overnight, and it was always going to be like that, but towards the end of the season those boys started to learn the game and develop physically and I think he should have held on to his job. Alan Johnstone bringing him in is a very, very clever move because they're going to have to bring through a lot of kids, but I do fear for them. Without Kris Boyd's goals I don't know where the goals are coming from.
PARTICK THISTLE
Neil McCann: Partick really struggled to score goals at home in particular [last season]. I think Ryan Stevenson is one of those guys coming in to the club who'll bring a strength about him and Partick need that; they'll need to rely on Ryan to comand them, whether it's going from the midfield or to the frontline. They need to find goals and I'm just not sure Ryan is going to provide the goals that they need to get in to a higher position in the table.
ROSS COUNTY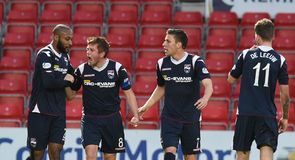 Andy Walker: When you look at the bottom of the table and the likes of Ross County, Hamilton and Thistle, they're all much of the same. I'd imagine Ross County are going to put a bit of responsibility on the likes of Richie Brittain, to not only drive them forward, but to get important goals that will give them that edge.
SCOTTISH CHAMPIONSHIP - WHO WILL BE FIGHTING FOR PROMOTION?
RANGERS
Andy Walker: I think Rangers will have enough in the long run. They've got a bit of added insurance once they knew that Hibs and Hearts were going to be a part of the league as well. I think to go and get the likes of Kenny Miller and Kris Boyd; they will get the goals that will make the difference. They've signed Marius Zaliukas as well, add that to the fact that they've still got Lee McCulloch and Lee Wallace. Rangers in terms of squad strength will have more than enough to take care of Hibs and Hearts.
HEARTS
Davie Provan: I thought Gary Locke was treated pretty shabbily, even more so given the service that he's given to the club. It is the new owners prerogative to pick a new manager if she wants but to have Gary Locke working there towards the end of a very difficult season knowing that she was going to sack him at the end of the season – I don't think that was particularly fair. I understand Ann Budge even shared a stage with him at a supporters' function just days before telling him that he was out. Gary was doing that job with the best of intentions, good faith and never had a chance of getting the job at the end of the season.
HIBERNIAN 
Andy Walker: Something seismic had to happen there and I'm not surprised at the changes but Rod Petrie will never [despite fans' wishes], leave - he's on too many SFA committees. He's brought in Leeann Demptser to put her in the firing line which was a clever move on his part. What they have to do in terms of the football is get the supporters back on side – they have been completely disillusioned by what they have seen at Easter Road over the last season or two and I hope Alan Stubbs can get it right. It's a tough one for him to try and compete with Hearts and Rangers. If Alan Stubbs can lead Hibs into the play-offs I think they've got a great chance of coming back in to the top flight at the first time of asking.
RAITH ROVERS
Neil McCann: My tip for the team to come up and challenge for the play-off spot is Raith Rovers. I think Grant Murray, after winning the Ramsdens Cup last year, has strengthened very well in the summer. He's brought in two guys in particular in Christian Narde and Ryan Conroy from Dundee who won the Championship last season, so they're going to be strong. If they can keep that team fit I fancy them to challenge.