Sometimes a transfer story comes along to excite the neutral. The sight of 22-year-old Tom Ince in Milan last month to discuss a prospective move to Inter was precisely the sort to intrigue. Instead he's now a Hull City player.
Sky Bet
Loading Market ...
Just as it seemed Serie A would remain an Englishman free zone, Ashley Cole, a free agent since leaving Chelsea, made the surprise decision to sign a two-year contract with AS Roma. It wasn't the easy option but it is surely the right one.
There appeared to be a tacit presumption once it became clear Cole's time at Stamford Bridge was up that he would be heading for a lucrative deal in a lesser league. Jose Mourinho indicated in Feburary that a move to MLS – specifically New York Red Bulls – would appeal to the player.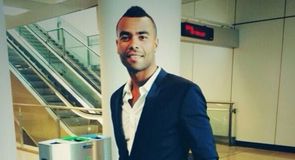 It made sense. Not only would it see Cole link up with former team-mate Thierry Henry, but the United States has represented a favoured destination in the off-season with the relative anonymity of life there thought to be seductive for a man perceived to shun media attention.
Challenge
Instead he has opted for a tougher challenge. There will be a new language and a new culture. Cole appears to have recognised that this is unique opportunity and is willing take himself out of his comfort zone. As if to punctuate the point, he will be the first Englishman ever to play for Roma.
Professional determination is the driving force, with the chance to play Champions League football a significant factor. Serie A is not the dominant league it once was but there is still the opportunity to play alongside Kevin Strootman, Miralem Pjanic, Daniel De Rossi and, of course, Francesco Totti.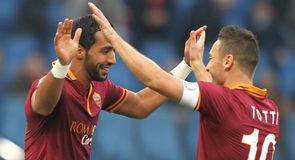 Despite the latter's advancing years, Italy is no footballers' retirement home and that means he will be tested. And yet, there is little reason to think he won't be able to cope. Cole certainly represents an upgrade on predecessors at left-back, Dodo and Federico Balzaretti.
He might be encouraged by Maicon's success at the Stadio Olimpico after a year of relative inactivity in England with Manchester City. A similar decline in Cole's own standards had apparently been identified by Mourinho, but curiously the statistics reveal no obvious deterioration in form.
In fact, across all key passing and defensive metrics Cole's output remained broadly similar last season to that of the previous four campaigns dating back to Chelsea's title win of 2009/10 when the player could be regarded as at his peak.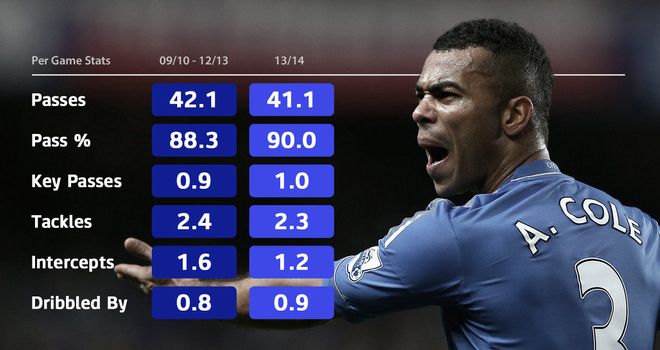 Any changes were negligible. Tackles per game dipped to 2.3 from an average of 2.4 over the previous four years. Key passes went from 1.1 to 1.0. Essentially, Cole appears to have been doing the same things he always did, even having his most accurate passing season as a Chelsea player.
Perhaps most importantly, he's also still a difficult man to beat in one-on-one situations. Cole was beaten significantly less frequently than Pablo Zabaleta and Jon Flanagan – the former in his prime and the latter regarded as having a fine season at full-back.
Assured
Having been fortunate enough to be there to witness Cole deliver an assured performance in the Vicente Calderon in April as Chelsea kept a clean sheet against Atletico Madrid in their Champions League semi-final, those stats are supported by visual evidence too. It was the only game in which Atletico failed to score in last season's competition, while no side shut them out at home in La Liga.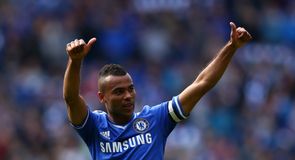 If Cole had been afforded more opportunities to shine last term it seems unlikely he would have been omitted from England's World Cup squad. Instead Leighton Baines was favoured – selling himself in near comical fashion as he was outwitted by Antonio Candreva for Italy's winner
Cole will get the chance to show what he can do against the same opponent when he faces Candreva's Lazio this coming season. Not only will we find out whether he can still cut it, but the derby atmosphere in Rome will also show why Cole made the right decision about his future.
When that day comes, one can only hope it might cause one or two other talented British players to reconsider their own career paths and make that leap abroad.
Thoughts of others who made the move to Italy:
"It's an education from a footballing point of view that you can't beat." – Ray Wilkins (AC Milan), read the full interview here
"I've got no regrets whatsoever about going to Italy. For your football education it's great and whatever happens you will learn from it and come back a better person and a stronger person." – Luther Blissett (AC Milan), read the full interview here
"They were fantastic times and I played with some very good players." – Trevor Francis (Sampdoria), read the full interview here
"I absolutely loved it. Both the city and the training ground were fantastic." – Lee Sharpe (Sampdoria), read the full interview here
"I made a lot of friends over there. By the time I secured the move back from Italy, my wife actually wanted to stay." – Gordon Cowans (Bari), read the full interview here
"It was the best thing that happened to me. I learnt so much about football; I learnt about the culture of Italy. It was the best thing I ever did." – Ian Rush (Juventus), read the full interview here
Watch Ashley Cole in Champions League action for AS Roma on Sky Sports 5 next season. Activate our brand new channel by clicking here.