Everton manager Ronald Koeman feels the club must keep hold of Romelu Lukaku after his two goals in the 4-0 win over Hull.
Sky Bet
Loading Market ...
The striker has been in the spotlight after suggesting he will not sign a contract extension but he pounced twice in stoppage time to go clear as the Premier League's top scorer with 21 goals.
On a day that Everton moved up to sixth in the table, ahead of Manchester United and level on points with Arsenal, Lukaku even got a warm reception from the fans.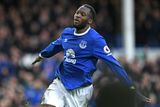 "They love Rom," Koeman told Sky Sports. "Everybody loves Rom because he's really that key player, the top scorer in the team and he showed that today.
"Maybe you can stop him for 85 minutes but when it is 11 against 10, even when it was 11 against 11, if he gets space and if they make the kind of mistake for the fourth goal then he will punish that. That's one of his big qualities.
"Of course, we would like to keep the best players because we think we are in a good direction in this project and you don't sell your best players.
"We know we have played more games and it can be different. But we spoke about the six points in the two home games against West Brom and Hull.
"Now we get another opportunity in two weeks to play Liverpool and then Manchester United - the two teams above us.
"If we would like to do something more special this season then we need to beat them."
The win over Hull was in the balance until Tom Huddlestone was sent off with a quarter of an hour remaining and Koeman felt that decision was a little harsh on the visitors.
'Harsh'
"It's another clean sheet and three points at home," said the Dutchman. "We kept the momentum. But I think the final result didn't reflect what happened on the pitch.
"At several moments in the game, Hull were strong. They made it really tough. They had a big chance to make it 1-1 before half time.
"And of course the decision of the referee in the second half about a red card was in my view too harsh at that moment.
"But that gave Everton a bit more freshness and spaces to kill the game. We did that really good."
Sky customers can now upgrade to Sky Sports and get 12 months for just £18 per month. Upgrade now!