Barnsley have been notified by the English Football League that the deadline day loan signing of Oli McBurnie from Swansea City has been rejected.  
Sky Bet
Loading Market ...
The administration process of the transfer was deemed to have not been met in order to allow the signing to be completed, leading to Thursday's verdict from the EFL.

Barnsley chief executive Gauthier Ganaye said: "We are naturally extremely disappointed, but we respect the English Football League's decision and thank them for their communication throughout the process.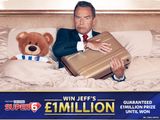 "Oli showed a huge desire to come and play for Barnsley which can only be admired and ultimately this decision will have the most impact on him.
"We are disappointed, but understand that although the player was identified as a significant target over two months ago, we were unable to try and effect the registration until the last moments of deadline day.
"We wish Oli nothing but the best of luck back at Swansea City in their Premier League campaign."