Cardiff forward Craig Bellamy has announced his retirement from football at the age of 34.
Sky Bet
Loading Market ...
The decision of the much-travelled Wales international brings an end to his 17 years in senior football.
Bellamy rose to prominence at Norwich before big money moves to Coventry and Newcastle followed.
After a bust-up with Newcastle boss Graeme Souness, the player enjoyed a four-month spell on loan at Celtic, where he won a Scottish Cup medal in 2005.
He also won the League Cup and Community Shield with Liverpool, where he had two spells, and was part of the Cardiff team which gained promotion from the Championship in 2013, joining his boyhood team on a permanent basis after a loan spell in 2010.
Bellamy also played for Blackburn, West Ham and Manchester City, and is the only player to score for seven teams in the Premier League.
Despite not being able to help Cardiff remain in the top flight after one season, Bellamy retires with satisfaction a year after former City boss Malky Mackay persuaded him to postpone his previous retirement plans.
Bellamy said: "It's been on my mind to finish playing for the last couple of years, but this time I've had to make a decision. I've had to listen to my body.
"I guess over the years I've become accustomed to the pain from various injuries, but for the last three to four years I've been on anti-inflammatories every day.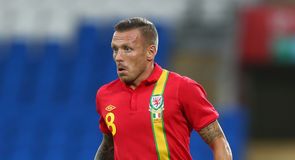 "I'm not sure my body will think that's a wise thing in due course, but it kept me playing for that period.
"However, the time has come to stand aside and say enough. My body can't take any more.
"When Cardiff got promoted, it was the sense of achievement with my home-town club that meant most to me, rather than being able to play another season in the Premier League.
"I had performed at that level for 12 years anyway. The goal of getting Cardiff up there meant more to me than actually playing there again myself.
"But I spoke to Malky Mackay and he talked me around for one last challenge. I wasn't sure I could offer too much."