Football fans are resilient types. Despite the common complaint that managers always have their views questioned, it is possible to argue that there is in fact an extraordinary willingness to trust in the custodians of a club.
Sky Bet
Loading Market ...
You will hear that regular refrain: "I'm sure he knows what he's doing." It is not the sort of statement that is uttered too often when it comes to the Prime Minister making a decision over how to run the country but when it comes to running football clubs, the fan's default stance is to support.
So after the brief horror among Manchester United devotees when it became apparent Louis van Gaal might not share the popular view on Toni Kroos, opinion on the erstwhile panacea shifted fast. The lack of interest was explained away. He is not that quick. We need a different type anyway.
Likewise the initial incredulity that greeted reports linking Rickie Lambert with a move to Liverpool soon dissipated once the rumours were firmed up. Before long it was unmitigated enthusiasm for his capture. A 32-year-old journeyman? Not at all. A savvy signing by Brendan Rodgers.
Muddying the waters is the unarguable truth that this transfer has a great narrative to it. The childhood fan released by the club he loved, who then works his way back up through the leagues to earn a second shot at home-town glory. What is not to love?
More than a Plan B
But if there is one thing Lambert should not have to endure it is being patronised. There are perfectly salient reasons to believe Lambert can contribute to Liverpool's ongoing success and they have nothing to do with his accent. And he is far more than a mere Plan B.
The notion that Lambert is a target-man in the Andy Carroll mould might lead some to conclude that principles are being abandoned here. "Anyone like to explain to me how Lambert fits into Liverpool's philosophy?" asked Times football editor Tony Evans.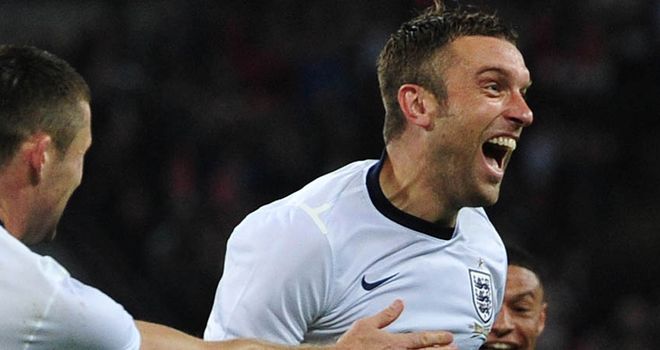 However, the view that Lambert represents a style of play that is at odds with a fast-paced passing game is surely misguided. The England striker's touch is sure and his imagination vast. Lurking within that burly frame is a very different player and Rodgers has been quick to emphasise that.
"He was probably seen as the traditional, big No.9, a British striker that is good in the air," he said. "But he is one of the most accomplished footballers I have seen. It has been so refreshing that he has got his call into the England team and he certainly has not let anyone down – he has been outstanding.
"Look at his touch, look at the level of his goals, the different types of goals he has scored over his career, and he is a specialist on penalties as well. I think he is a terrific footballer and any team he plays against, he is always a handful."
Even with limited resale value, a reported fee of £4.5million represents a reasonable per-week cost for a player at the peak of his powers. It is a minimal risk for someone who ranks among the top 10 goalscorers in the Premier League over the past two seasons.
Lambert is a player who can score and create. He is one of only four players to hit double figures for goals and assists in the Premier League over the past season and the fact that two of the other three are Steven Gerrard and Luis Suarez offers further encouragement for Liverpool fans.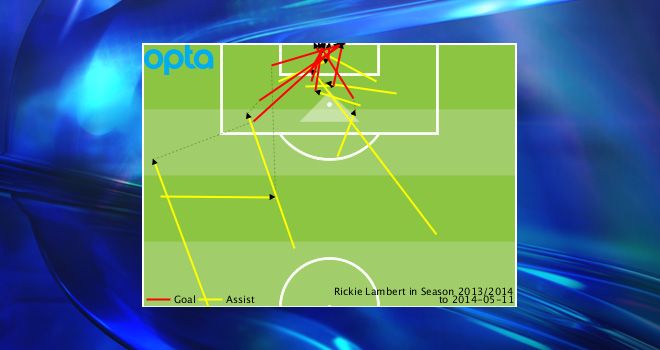 His height ensures Lambert will be a threat inside the box, but his hold-up play offers other possibilities. As the above diagram indicates, his assists can come from deep areas as he brings others into play.
As a result, expect the likes of Raheem Sterling to have fun bouncing passes off him, while Lambert will also provide a useful target for Gerrard's long diagonals given the movement that he can expect to enjoy around him.
Opportunities
There is little need for undue concern over game time either. Liverpool's involvement in the Champions League means the club is already committed to a minimum of 46 games next season and that number is likely to be closer to 60 with runs in the three cup competitions.
Even without European football in 2013/14, it is not difficult to see where those opportunities might have come from. Victor Moses returns to Chelsea having contributed just one goal and no assists in over 10 hours of Premier League action – and that is one goal more than Iago Aspas managed in more than six hours of trying.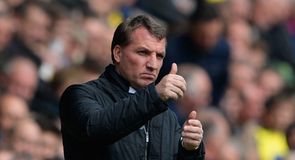 The Spaniard's uninspired efforts after coming off the bench against Chelsea might well strike a chord with Liverpool supporters. As their team panicked and lofted hopeful balls into the box, their title dreams faded. And yet, in Lambert they have acquired someone who might have made it work.
It might be a month too late but Liverpool now have a target-man option. A player who already loves the club and it can be assumed will be able to adapt with ease to life in the area. More importantly, one who will also be able to adapt equally as easily to their style of play.
Football fans are resilient types. But when it comes to Rickie Lambert, there is every reason to trust the judgement of Brendan Rodgers.