Following a season that left some in the stands and the board room dissatisfied with West Ham's efforts, the appointment of Teddy Sheringham as an attacking coach was seen as a symbol of a new era of intent. But the signs are that Sam Allardyce will continue to do things his way.
Sky Bet
Loading Market ...
While Sheringham will get the chance to develop talents such as Enner Valencia and Mauro Zarate, the West Ham manager has shown his determination to maintain a robust approach by building his midfield around a 6'4" powerhouse who spent much of last season at centre-back.
Cheikhou Kouyate joined the Hammers from Anderlecht in a £7million deal earlier this month after featuring in the team's back-four in all but one of their six Champions League appearances last term. Indeed, he was in the centre of defence all season until reverting back to midfield in April.
His Champions League statistics are indicative of his significant presence as he ranked among the club's top two players for tackles, interceptions, clearances and blocks. Kouyate even boasted the best aerial duel success rate for any player to win 10 or more in last season's competition.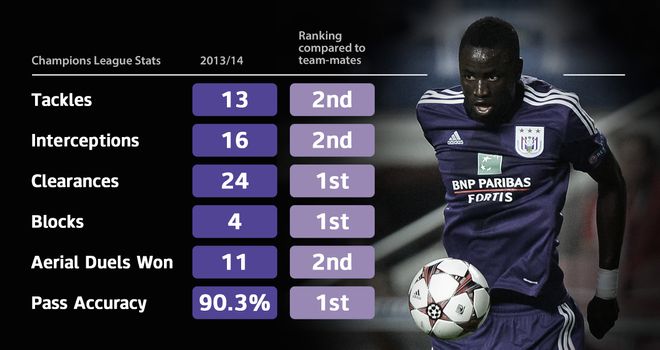 Such efforts led Sky Sports' resident Belgian football correspondent Kristof Terreur to describe Kouyate as "one of the better defenders in Belgium" with the caveat that he "sometimes he still has some strange attacking movements" in his game.
It's those attacking instincts his new boss is so keen to harness. Upon his acquisition, Allardyce told the club's official website: "Kouyate is a dynamic midfielder, goes box to box and has excellent skills with both feet as well as being strong in the air. If needed, he can fill in at centre back but his strength will be what he can do in midfield and creating the chances we need to attack."
Kouyate's pre-season performances have certainly offered encouragement that the Hammers might be able to find the right balance. After making a strong debut against Stevenage, Kouyate also impressed against Ipswich in an assured display that showcased his pace, strength and ball-playing abilities. Perhaps Allardyce now has the physical foil for Mark Noble in midfield.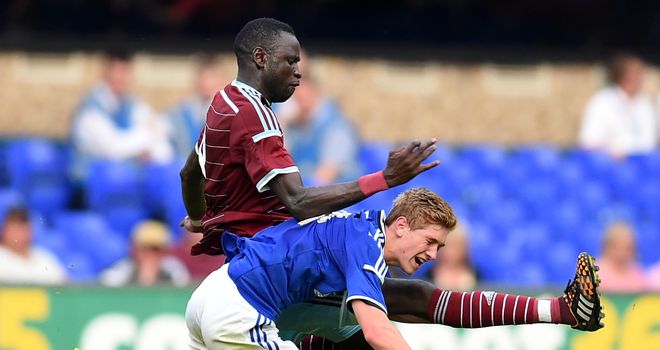 The 24-year-old looks to be benefiting from the deal being agreed so early in the summer. "I've adapted well," he says. "The team has really welcomed me and the players have been extremely kind. That's great and has helped me fit in. That's what I was expecting, but I wasn't expecting it to happen so quickly. From my very first day at West Ham, they have all been behind me."
This unity will be a key factor in whether West Ham's season is to be judged a success or a failure by next May. Even when it comes to the arrival of Sheringham, the insistence that the new coach was picked by Allardyce offers hope that the integration of all the new faces will be a smooth one.
"Sam picked the one he wanted," said co-owner David Sullivan, quoted in the Daily Mirror. "I think he has analysed the performance of the team last year and agreed that we would like to score more goals. It was a weakness of the team and he has brought in an expert to try and improve that."
Sheringham may be here and the mood at West Ham is changing. But Allardyce's fingerprints remain on the team. And if Kouyate can build on his early promise, that might be no bad thing.