Review of Event 1: Worsley Park
Last Updated: 27/06/13 11:59am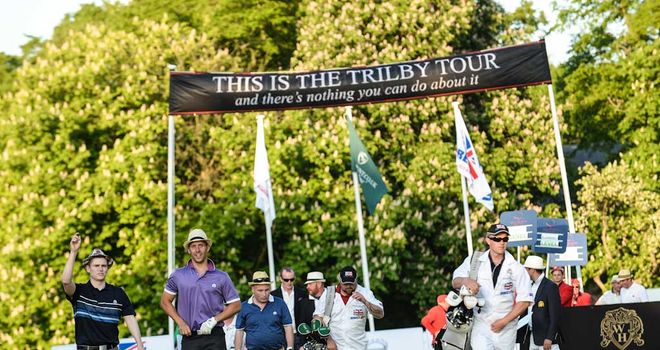 The days, the weeks, the seemingly endless months wait are over and the Trilby Tour comes marching back over the horizon stomping all over the other, lesser competitions.
The first event of 2013 is the nearest venue to the birthplace of TT benefactor William Hunt and so this date at the Marriot Worsley Park is something of a homecoming gig for the lad.
For a start, everything's bigger and better than ever. There are banners around the place featuring zen-like proclamations, there is a new TT MC holding court around the scoreboard and there are two huge cranes ensuring that the elevated Sky Sports cameras can capture every inch of the humiliation laid bare down every fairway.
Today though, under atypically sunny Manchester skies, most of the bad shots arrive at the very first tee. Ooff! So bad are most of the first shots of the day that they either tear through the hawthorn blossoms lining the right of the fairway or end up on another fairway entirely. Hour after hour of terrible tee shots ensure that scoring is relatively low and frustrations kick in early.
The par 3 third also proved a tricky blighter for many. It only has a couple of undulations and a ditch but they proved enough to scupper players hoping to pick up their score on the front 9. The 7th is the jewel in Worsley's crown, with a large lump of water to tee across and another, hard to spot water hazard nearer the green, it is a lovely-looking but fearsome little hole.
Most players avoided the water by favouring the trees on the right of the green. As the last of the players teed off, the first of the groups started appearing on the 18th and, surprisingly, scores weren't shocking. They also weren't good. This was a day when even middling scores could see players claiming a place at the grand TT final.
One man who may be keeping his head out of the clubhouse for a while is Worsley Park club captain Jimmy Gribbin, who confidently predicted a score for himself in the 30's before the first tee, then royally messed up the first four holes and finally limped in with a frankly shameful 19 points. Oh dear.
There was a smattering of local celebs in the crowd (Man Utd legends, Corrie stars etc) and as the sun continued to beat down on Manchester the play-off began. It proved a slow, hazy, lazy saunter for the crowd and a teeth-clenching, pressure overload for the players.
A couple of wayward tees shots and some bunker-bothering and everyone made it back to the 18th to see the Champion of Lancashire crowned as the sun set over Salford gasworks. So it's back, gentlemen.
With seven more heats, a Matchplay, a pairs and a final to go before the 2013 tour ends, it's going to be a mighty fine summer.