The Face of the Tour
Last Updated: 28/06/13 11:14am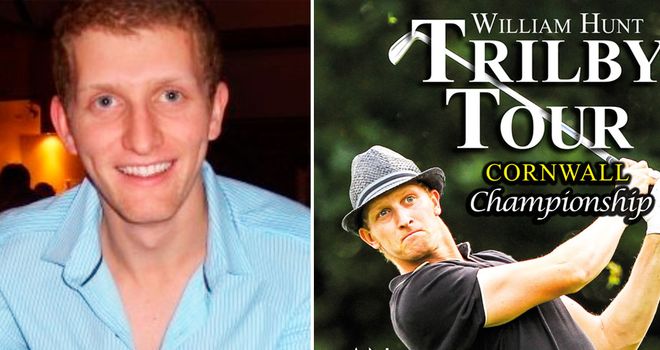 As you can imagine we get through thousands of photos throughout the Tour.
Having our own top Sports photographers there means we can capture the event in all it's glory, with players in full action set against some particularly stunning backdrops. We like to sift through them and pick out the good ones, the fierce shots and yes even the funny ones (some very funny expressions sometimes!)
This year we picked out a particularly fine shot with the golfer in full swing in a particularly fine black co-ordinated outfit.
Who's this guy and what's the story? Do golfing models exist and if they did would James Hampson be at the top of the leaderboard?
We manage to track him down and find out more. He goes by the name of James Hampson and he's a 25yr old greenkeeper from Shropshire.
This year will be the third year the 3 handicapper will have competed in the Trilby Tour. Hampson has been a greenkeeper for 5 years and is a member at Llanymynech Golf Club (no we don't know how to pronounce that either - and try saying that after a few beers! )
Apparently he's got quite a history with the TT. Hampson tied 3rd at the Berkshire Championship at Caversham Heath in 2012 and finished on 23 points in last year's final. Will he fare any better this year?...Hampson's first experience of the Trilby Tour was as a caddy way back in 2010. Having had a taste of the game he went on to enter as a competitior outright (thus another reason into how players lose their caddy and end up competing against them in subsequent competitions! Ah, such is the lure of the TT )
Could Hampson rise to Champion status this year? Only time will tell, let's catch up with the man himself.
Name James Hampson
Age 25
Handicap 3
Occupation Greenkeeper
Homeclub Llanymynech Golf Club Pant, Shropshire.
Event entered Cornwall Championship and Matchplay
"Being the face of TT is great, but its been weird seeing my face everywhere. When I received my clothes, as I opened the parcel the first thing I saw was me on the poster inside! Quite a few people have noticed its me as the face of it - it's great, its my little claim to fame!
I keep getting surprised though when i see myself including the Direct Golf email the other week that I was on,
My friends have been quite funny with it to be honest. I keep getting notifications on twitter, facebook and messages off them saying that they have seen me again.
Theres a lot of people at both golf clubs I play at, Llanymynech Golf Club and Vale of Llangollen that have noticed it's me and have said that it's a great picture.
"The Trilby Tour is such a great event for the amateur golfer to play in - to be the face of it is amazing"
I am really happy of being the face of the Trilby Tour, I think its a such a great event for the amateur golfer to play in. Its like no other golf event that amateurs will play in. Every year it keeps getting bigger and bigger and to be the face of it, well that's amazing.
This will be my third year playing in it and I am the most excited I have been for it."
Good luck James! We'll see you at Trevose...