What's on the box
Check out our Sky Sports channel guide...
Sky Poker Cash Game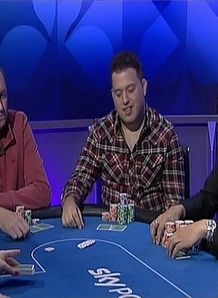 Sky Poker Cash Game starts on Tuesday February 5th - a new six-part series on Sky Sports 3 HD.
This is poker with a difference - it's a cash game, but not a hoody or miserable minny in sight - this is poker with a smile.
Each episode features a brace of Sports Celebrities, most of them very familiar to Sky Sports viewers, together with a mixture of Poker Pros & amateur players playing poker how it should be played.
The first show includes....
Wayne Mardle; darts legend, Mr "Hawaii 501" himself, and a mean poker player. Wayne has a 7th place finish in the prestigious GUKPT for over £14,000 to his credit.
More recently he commentated on Sky Sports fantastic coverage every night of the 2013 PDC World Darts Championships.
Norman Whiteside, who was the youngest player ever to play in the World Cup, to score in a League Cup and FA Cup Final, and to score a senior goal for Manchester United. He went on to play at two World Cups, appear 38 times for Northern Ireland and over 200 times for the Red Devils.
These days, Norman still does hospitality for Manchester United, and is a qualified podiatrist, as befits someone who was always good with his feet.
Neil Channing is arguably the most well-known and popular UK poker player. Neil has cashed for over $3,000,000 on the professional poker circuit, including over $1,250,000 for winning the Irish Open, and $400,000 for a runner-up finish in a WSOP event last summer.
After the shows were filmed, Neil went straight from the Studio to Gatwick catch a 747 to Australia, where he cashed twice for north of $33,000. What a life!
Sam Razavi probably had more Tournament Poker success in more countries in 2012 than any other player. He cashed no less than 39 times across the globe, including 8 WSOP cashes, and in places as far afield as the Philippines, Egypt, China, Mauritius, Australia, Panama, Italy, Cambodia, New Zealand, India and of course the British Isles.
Sam has accumulated over $1,000,000 in live event cashes and is a regular guest on Sky Poker, Channel 861.
Colburn Tomlin, one of the most popular amateur poker players on the UK poker crcuit, who rejoices in the nickname of "Rastafish".
Rastafish is loud, but it's all in good spirits, and he has an impressive record of tournament wins totalling over $300,000.
His son, Gavin, is a professional footballer with Southend United, where he has netted 12 times already this season.
Completing the line up in the first episode is Rob Yong.
Rob has lifetime cashes in excess of $300,000 and is a poker entrepreneur.
He is a wealthy and very successful businessman with a passion for poker. He used to have poker "home games" - as we all did back in the day! He enjoyed them so much he decided to open his own poker club in Nottingham.
It took three years and over £1,000,000 to obtain a full Gaming Licence and build the club, but it has thrived ever since and is by common consent one of the best poker venues in Europe, if not the world.
So, quite a line up in the First Show. It will be transmitted at 10pm on Tuesday (Feb 5th) on Sky Sports 3 HD and will be repeated the next day. All six episodes will be series-linked, meaning you shouldn't miss a show.
News of the other 5 episodes will appear on this page before transmission.
Highlight of Episode One?
Plenty of dramatic hands and we'll try not give too much of the game away, but when Wayne Mardle decides to try and take down a big pot, can you guess how much he bet?
Sky, poker with a smile.
Sky Bet Odds:
Click Here for Your Free Bet