What's on the box
Check out our Sky Sports channel guide...
Sky Pokerzine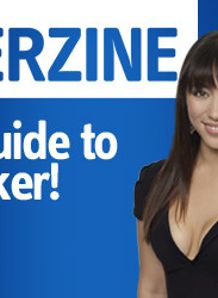 Also see
Here it is - Sky Poker's "Pokerzine", packed with hints tips and footage from your favourite online poker room.
Read about all the things that make Sky Poker a wonderful place to play - there's all the latest on our quest to find the 'Total Player', vox-pops with the faces of Sky Poker and, of course, news from the Sky Poker community.
Don't miss your chance to win a seat to the Sky Poker Tour in Glasgow. There's two seats up for grabs and all you've got to do is enter a code to have the chance of winning so what are you waiting for?
We hope you enjoy the "Pokerzine", and if there's anything you'd like to see in our second edition, do get in touch on suggestions@skypoker.com.
Sky Bet Odds:
Click Here for Your Free Bet